A podcast is an audio file which can be downloaded or streamed on a smartphone, tablet, or computer and can be played at any time.
Similar to TV shows, podcasts are often released by seasons consisting of episodes. Episodes can vary in length but most shows tend to be thirty minutes to an hour-long, depending on the topic. In the world of podcasting there is a plethora of different topics, lengths, and frequencies.
This form of audio communication provides a platform that makes it easy to produce a wide scope of content. People love to talk, and others love to listen to those people talk — especially when it is a topic catered to their specific likes and interests. This itself makes podcasting a goldmine. Whether you are interested in news, comedy, business, sports, lifestyle, or the like, there are endless listening options. These are often categorized by topics, creating easy access for you to select a show that best suits your desire or need.
How did podcasts start?
Before podcasts became what they are today, they were audioblogs. Dating back to the 1980s, Radio Computing Services provided digital talk-related software to radio stations. Upon hitting the website boom of the 1990's, certain radio stations and comedy shows had downloadable versions of their shows in the form of audio. It wasn't until the 2000's that podcasts really began their evolvement into what they are today, with the term "podcast" finally being coined in 2004 by Adam Curry and Dave Winer.
In the beginning, the difference between an audio file and a podcast was that the podcast can be "subscribed to" via an RSS (Really Simple Syndication) feed. Today, an audio file and a fully-functioning podcast are as different as day and night. Whereas an audio file is simply data in an embed player, today a podcast requires meticulous maintenance, attention to detail, the ability to market, network, interview, host, and far more.
What is an RSS feed?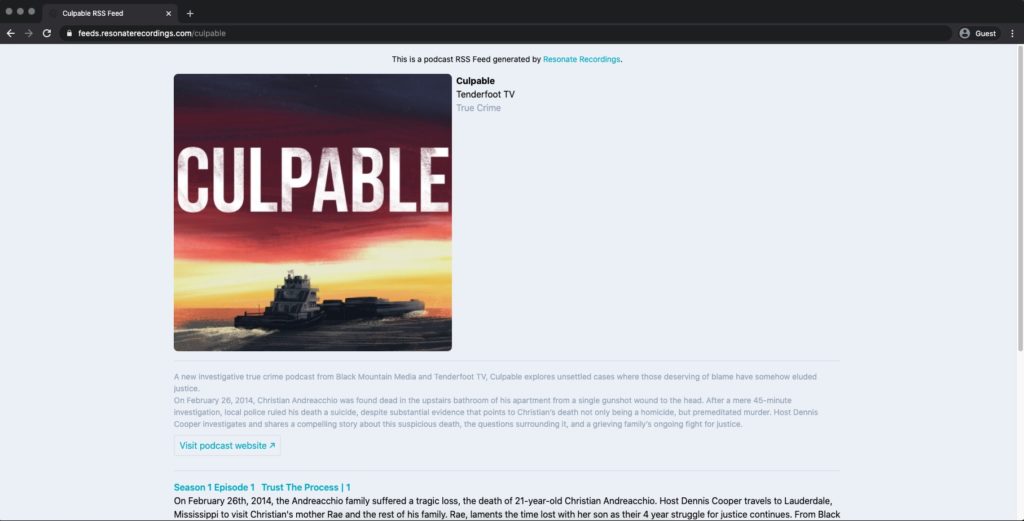 Syndication (aka Rich Site Summary), is the home for your podcast that is used to distribute a podcast to Apple, Google, Spotify, etc. where the listener can access it. All of the DNA for a podcast – everything which makes it a unique show – is contained in the RSS Feed and handed over to listening platforms (as listed previously) so that users can discover, listen, and subscribe.
Once an RSS feed is submitted to a podcast directory like Apple Podcasts, they are able to refresh the feeds regularly to pull in the most recent episodes from a podcast. This includes the cover art, links to the audio content (arranged by the seasons and episodes), release dates, title, and description.
Podcasts vs. radio
Podcasting allows you not only to create your own content but also to get it in front of the people who want to listen to it – wherever and whenever.
But wait… I know what you're thinking: isn't this what the radio is for? How is podcasting any different than that? We're so glad you asked! In fact, here's a helpful video that differentiates between these two seemingly similar mediums and explains how podcasts have an upper hand over traditional radio.
Not that radio is extinct, but podcasts are simply where the people are tuning in these days, largely due to the fact they do not depend on listeners tuning in at an exact time. Podcasts let you listen to the exact content that you want, whenever and wherever you want. You can also skip the ads on podcasts, but you can't do that on the radio.
Additionally, podcasts allow for a variety of streaming options. Though the podcast itself is the audio content hosted on the RSS feed, some podcasters choose to include a video recording of their episode, which they release on YouTube. This allows the audience to feel more engaged and connected, as they can see the face(s) behind the voice(s). People are often more likely to stay tuned in if they can watch content, rather than just listen to it. This is yet another way that his medium is rapidly gaining dominance and should indeed be capitalized on.
The popularity of podcasts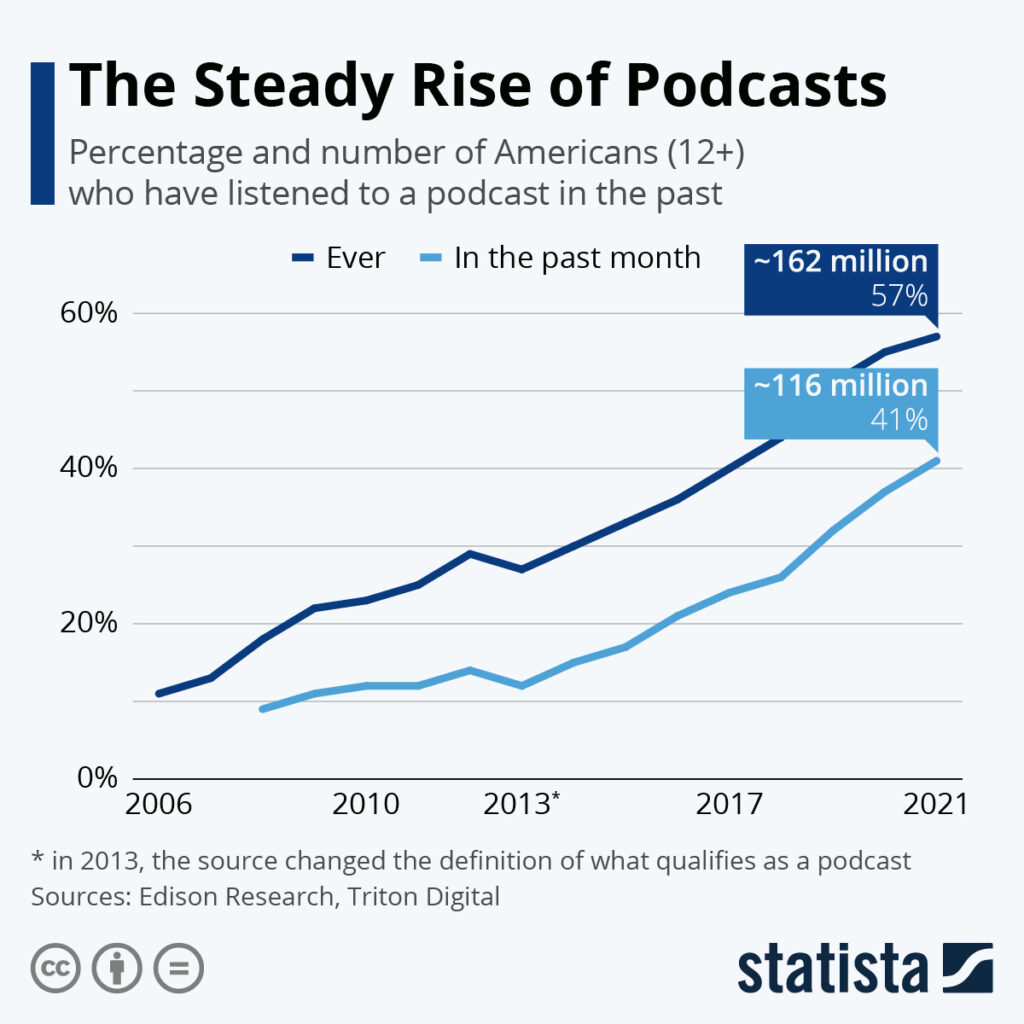 With podcasts' rapid ascent to mainstream use, here are a few stats to show you just how popular podcasts have become.
As the data proves, podcasts are currently in high demand and are only set to rise more. As opposed to relying on radio stations for recording and podcasting, the ease of tuning into a podcast via a smartphone at any time and anywhere has rendered radio shows nearly obsolete. The ease with which listeners can be directed to multiple different podcasting platforms has been credited with the increase in podcasting's popularity. It provides a wide variety, accessibility, and arguably most important to listeners: convenience.
Different types of podcasts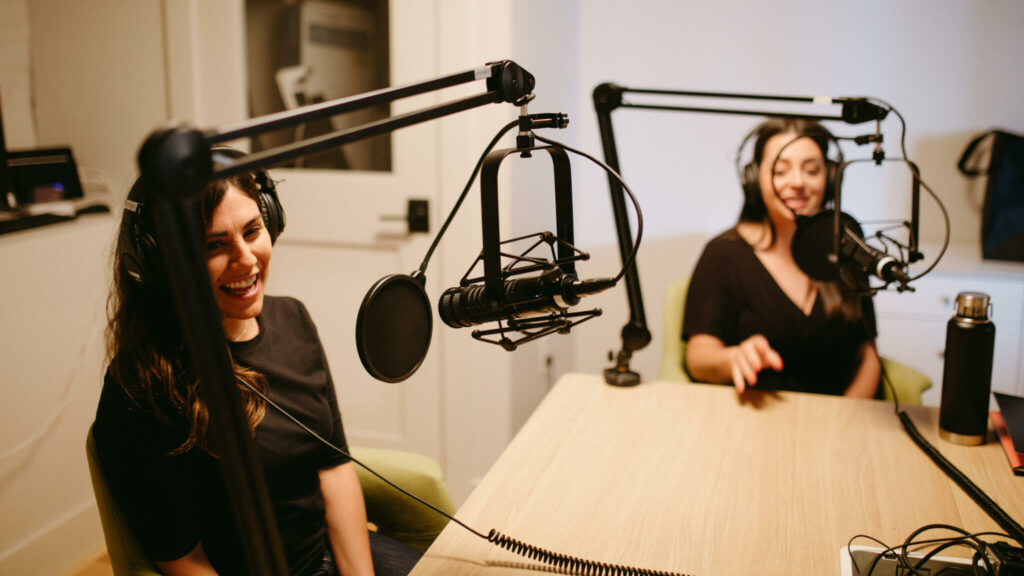 Podcasts may all fall under one form of media, but that's about the only thing they share. With over two million published podcasts, there are different types of podcasts about all sorts of different things. Among those differences are different styles of podcasting, listed below.
Interview
Guests are interviewed on the podcast, typically by the podcast host. This could be an individual guest or a group of people.
Solo
An individual host monologues on whatever topic(s) they choose that are relevant to their podcast.
Co-hosted or multi-host
A bit self-explanatory here–the podcast is co-hosted by two or more people.
The three types of podcasts
The three types of podcasts are audio, video, and enhanced.
You guessed it–audio podcasts are the most popular. They're easy to produce with the right equipment, and not to mention portable.
Video podcasts are also gaining popularity. And you might be thinking, "what's the point of calling it a podcast when it's on video?" Video helps to capture the visual aspect of the best parts of the audio. It's more of a bonus to the actual podcast itself, for those who are interested in listening to a podcast in a more engaging way.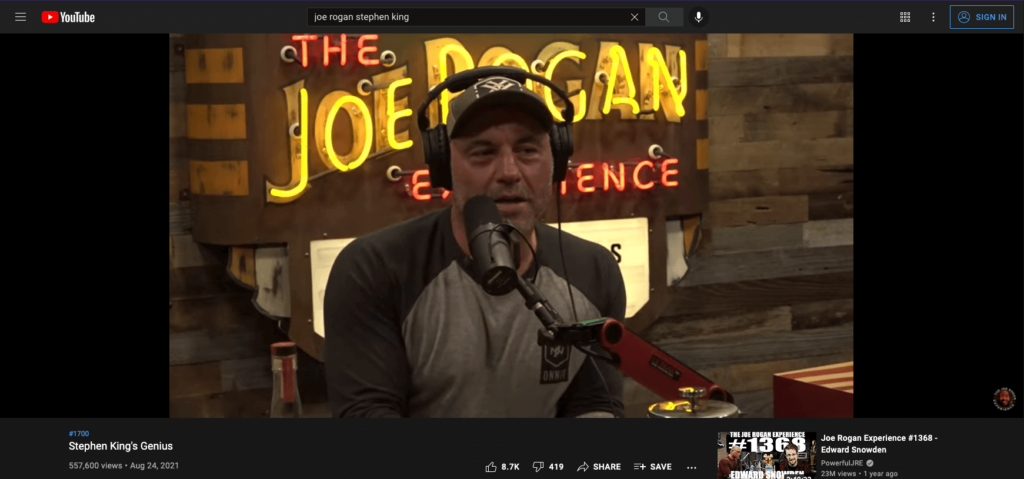 The third type of podcast is an Enhanced Podcast. When podcasts are enhanced, they have chapter marks and can display images, artwork, and hyperlinks. Think of it as an electronic slideshow with audio. It's great for explanations of things that require/benefit a visible element for clarity.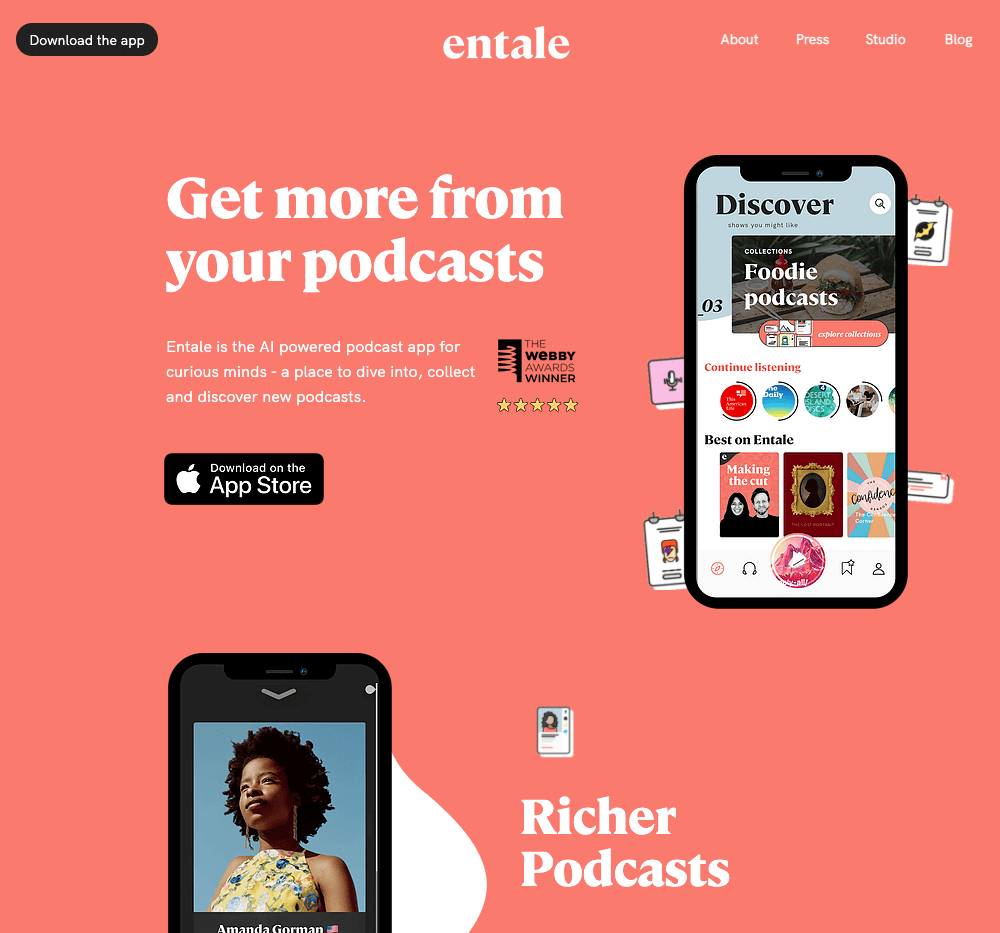 Lastly, a podcast novel can also be referred to as a scripted or narrative podcast. You may have heard of a similar product of the podcasting medium, the audiobook. The main purpose of a podcast novel is to provide a new means of storytelling in the form of audio.
What are podcast episodes about?
A podcast can be on any subject the podcast host likes and each episode typically revolves around one particular topic. Anyone is capable of hosting a podcast, regardless of experience level. In fact many popular podcasts have amateur hosts. Topics can range from politics, to sports, to pop culture–the possibilities are endless.
Here are some of the best podcasts
There are podcasts that discuss any and every topic under the sun. While there are plenty of different listicles out there with the "best" of each topic, we did the work for you. Here are a few of our favorites below:
How do I listen to podcasts?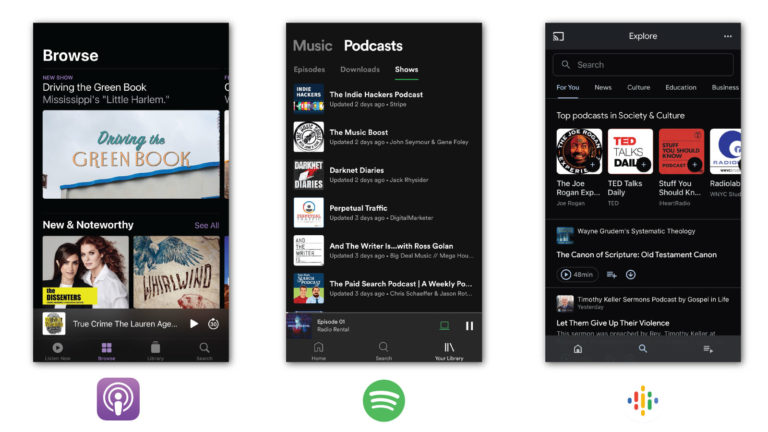 Luckily for you and me, podcasts are free to download and listen to! In order to listen to a podcast, you first need a podcasting app to listen to. The most common ones are Apple Podcasts, Spotify, and Google podcasts, but there are plenty more out there. Read our full list of the best podcast listening apps here.
What's great about podcasts is that there's a simple way to make sure you never miss out on a new episode: subscribing or following. When you subscribe or follow a podcast, it's the equivalent of signing up to getting your favorite newsletter delivered each week. New episodes will be readily available to you upon release, with a notification to boot.
There are dozens of ways to listen to a podcast. You can listen to podcasts on your smartphone, tablet, computer, smart tv, smart speaker, and smartwatch. You can also listen to podcasts online (by streaming) or offline (by downloading).
If you want to learn how to listen to podcasts on one of these devices, check out our guide to how to listen to a podcast.
How do I start a podcast?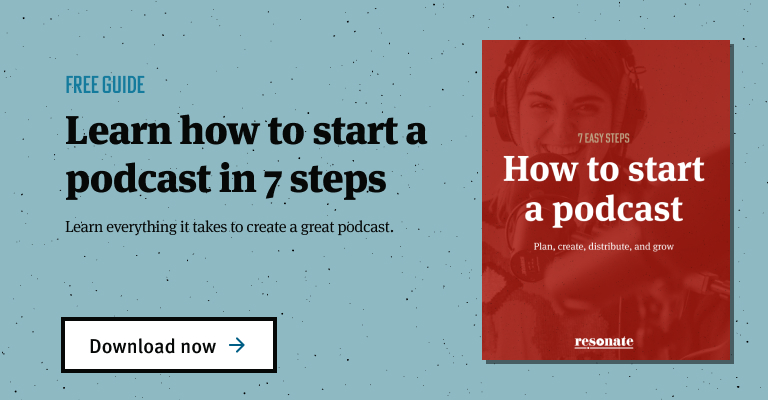 Starting isn't as easy as hitting record. There are a few big steps to take if you want to start a podcast.
First thing's first: you need to decide what topics your podcast will be about. This will be something that interests you, that is multi-faceted, and can be discussed at length. A common misconception is that your podcast will have to be about something you are an expert in. The truth is, even if you aren't incredibly experienced about a topic, as long as you have something to discuss at length, you can talk about it. That being said, this doesn't mean to make up facts and claim to be what you aren't–but inviting guests who are more educated and experienced in the topic of interest is another way to keep the main idea of your podcast consistent. If you are just a facilitator of that conversation, that's fine! Though it is better to at least have something substantial to offer on the topic.
Once you've decided on your topic, up next is the name. It is recommended that you not use something too complex, or something that has absolutely nothing to do with your podcast. For example, if your podcast is about weather forecasting, then it might be misleading if your title is "Cooking up a storm!" Try to use related keywords rather than a clever title.
It's recommended that you plan at least 10 episodes ahead of time so that you aren't doing things on the fly. A well-prepared podcast is a great one.
Up next, actually recording your podcast. At the bare minimum, you will need a microphone, computer, audio recording software, and a place to record. Here's a guide to getting all of the essentials.
What podcast equipment do I need?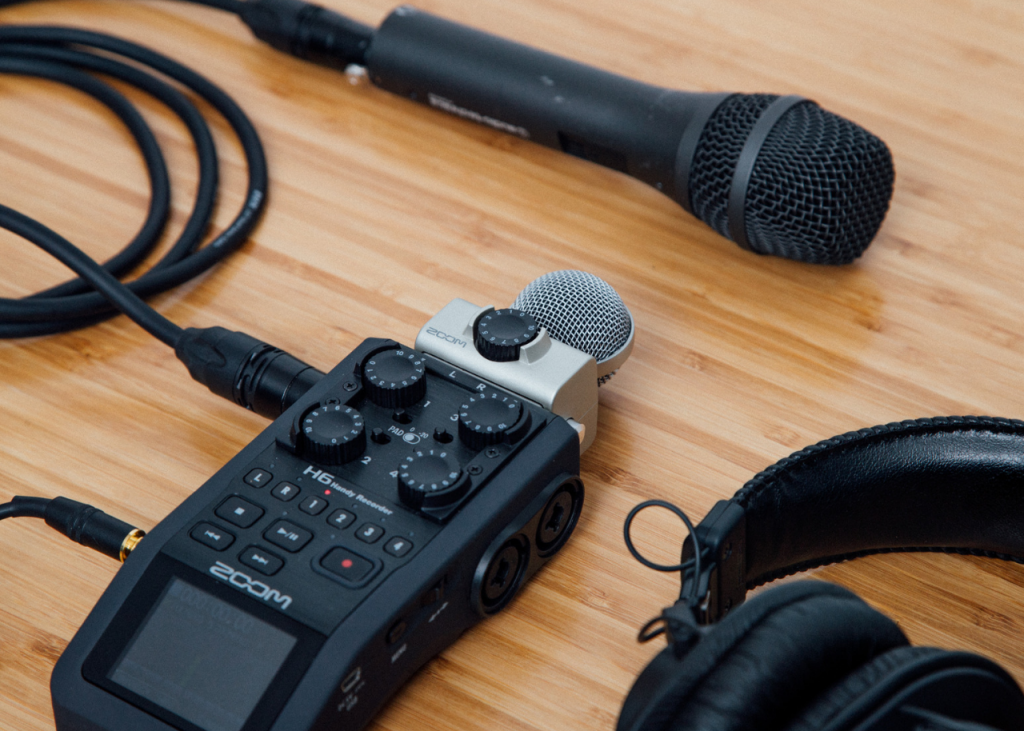 Equipment is the next key in starting your podcast. But how do you know what to get? Considering that recording, editing, and uploading your podcast will take place on your computer, you'll need a microphone that will plug into your computer, otherwise known as a USB mic. You can also use an XLR microphone, which is a microphone that connects to an audio interface that connects to your computer. The audio interface acts as a converter for the microphone so that the audio can actually be recorded onto a computer, but a USB cuts out the middleman altogether.
Of course, you'll also need headphones. Don't trust the capabilities of a laptop speaker, and when you record, you don't want the microphone to catch the reverb of your voice through the speakers. Comfortable, functioning headphones are a must. For more
What podcast recording software do I need?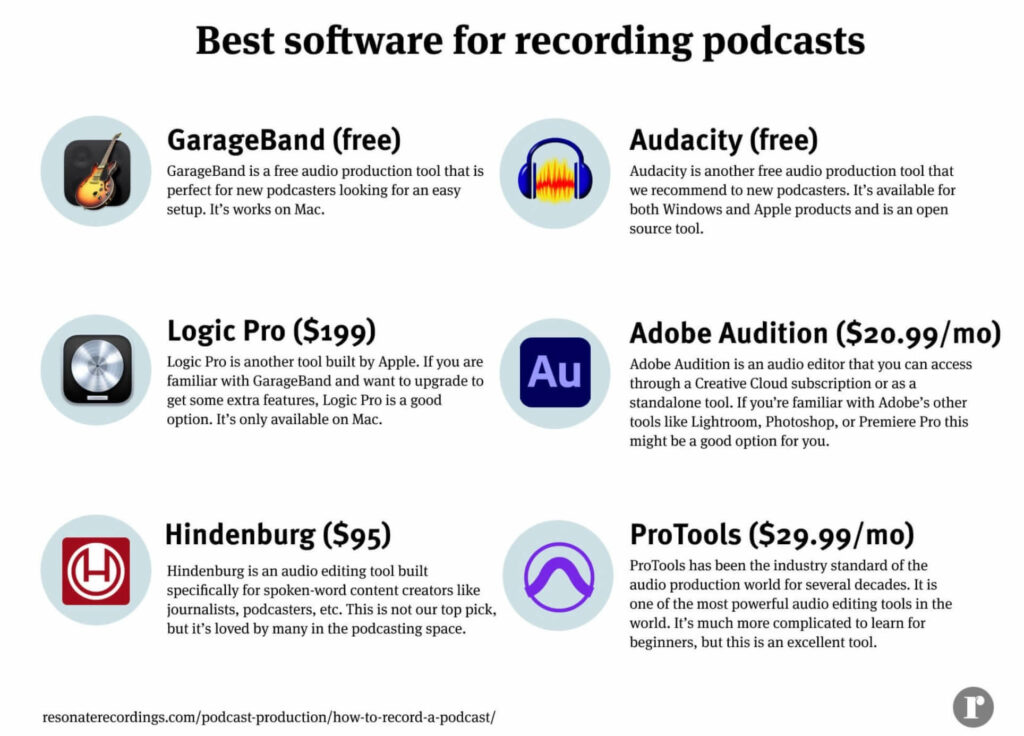 There is plenty of different recording software out there, but for someone just starting out, we recommend that you use free software like Audacity or GarageBand. Audacity is supported on Windows, and Garage Band on Mac.
Getting more into the complicated bits and pieces of powerful audio editing, consider getting Adobe Audition. Like all Adobe programs, Adobe Audition is a tool that goes beyond just recording the podcast but actually allows you to edit with an extensive array of tools at your disposal.
How do I host a podcast?
Hosting is when a platform stores your podcast's audio files, metadata, descriptions, and other materials. It generates an RSS feed that is submitted to podcast directories (Apple, Spotify, etc). It also collects your podcast analytics, and can (sometimes) dynamically insert ads into your show.
If you're still not sure what hosting is or would like more than just the general idea, you can read more about it here. Even if you already have a website hosting service for your website, it's best practice to sign up for a separate podcast hosting service to manage the distribution of your podcast files. Website hosting was not designed to handle high loads of traffic for podcast files and may get overloaded by large download requests if you have lots of listeners down the road.
You can host your podcast on Resonate for 25/mo, publish your podcast on all the major directories (Apple, Spotify, Google, and so on).
Looking for a different host? Check out our guide to the top 5 podcast hosting platforms.
How do I submit my podcast to apple podcasts (iTunes)?
As a product of Apple, in order to submit to Apple Podcasts (iTunes) you have to visit the Podcasts Connect Page. It'll take you to a page that will ask you to enter and validate your RSS feed. Once your podcast is approved, you'll receive a confirmation email, and your podcast will typically be available on Apple Podcasts within 3-5 days. 🎉
Other FAQs
What is the purpose of a podcast?
Like many forms of media, podcasts are created to share an interest. They can be used for marketing purposes, providing more information to consumers about a product or discussing topics surrounding that product. They're a great way to reach your consumer or general audience regularly, whether on a weekly basis or within a full-season release. Podcasts' elasticity can market ranges of different products or even a single, specific product.
How do I find podcasts to listen to?
There are plenty of directories to use to find podcasts to listen to based on your interests, like Apple Podcasts and Spotify. If you're looking for something more specific when in doubt, Google it! There are plenty of lists compiled and curated to particular interests on multiple blogs and podcast websites. To get started, check out our curated podcast lists here.
What is the best podcast app to listen to podcasts?
The more popular apps to listen on are Apple Podcasts, Spotify, and Google Podcasts. YouTube is also an increasingly popular way to listen to shows. Some podcasts make it a point to only be featured on certain directories, but the majority of data from podcasts is gathered from Apple Podcasts. For more information on this topic, visit our equipment reviews page where we talk about the best podcast apps.
Can you start a podcast for free?
Yes. You can start a podcast for free if you use a free hosting platform, design your own cover art, and record, edit, and mix your podcast by yourself. But as you can probably tell, that's a lot to put on one person, on top of the other duties that come with scheduling interviews, hosting, etc.
We recommend spending at least a few hundred dollars to start an excellent podcast from day one. Almost every free hosting platform has limitations or asks you to upgrade at some point in the future. For that reason we recommend starting a podcast with Resonate Podcast Hosting's 14-day free trial or Buzzsprout's 90-day free trial.
Additionally, we recommend that everyone starts by investing in a USB microphone like the Samson Q2U for as little as $69. This will sound dramatically better than recording through your iPhone or laptop speaker.
You can start a podcast for free using tools like Anchor. This is a great way to test out podcasting to see if you like it.
But there are some limitations to consider when starting a podcast for free. If you want to create an excellent podcast, we recommend at least investing $69-200 into your podcast recording equipment (at least buy a USB mic)! You can learn more in our guide on how to start a podcast.
How do podcasts make money?
One of the number one questions when it comes to podcasting is monetization. Directories make the majority of their income through advertising, but when it comes to individual podcasters making money, it's a whole other beast. You can make money by affiliate marketing, creating a paid membership podcast, selling merchandise, selling digital products, and many more ways. Visit our page on how podcasts make money for the different money-making strategies podcasters utilize.
What is a podcast network?
A podcast network is similar to a television network in the way that it distributes content through the same channels. They're essentially a group of podcasts that collaborate to become a larger distribution network. This benefits advertisers so that they can negotiate with one entity for ads on a variety of shows with different topics. While joining a podcast network is great for new creators looking to jump in head first, you should make sure to think carefully about choosing one that suits your topic and personal style.
Will podcasts affect my SEO?

Podcasts present a new SEO opportunity on Google. Google now displays podcast episodes in search results whenever they think it's relevant. At a high level, this means you can potentially rank an individual episode of your show for keywords on Google and generate additional traffic to your show.
Podcasts can also help your SEO strategy on your main website by attracting backlinks from your podcast guests. In theory, you can also rank new pages on your website for keywords if you are publishing each episode of your podcast like a blog on your site. However, it's challenging in practice to get these pages to rank for bigger keywords in Google. Podcasts are a wonderful content marketing tool, and present new SEO opportunities that are still being explored, uncovered and practiced.
How do I create cover art for my podcast?
Podcast cover art is the thumbnail image that acts as a profile picture for your podcast. It'll show on podcasting apps like Spotify and Apple podcasts beneath your audio. It acts as a visual trailer to your podcast theme, including at least the title. For example, if your podcast is about horror stories, you probably wouldn't want the cover to be sunshine and rainbows.
Most brands choose to include their logo or feature the host's face if they're well-known. The podcast title should be legible across multiple sizes for when your cover needs to be uploaded in different formats. No matter what you want to include, it should follow the guidelines/requirements per the directories discretion. For more information and examples, visit our creating podcast cover art page.
How do I edit a podcast?
Editing consists of several main steps:
Organize all of your files on a timeline (dialogue, music, intros and outros)

Remove any mistakes (umms, likes, content you don't like, long pauses)

Add in music, intros and outros, and any transitions
Learn more in our podcast editing guide here.
What is a podcast producer?
A podcast producer handles production and managerial responsibilities such as recording, editing the episodes, and any additional behind-the-scenes action. They create the vision, oversee production, coordinate interviews, and overall just manage the podcast. Needless to say, it's one of (if not the) most important and demanding jobs when it comes to podcasting.