Most people who are familiar with podcasts know where to find them. We play our favorite true-crime podcast on our Apple Podcasts app on the train.
While cleaning our home, we might put on a language learning podcast on Spotify. But wherever you find your favorite podcast, be it Google Podcasts, Apple Podcasts, or Pandora, the directory of your choice receives the podcast from a podcast hosting platform. How are podcasts sent to our favorite podcast directories? The answer is through a hosting platform.
At the end of the day, every hosting platform serves the exact same purpose: distributing your podcast to the podcast directories. But ultimately, there are certain features that may not be the same across the board for each hosting platform. How do you know which hosting platform is right for you? Well, that depends on the nature of your needs and what you want to do through your hosting platform.
Choosing the right podcast hosting platform is a daunting task. There are over thirty different podcast hosting platforms, and it seems like that number is growing every month! So we've written this post to help you identify which platforms offer the most important features for you.
Podbean is an incredible hosting platform, as it is extremely user-friendly, the support is top-notch, and it has several great features. So let's dive into the specific features and benefits of podcasting with Podbean to see if it's the right fit for you!
If you are learning about podcast hosting for the first time, and have general questions about how it works, we recommend reading our list of the Top 5 Podcast Hosting Platforms. That post will help you learn the basics of podcast hosting while this blog gives an in-depth review of Podbean Hosting.
User interface
The user interface of the website on a computer is very easy to understand and operate, which is a plus to podcasters who are just getting started and don't need a lot of bells and whistles on their main pages. Podbean opens to your Dashboard page and then allows you to see your basic analytics right off the bat. If you're on a computer, on the left hand side shows a list of easy access links that will take you to various parts of your Podbean account. If you're on your phone (not the mobile app), these lists are in the menus tab on the top left.
One thing that I like about the UI is the Episodes listing page. This page is a great place to track all of your content in production since it  allows you to see and keep track of all your drafts, scheduled episodes, and published episodes. This also makes it easier to keep track of which episode number you are currently on or rearrange your drafts and scheduled posts.
Overall, the responsiveness of the design via computer is excellent. You can easily move from one area to the next without an issue. Within the mobile app, not only can you listen to other podcast shows, you can readily record yourself for your own podcast. This is super helpful for podcasters who are on the go and may not have the ability to sit down at a computer all the time. This is also helpful for Podbean's next feature: live recording.
Live recording
One of the coolest features on Podbean is their live recording. Podbean allows a podcaster to live record or  live stream through the Podbean mobile app/website. A bonus is that up to five people can be a part of the live recording at once. You can choose to immediately make it live after recording it or you can save the audio and download it to edit. I remember speaking with one of the Podbean representatives at the 2019 She Podcasts conference, and she gave me a live demonstration of the recording feature and I was amazed by the ease of use, and imagined how great it would be for folks who are looking to have multiple participants in an episode.
The live recording feature is also really beneficial for capturing and streaming audio from churches and other public events! This feature is an incredible way to quickly capture and upload your content!
Ultimately, no matter if you have reusable assets to add, such as music or voiceovers, and need some additional post-production or if you just want to make your content live immediately, this feature is valuable.
Video podcast
Podbean has account levels that support video podcasts. For some podcasters, it is beneficial to have more than just an audio episode, depending on your podcast genre and topic. However, for many others, having a video is not a necessary asset.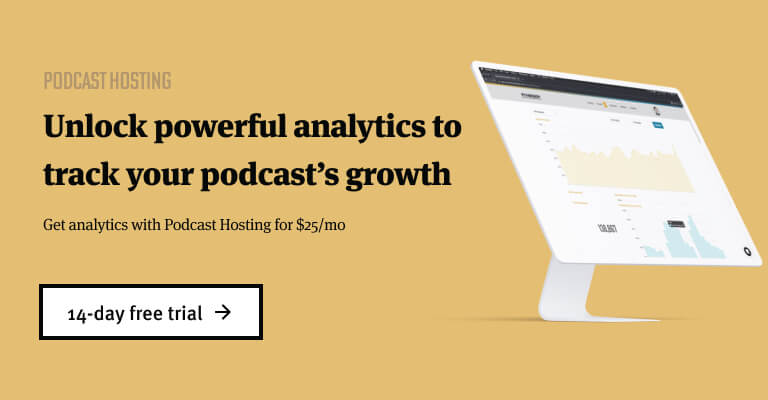 Podbean doubles as a podcast directory
Podbean is not just a hosting platform that allows you to host your episodes and shoot your new content through the RSS feed to other directories. It also provides you with your own Podbean landing site for your show. Your audience can listen to your show via the Podbean mobile app or through their computer. Podbean also allows you to choose your own site theme – free ones or pro ones – from a plethora of themes they've provided, giving you creative ownership of how your show looks on Podbean.
Another feature that goes hand-in-hand with this is that in the description box of your episode post, you can embed a YouTube video that will then play on your Podbean episode's page.
Internal/private hosting support
With Podbean's private hosting feature, organizations can protect their podcast audio for internal use only. Here's how it works:The admin of your Podbean account can enter emails of those permitted, individually or by batch or for enterprise accounts. These authorized users are then able to securely access a private feed of the podcast.
Monetization features
Podbean offers four different means for monetizing your podcast. These monetization services are the Podbean Advertising Marketplace, Podads, Premium podcasting, and the Patron service.
1. Podbean advertising marketplace
Podbean connects companies interested in advertising their brand, products, and services to podcasters like you. You simply have to post your show to the Podbean Advertising Marketplace and wait for an interested advertiser to reach out to you. Once you've found an advertiser who wants to be promoted on your show, you can place their ad within the episodes of your podcast in the editing and mixing process, or you can use a dynamic ad-insertion service like the next feature in this list: PodAds.
2. PodAds
The second way to monetize your podcast on Podbean is really an extension of the first: dynamic ad-insertion. With PodAds, Podbean's dynamic ad service, you can easily manage ad campaigns with highly specific geo-targeting and analytics. With this method you have to bring your own ads into Podbean, but the beauty of dynamic ad-insertion is that you can swap out those ads later and run multiple campaigns on the same episodes of your podcast as you collect more downloads over time and make new connections with brands.
The third way to monetize with Podbean is through their "Premium" podcasting. With Premium Podcasting, you can charge on a per-episode or subscription basis. This allows you to get financial support directly from your listeners. You get to set the price yourself (minimum $.50), and Podbean charges a 15% of revenue processing fee, then Stripe charges a 2.9% processing fee plus $.30.
3. Patron
The fourth and final way to monetize your podcast on Podbean is by setting up a Patron page. This allows you to create unique content for your superfans that they can access for a monthly subscription fee.
Mobile app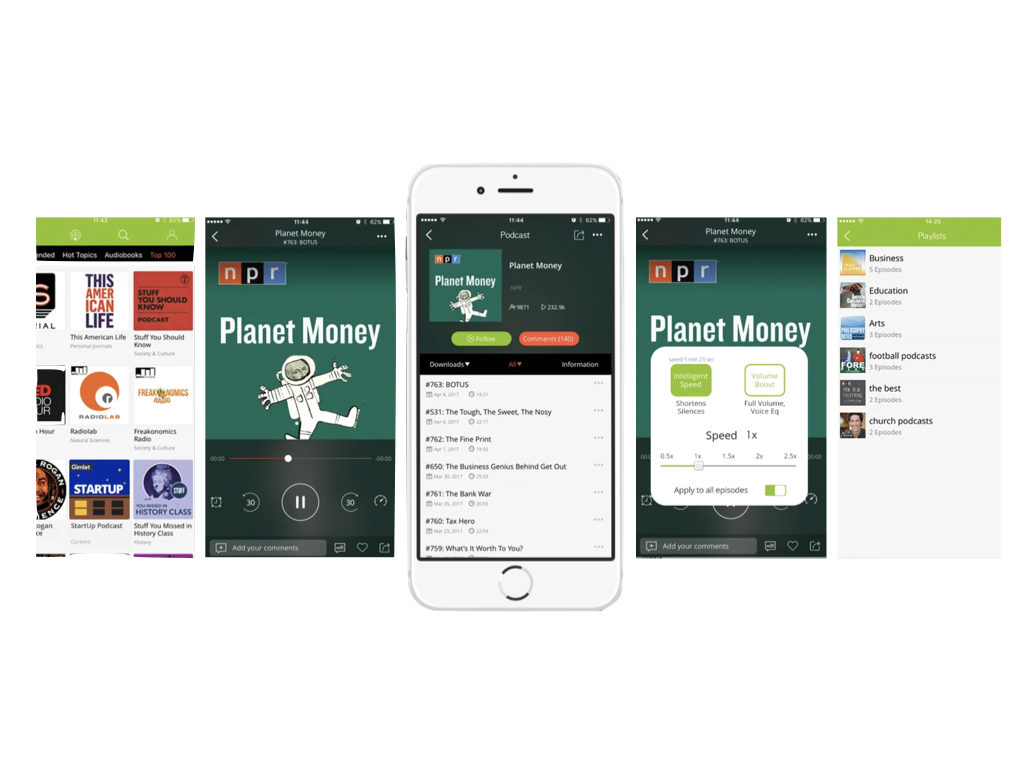 It shouldn't be taken for granted that Podbean is one of the few podcast hosting platforms with a mobile app. This app is designed for podcast creators and consumers alike. Not only can you podcast through it, record with it, and edit within it, but you can also listen to other podcasts on it.
Pricing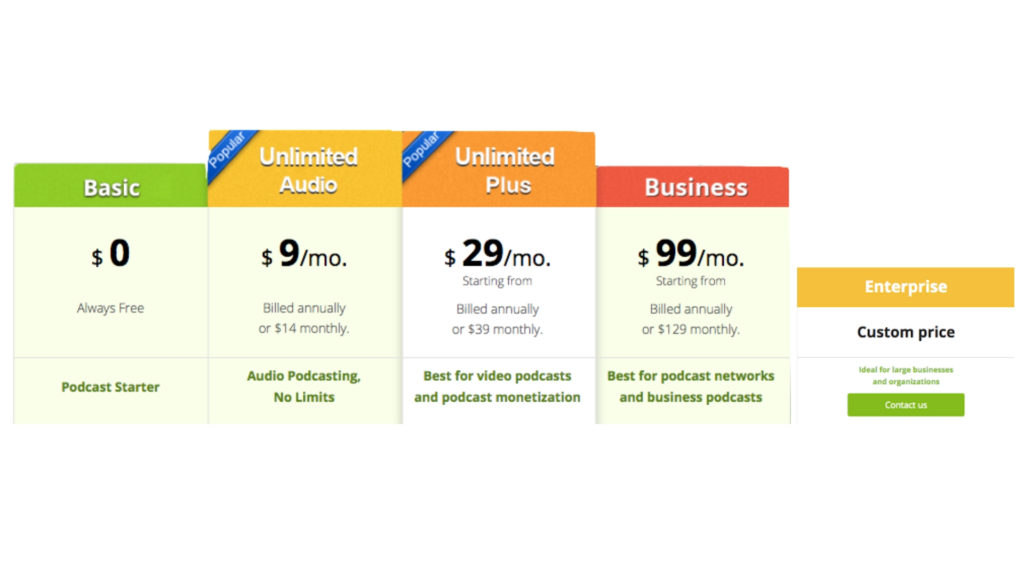 There are five account levels to choose from. Because the basic level (free) has storage limitations and is unable to schedule in advance, we find that the Unlimited Audio account level works well for most podcasters. However, depending on the scope of your production, you may prefer to use the Business or Enterprise level which unlocks additional features.
Integrations (website, social media, etc.)
Podbean provides an easy way to connect and integrate to your YouTube page, WordPress site,  Tumblr, Twitter, and Facebook. Podbean will also allow you to submit your podcast for review to Spotify, and if approved, will be connected through your Podbean account. Overall, integrating is a relatively seamless process. The only thing that I have found to be a bit difficult is making sure your WordPress website will correctly receive your Podbean episode assets. I have found that some WordPress templates work better than others for integrating with Podbean.
Aside from native integrations, Podbean also integrates with Amazon Alexa. With the Alexa integration, you can listen to podcasts through Podbean on your Amazon Alexa speaker by simply enabling the skill. 
Media player – customization features
Another feature with Podbean can be found in the Settings area, under "Embeddable Player." You can create an embeddable player that acts like a playlist for your episodes. You'll be able to choose color schemes, fonts, whether you want it to auto-play, show a certain number of episodes, etc.. Otherwise, you can retrieve an individual embed code after you post or schedule an episode to post if you would prefer to embed each individual episode with its own audio player to your website.
Audiogram feature, promo clip, shareable social media clips
Many podcast hosting platforms are rolling out automated services for highlighting parts of your podcast on social media. Unfortunately, Podbean does not currently support features that allow you to clip audio and separately use it in social media as audiograms or short promo clips.
Analytics
Podbean offers very helpful analytics. The dashboard page offers analytics, but deeper than that, there is a separate page for statistics, which provides an overview as well as episode download statistics. In the overview area, you can see regional stats, user retention, where your listeners are coming from (e.g., Spotify, Podbean App, iTunes, Safari). You can view these stats based on certain date ranges as well.
The Episode Downloads Stats page allows you to see your top 10 most downloaded episodes per a given timeframe and even allows you to compare them.
Pros
The user-friendliness of this interface, both website and mobile, allows for easy publication and integrating to your necessary social media sites.
You can record or livestream with four additional people at one time from your phone or from the website.
Podbean doubles as a directory, allowing you to capture additional listeners and showcase your podcast, whether audio or video, on another podcast app.
You don't need to worry about capping your storage limit before the end of your billing month if you purchase any of the top 3 levels of service
Podbean offers incredible user support through their robust help website or direct care via email
Integrates with Resonate for One-Click Posting
Cons
Podbean's video podcast hosting is more expensive than the comparable services on other hosting platforms.
The WordPress integration does not work well with all WordPress templates so it would be beneficial to make sure that the template works well with Podbean either before choosing the WordPress template or before utilizing Podbean.
You have to manually submit your podcast's RSS feed to directories (e.g.  Apple Podcast, Google Podcast) other than Spotify.
Conclusion
Podbean is very user-friendly and easy to maneuver through when posting, whether on a computer or via the mobile app, which makes it especially helpful for anyone who is new to the podcasting game!
Podbean also has an audio recorder in their app, which makes it a great bonus for live streaming or recording wherever you are at. Coordinating multiple guests who are remote will be a cinch with this most recent roll-out.
If you need help deciding which hosting platform is right for your needs, check out our list of the top 5 podcast hosting platforms or schedule a call with our team and we'd love to learn more about you and your show. Read more about the specifics of how podcast hosting, RSS feeds, and podcast directories work on Resonate's Help Center. 
Podbean alternative
Podbean is a wonderful platform for hosting with a really strong set of features. In fact, PodBean and Buzzsprout are the two platforms we recommend the most.
But Resonate Hosting speeds up your workflow by letting you publish your show on the same platform you trust for editing your podcast. Simply upload your audio for our team to edit, set the publish date, and click approve.
Podbean limits the amount of audio you can upload on their entry plan, but every level of Resonate Hosting offers unlimited episodes and unlimited downloads.
Lastly, our benchmark testing showed that Resonate Hosting performed even faster than Podbean, meaning your listeners will be able to download the mp3 for your episodes even faster. Try Resonate Hosting free for 14 days.