What is a Video Podcast
A video podcast is a visual version of your podcast that can be distributed on YouTube, Vimeo, and your podcast website to reach a larger audience. At this point, very few podcast directories allow video podcasts to be uploaded through their RSS feeds. However, Spotify recently built out video podcasts as a feature on their platform, which is only currently available to a handful of top shows.
Benefits of Video Podcasts vs Audio Podcasts
Video podcasts are an amazing way to generate waterfall content for your podcast, because they can easily be chopped up and posted as videograms (short clips) on social media. Video is more intimate because it brings your audience into the studio so it can help build trust with viewers. Plus, posting your podcast on YouTube (in addition to Apple podcasts, Google, Spotify, etc) makes your show available to a brand new audience.
Factors to Consider
While video podcasts have some incredible benefits, there are also some serious downsides to think about before you dive in.
Editing video takes longer and may add production costs.
Recording video adds stress to the hosts and guests, not everyone enjoys this.
It is challenging to keep viewers engaged on video for the full length of a podcast episode, unlike audio podcasts. Pat Flynn makes this point here.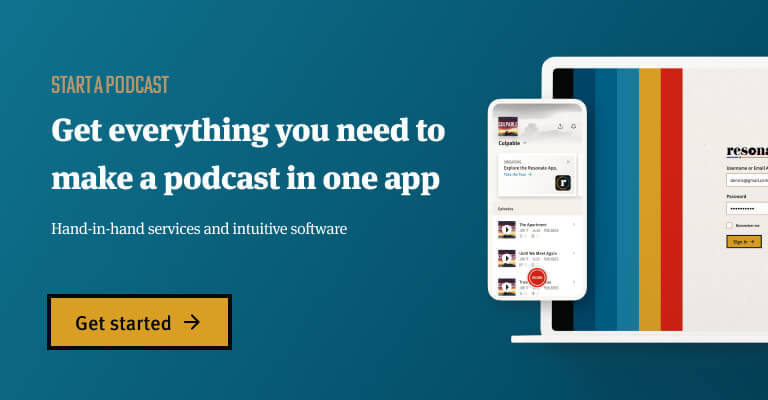 Types of Video Podcasts
There are several different ways to create a video podcast, some easier than others. You can pick and choose the option that works best for you, and you can even mix and match some of the ideas as well.
Static Image (Easiest)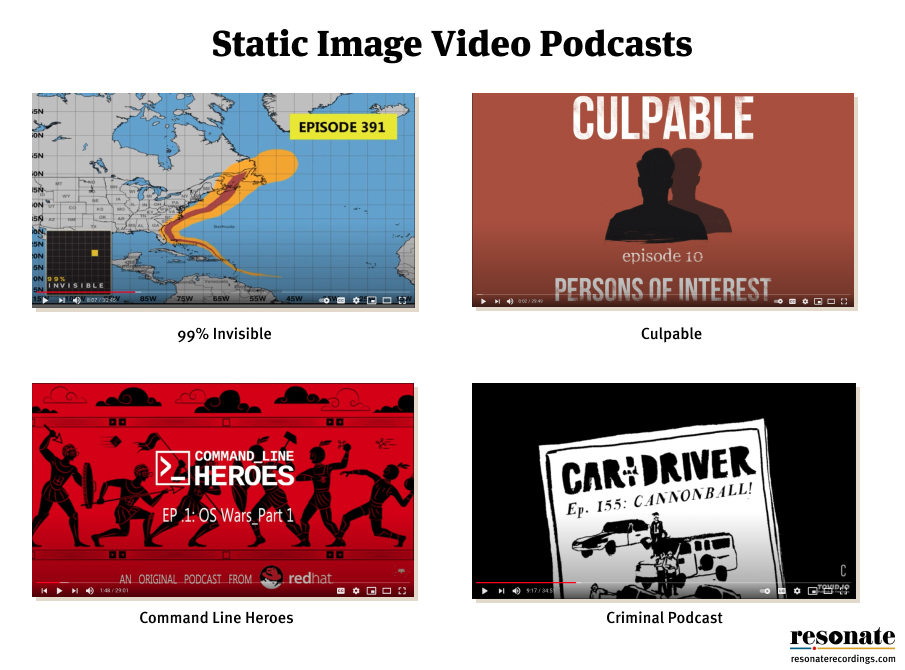 The first and easiest way to make a video podcast is to just create a video with the podcast cover art. We do not recommend this method in most cases, because it is very visually boring and YouTube doesn't like static content. Because YouTube is a visual-first platform, we recommend creating something that is more dynamic.
If you do follow this route, we recommend at least creating custom artwork for each individual episode of your show. Otherwise your YouTube channel is going to just show a bunch of duplicated copies of your podcast cover art, making it hard to decide which video to click on.
Examples
Visualizer (Moderate)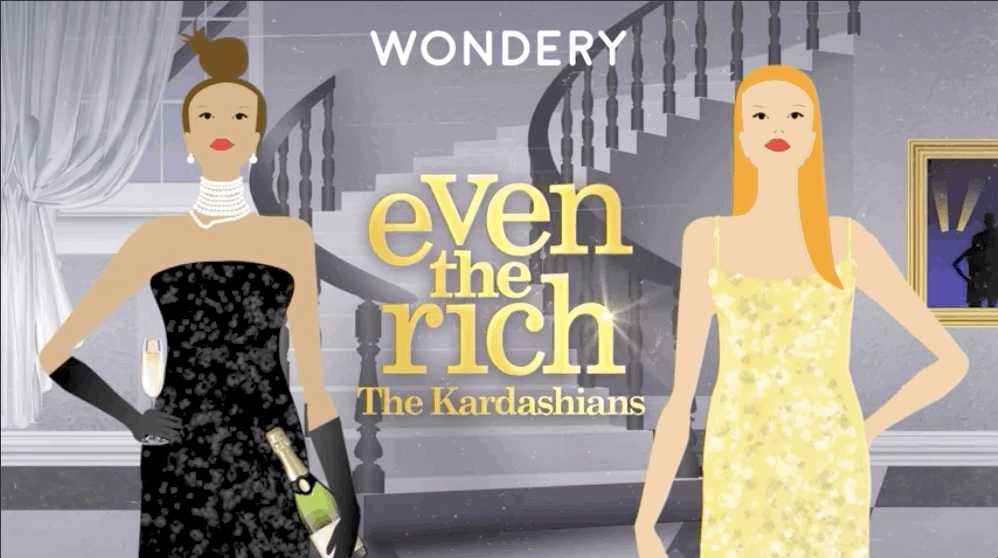 Example from Even the Rich podcast by Wondery
A visualizer is a short looping video (much like a Spotify Canvas) that adds interest to an otherwise static image video. The benefit of this method is that it's far more visually exciting than a static image, and much less work than being on camera for a full length episode. It works especially well for narrative and storytelling podcasts that are recorded during many different sessions.
Examples
Slides, B-Roll, and Powerpoint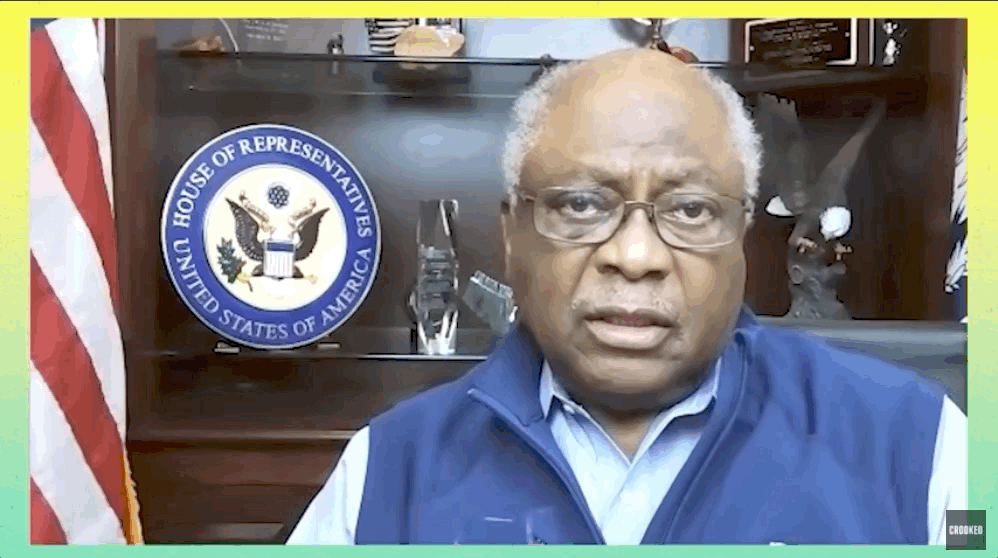 Example from Pod Save America by Crooked Media
Adding slides, broll, and even a full powerpoint presentation to your podcast is a great way to improve the video podcast experience. You could create a video podcast that focuses exclusively on slides, with no faces shown, or you could add slides on top of the main video footage of yourself recording the podcast. The goal of this method is to make the podcast more interesting and show your audience the content you are talking about (eg screen share your computer while referencing a website or different video).
Examples
Animations & Illustrations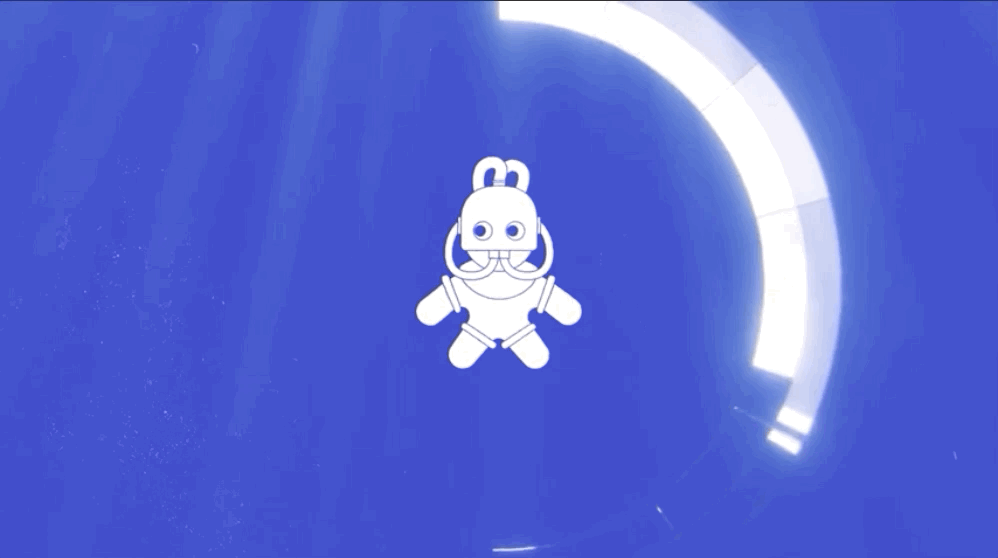 Example from Dissect Podcast
Another way to generate a video podcast is to create an animation to go along with the audio content. Animated podcasts add visual explanation to what is being said to keep the audience engaged on the screen. Typically this animation method is used to create simple podcast video trailers, rather than full-length episodes. It would take far too much work to do a full-blown animation for the full length of an hour-long podcast for most people, but many podcasters use this method to create an animated podcast trailer, or to animate a special clip from their podcast (6-10 mins) so they can optimize it for YouTube.
Examples
Solo Storytelling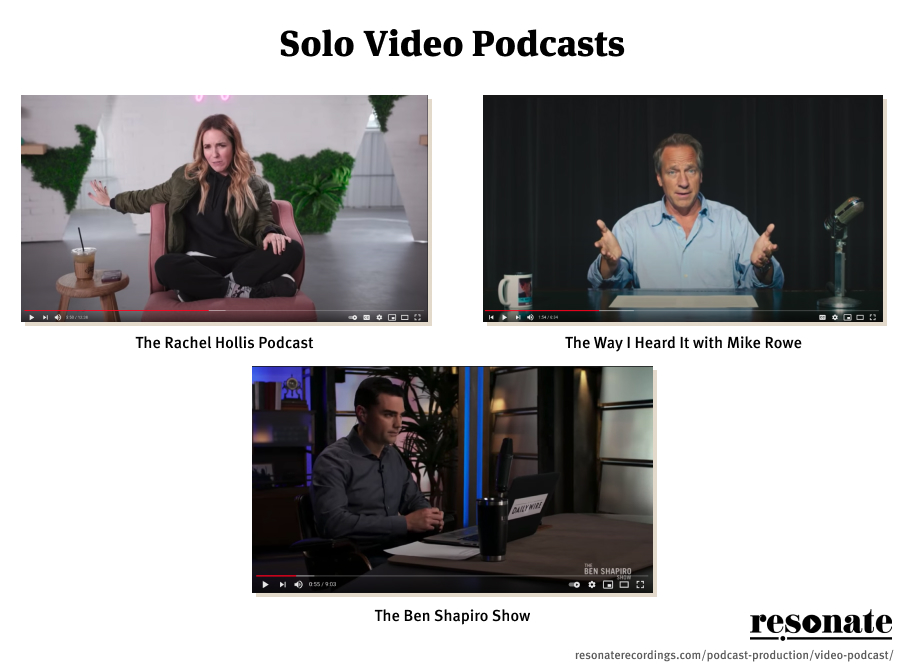 Solo podcasts can follow a similar setup to the in-person interview recordings. You should create a welcoming studio space for recording, with good sound dampening and a beautiful background. Solo storytelling is not the most common format for podcasts, but some talk shows do follow this.
Examples
Interview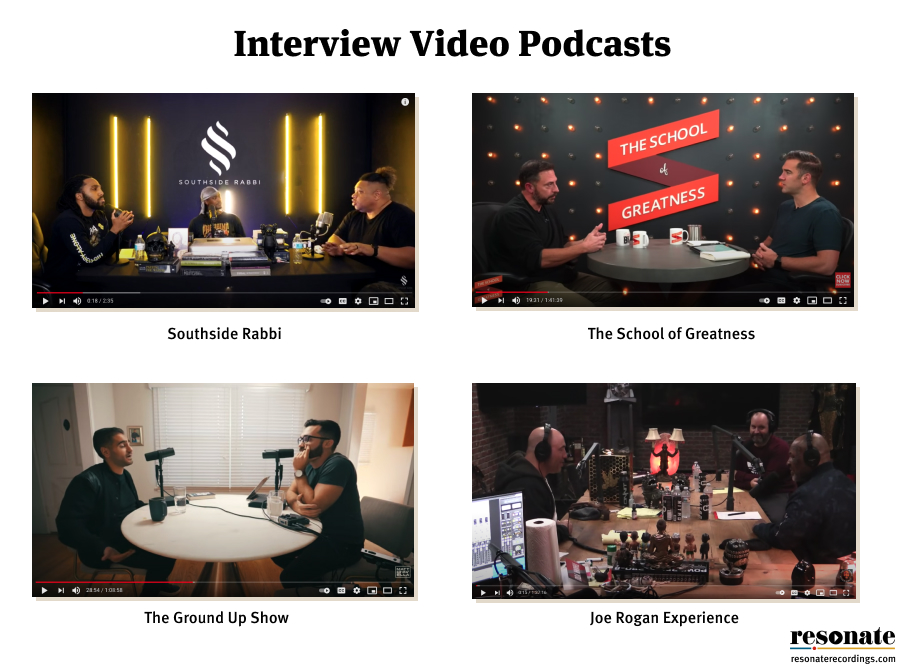 Interview-style podcasts are the most common kind of shows to release video podcasts. This makes sense because the conversation naturally works better whenever you can see both guests' faces, and it works especially well when the guest is well known. In-person video interviews can be recorded in a beautiful studio, on a living room couch, or even in a walk-in closet. They sometimes require more pre-planning and work to make the set look beautiful, but the beauty of creating a high-quality interview video is that you can chop it up and redistribute it across multiple channels (YouTube, Snapchat, IGTV, Facebook, LinkedIn, TikTok).
Examples
Remote Interview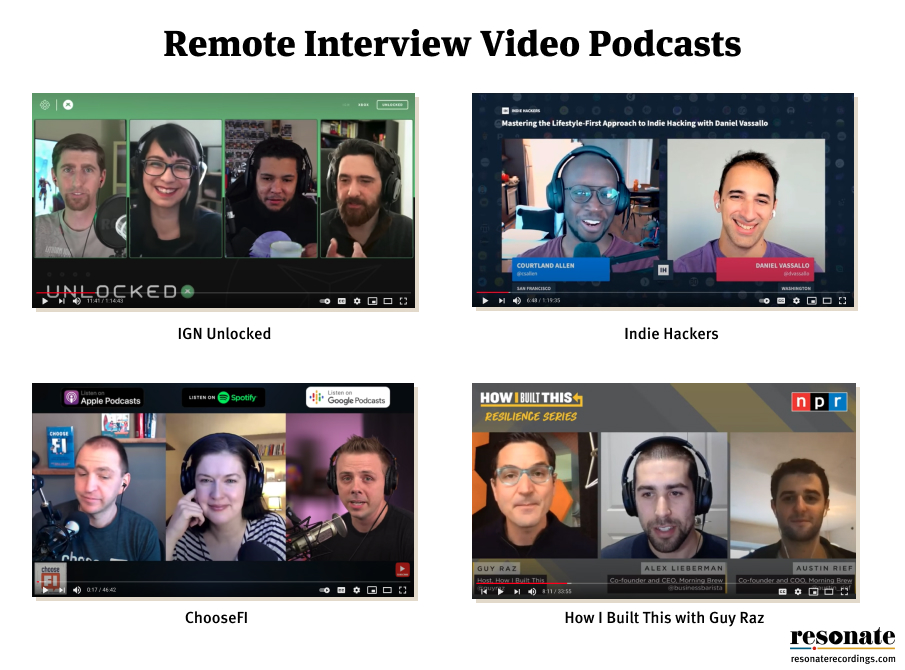 Remote recordings have been a popular part of the podcast culture for a long time. But in 2020 and 2021, the shift to work from home has created a big spike in the number of podcasts recorded on tools like Zoom and Riverside. Typically, for remote interviews, both the host and guest's full video is recorded and then embedded into a custom-branded background. Sometimes the video will have additional lower-thirds, slides, screen sharing, and other elements to make it more engaging. But at the minimum, a remote video interview is a full recording of your video call that you can upload to YouTube and cut into multiple short clips.
Examples
Conclusion
There are a lot of different methods for creating a video podcast. We recommend either creating a visualizer for your podcast (at the minimum) or recording your interviews to bring your audience behind the scenes as you record and let them see your faces.
How to Make a Video Podcast
What does it take to make a video podcast? You need to find your topic, buy the right equipment and software, produce the podcast as you record, edit the video, distribute it, and chop up the content for marketing. Let's dive in.
Finding a Topic
The first step to creating a video podcast is to find a topic that you have a deep interest in, and that you can generate topics from. If you are looking for more ideas on how to brainstorm the topic and theme of your podcast, check out our blog on How to start a podcast.
Equipment
Here's a quick list of what equipment we recommend for recording a video podcast. This equipment is great for recording both in-person and remote videos.
In-Person Recording Setup
The easiest way to record an in-person video podcast is to capture video through a nice DSLR camera and audio through a separate handheld recorder, and then combine the audio and video in post.
DSLR Camera (Optional) – Sony A5100 ($599)
Microphone – Audio-Technica ATR2100x ($99) or Samson Q2U ($69)
Audio Recorder – Zoom H6
Headphones – Beyerdynamic DT 770 Pro ($149), Samson Technologies SR850 ($49), or Apple Earpods ($18.99)
Lighting – Viltrox 30W Dimmable Light ($52) and universal light stand ($29). Make sure your face is well lit, and avoid direct light behind you (don't sit with your back to a window).
Recording Environment – Find a dedicated space to record that is quiet, has lots of sound-dampening things like carpet and couches, and turn off any background noise like HVAC, phone notifications, and other electronics.
Invest In Your Studio Space – Invest some energy (and money) into your video background to add branding, some cool lights, and props like books, coffee mugs, or candles.
Remote Recording Setup
The easiest way to record a remote podcast is to use a tool like Zoom to capture the video, while also recording a backup of your podcast audio locally on Quicktime or Audacity, then combining the audio and video in post.
Producing Your Podcast
Now let's dive into the specific steps it takes to create your video podcast.
Filming in Person
Filming a podcast in person, whether you are a solo host or interviewing a guest, will take the most amount of work. Here are the key steps you need to take to produce an in-person video podcast.
Set up your equipment. Clean up your video set, set up your camera, mic, and equipment.
Record a test video. Test both the video and audio to prevent any major mistakes from ruining the recording.
Slate. Record a clap at the start of the video so your editor can align the video and audio easily in post.
Stop recording. End your recording, organize and rename files for your editor, and upload them.
Edit the video. Cut out distractions, add intro and outro bumpers, add lower thirds and animations, add b-roll, and sync up the mixed audio to your video.
Export edited video as audio for mixing. Take the audio from your edited show and export it for mixing and mastering. This mixed audio can be re-synced with the video and published separately as an audio-only podcast on Apple, Spotify, etc.
Record separate intro and outro for the audio version (Optional). Some shows add in separate intro/outro bumpers to the video and audio versions of their podcast.
Post on YouTube. Upload your video to YouTube and make sure you optimize it for SEO (scroll down to see YouTube SEO tips).
Filming Remote Interviews
Remote interviews are a lot easier to prepare for and record. Unlike in-person recordings, they require much less equipment to manage and can even be done using nothing but your laptop.
Choose your remote recording software (Zoom or Riverside.fm). You can read our full list of recommendations on how to record a remote podcast here.
Send your guest a link. Most recording software like Zoom lets you schedule an event and send your guest to link so they know where to record on the call.
Set up webcams, USB mics, and headphones.
Don't be afraid to ask your guest to improve their setup. Make sure your guest has headphones on, ask them to clean up the video background, and strive to curate the video to best serve your audience.
Don't use virtual backgrounds without a green screen. Virtual backgrounds are fun when you are on a conference call, but without a green screen they create very bad cropping around your outline in the video.
Test everyone's mic, make sure everyone wears headphones (to avoid recording echo). Always do a quick test recording and set up a backup recorder to avoid losing files.
Record interview.
Download video files.
Embed videos a branded background (picture-in-picture style).
Export edited video as audio for mixing. Take the audio from your edited show and export it for mixing and mastering. This mixed audio can be re-synced with the video and published separately as an audio-only podcast on Apple, Spotify, etc.
Record separate intro and outro for the audio version (Optional). Some shows add in separate intro/outro bumpers to the video and audio versions of their podcast.
Post on YouTube. Upload your video to YouTube and make sure you optimize it for SEO (scroll down to see YouTube SEO tips).
Illustrations, Slides, and Static Images
B-roll and on-screen content can make your video much more engaging. This is crucial because YouTube's #1 metric for success is engagement: how long are viewers watching your content. Illustrations, slides, and static images can be added to any style of video podcast, whether you record the hosts or not. Here's how to plan ahead:
Review your entire episode, making notes anytime you mentioned a resource.
Collect screenshots, images, b-roll, and illustrations to sprinkle throughout your video.
Use Descript to easily get a transcript of your episode so you can easily see the timestamps of your video and create notes for your video editor.
Edit Your Video Podcast
Need to outsource your video podcast production? Our team can manage all of the complex work of color grading, adding b-roll and lower thirds, adding custom bumpers, and mixing your video for sharing on YouTube. Learn more about our video production services here.
Where to Upload Your Video Podcast
Video podcasts can be used in a lot of versatile ways. Here are some of the most popular ways to distribute a video podcast.
YouTube

YouTube is the number one platform you need to upload your video podcast. YouTube has over 2 billion monthly users. It is a massive search engine, just like Google so you need to pay attention to SEO to grow your channel.
How to Rank Your Video on YouTube (YouTube SEO 101)
Title – Write a gripping title, use at least 1 keyword. VidIQ is a great tool to use.
Description – Video descriptions need an exciting summary of the content, links to resources, and any information that will help your users understand the video's context.
Tags – Add relevant tags (similar to hashtags) to your video to help YouTube understand what your video is about (eg. Tesla, Elon Musk, Space X).
Thumbnail – Boost the click through rate to your videos with a custom thumbnail with an exciting title that pulls you in.
Engagement – YouTube's #1 metric for success is engagement. Make your video interesting and high quality to keep your audience's attention.
Video Chapters, Info Cards, and End Screens – Add timestamps in your video description to automatically add chapter summaries to your video. Add Info Cards to link to other related videos and End Screens to the end of videos. This all helps users find more of your content and over time can lead to YouTube generating a lot more views on your channel.
Twitch (Less Common)

Twitch has a Talk Shows & Podcasts category with over 2.5 million subscribers. Many creators record a live podcast, then upload it separately to other podcast directories after recording it live. The benefit of this method is that it requires little to no post-production.
Spotify (Limited Availability)

Spotify released their video podcasts feature in 2020, in preparation for adding the Joe Rogan Show exclusively to their platform. However, it is currently only available to a select number of podcasts
Snapchat (Less Common)

Shows like The Breakfast Club, Pod Save America, The Ben Shapiro Show, and many more post long clips to Snapchat. These Snapchat versions often have lots of b-roll, screenshots, memes, and crazy transitions to keep user engaged. One major note – while anyone can upload a video to Snapchat Stories, you have to be manually given the Snap Star upgrade in order for users to subscribe to your content as a "Show."
IGTV (Market Your Episode)

Instagrams IGTV lets you upload long-form video up from 15 seconds to 10 minutes long. With a verified account you can upload videos up to 60 minutes. For most podcasters, the best way to use Instagram to promote their show is to upload video clips and add a link for users to watch the full video on YouTube.
Facebook (Market Your Episode)

Facebook lets you upload videos up to 240 minutes. But even though you could upload a full-length podcast episode on your page, we recommend posting short 7-12 minute video clips from your show with a link pointing to the full video on YouTube.
Podcast Video-Clip Strategy
One of the biggest benefits of making a video podcast is that you can create repurposed content for social media. To get even more value out of your video podcast, chop it up into 1-3 engaging clips and upload them separately on YouTube and social media with a link back to the full episode.
This strategy is used by tons of podcasters, including Tim Ferris, Joe Rogan, Pat Flynn, and Naval.
How It Works
Pull 1-3 short clips from your podcast (7-12 mins)
Upload them in addition to your full-length episode (YouTube, social media)
Add a link to your full-length episode along with each clip you post
Conclusion
Video podcasts provide tons of opportunity to reach new listeners and generate additional content for marketing your show. But they also require a lot more hard work and post-production. If you have the budget or capacity, we highly recommend creating a video podcast strategy that suits your podcasts goals.
Once you start your video podcast and are growing your audience, the next step is to start considering how to monetize your podcast.