She Podcasts LIVE is the largest in-person gathering of women podcasters, audio content creators, story tellers, and more.
Founded in 2014 by Elsie Escobar and Jessica Kupferman, the in-person and virtual conference was inspired by the She Podcasts podcast, a show focused on the empowerment of women in podcasting. The purpose of the conference is to provide a safe space for female and nonbinary podcasters to engage in an educational podcasting conference curated to their interests and goals. 
This year, She Podcasts LIVE: Together, We Rebuild took place in Scottsdale, Arizona. Podcasters of all genders gathered at The Scottsdale Resort Plaza to engage in the workshops, sessions, and of course, the She Podcasts Bazaar. Podcasts companies and organizations came out to showcase their brands, impact, and show support for the She Podcast cause; including Resonate!
Through the many sessions, there was a lot to be heard and lessons to be taught by experts in the podcasting industry. Wishing you were there to hear? We've put together the Top 10 key takeaways from She Podcasts below.
1. The power of community, collaboration, and women podcasters
She Podcasts' cult following earned that descriptor for a reason. Grow Your Show Through Collaboration, Not Competition with Kristen Meinzer emphasized the power of community and how we can work alongside our competitors instead of against them. Podcasters can collaborate to promote each other's shows through newsletters, cross promos, appearing on each other's shows, and feed drops.
Punam Saxena, host of EduMe Podcast and speaker of INclusivity in Podcasting shared her takeaway from the conference, "She Podcasts Live was the perfect breath of fresh air needed to reinvigorate and remember the power of SHE. It was the perfect combination of learning, living, and laughter." This conference connected women podcasters across the nation and provided a sense of community with full support and continued education in podcasting. 
Kathy Barron, Editor-in-Chief and founder of Women Who Podcast Magazine shared that, "It's important for me to share knowledge with fellow podcasters so everyone has the tools to be successful. It's all about helping each other, lifting each other up." Podcasters left feeling motivated and stacked with tips, tricks and tools for their podcast. 
2. Interview your guest with hospitality, not just curiosity
Barron also spoke at a session titled Compelling Conversations: Strategies For Conducting Exceptional Interviews. She shared the "3 C's of Interviewing: Curiosity, Creativity, and Conversation. It's basically about being genuinely interested in who your guest is and what they have to offer, being creative in the questions you ask, and making the conversation casual so your guest is comfortable and at ease," said Barron. Conducting an interview that feels conversational and safe for guests is key especially as the podcasting world works to uplift voices & share raw, personal stories that connect us deeper to the human experience.
3. You can't have a good show that sounds bad
Cameron Esposito, comedian, and host of Queery, kicked off She Podcasts Live as our first keynote speaker. She shared her trials and tribulations amongst all being the importance of authenticity and understanding that we all have different stories and perspectives. Lastly, she emphasized one of the most important qualities of a great podcast is proper recording and quality audio. Nobody wants to listen to a show that sounds bad.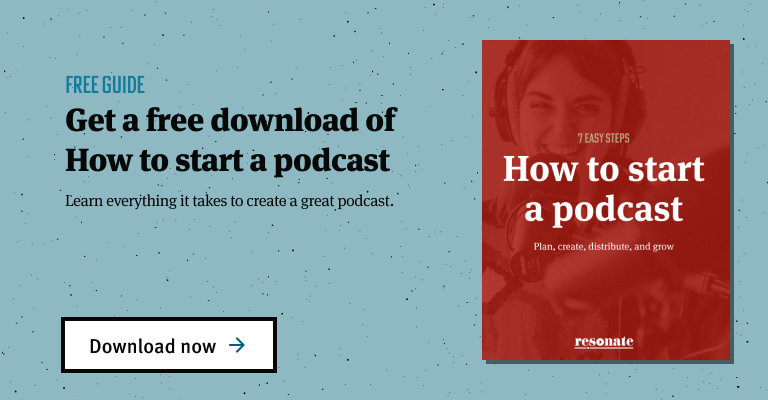 4. Do the research to be and stay different
Maribel Quezada Smith, Video & Podcast Producer shares her biggest tip, "Know your audience! During my session, I addressed why you need to understand your audience on a psychographic level to truly connect with them in a meaningful way. And the question in almost everyone's mind at She Podcasts was: How do  I grow my show? Well, I said to everyone I met, start by knowing your audience." 
Knowing your target audience, conducting market research, and knowing who else is creating similar content is important for your show to stand apart from the crowd. Nancy Davis Kho of Midlife Mixtape and author of "The Thank-You Project" posed these questions: "What resonates? What topics are listeners most excited about? What is the white space? What are the questions guests haven't answered yet?" 
Satellite Sisters are pioneers of the podcasting world uniting, inspiring & empowering women podcasters. They encourage having a mission statement, understanding what you value most for your audience's takeaway, and utilizing the guest as your "special sauce" to align with your series' mission. 
5. YouTube podcasting is on the rise – Edison Research
She/Her/Heard: Women and Podcast Listening Today presented by Laura Ivey shared some groundbreaking statistics from Edison and Infinite Dial of 2021. We learned that YouTube is on the rise as a preferred listening channel for podcasters. True Crime still holds to be the most popular genre. As a whole, more Americans are listening to podcasts today than ever before.
Gender equity in podcast listening is even more prevalent today. In the past 15 years, the podcast industry was dominated mostly by white men. Women are on the rise to almost surpass men in listenership and engagement. Additionally, Edison Research reports are also striving to provide more data for the non-binary community.
The number of U.S. Latino podcast listeners increased by 44% since 2020. The podcast community is showing more inclusivity for our BIPOC community. During the presentation, we heard feedback from Latino listeners who shared their appreciation for shows that connected them to their culture. Podcasts are giving the BIPOC community a voice. This is encouraging for our diverse audience. Lastly, Edison Research will have its first ever listener report for the African-American community soon. You can learn more about this research on Edison Research's website.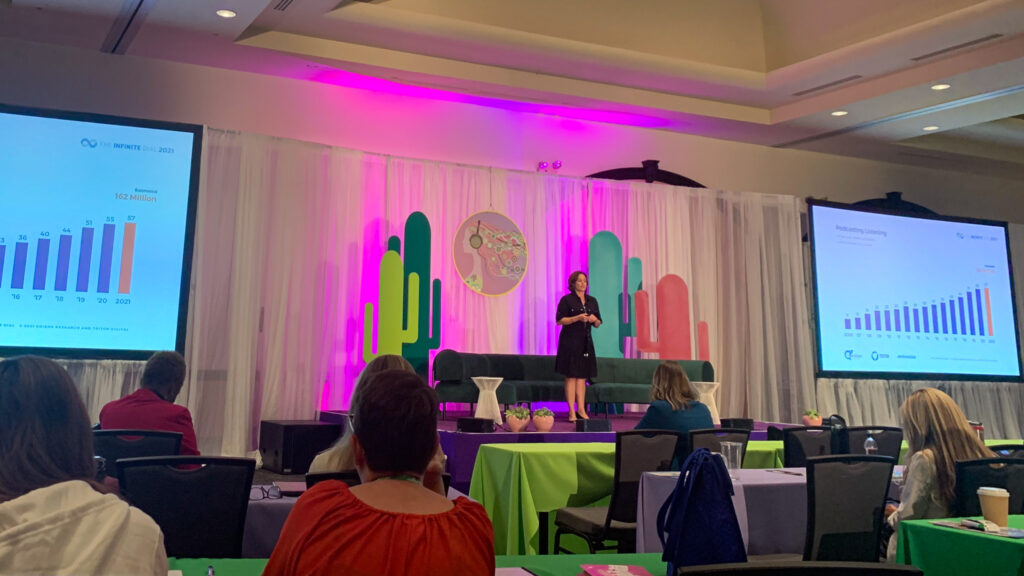 Edison Research shares data on podcast listening trends
6. How to create the perfect pitch
Powerhouse producers, Dominique Ferrera and Stacey Book presented From Idea To Format To Series: How We Build And Pitch Riveting Documentary Podcasts. They demonstrated how to take an idea for a podcast series to create a structured, well-planned show. This process involves creating an organized pitch deck to present and monetize a series for sponsorships, brand partnerships, advertisement agencies, book publishers, and even television agencies. Creating a solid pitch deck is something that was emphasized by many speakers like  Dawn Fraser, a storyteller, speaker, and communications coach. Damona Hoffman of The Dates and Mates Podcast was one the fabulous keynote speakers at the conference. She shared how to build a pitch deck for media coverage. Here is The 1-2-3 Perfect Pitch from her, a tool for success.  
7. You should be podcasting in style
They say not to judge a book by its cover, but what about a podcast host? Stylist and podcaster Holly Katz of the Fashion Crimes Podcast brought up the importance of dressing for success in podcasting during her session, Is your image holding you back? Fashion & Style Tips from Personal Stylist Holly Katz. Oftentimes, your style could be the gatekeeper between you and your audience. Building a relationship with your listeners means building trust, and you wouldn't trust someone dressed in sweatpants every livestream to teach you about professional business, would you? Dress the part you want to play, and in doing so find your personal style; if you're the host of your podcast, that style is your brand.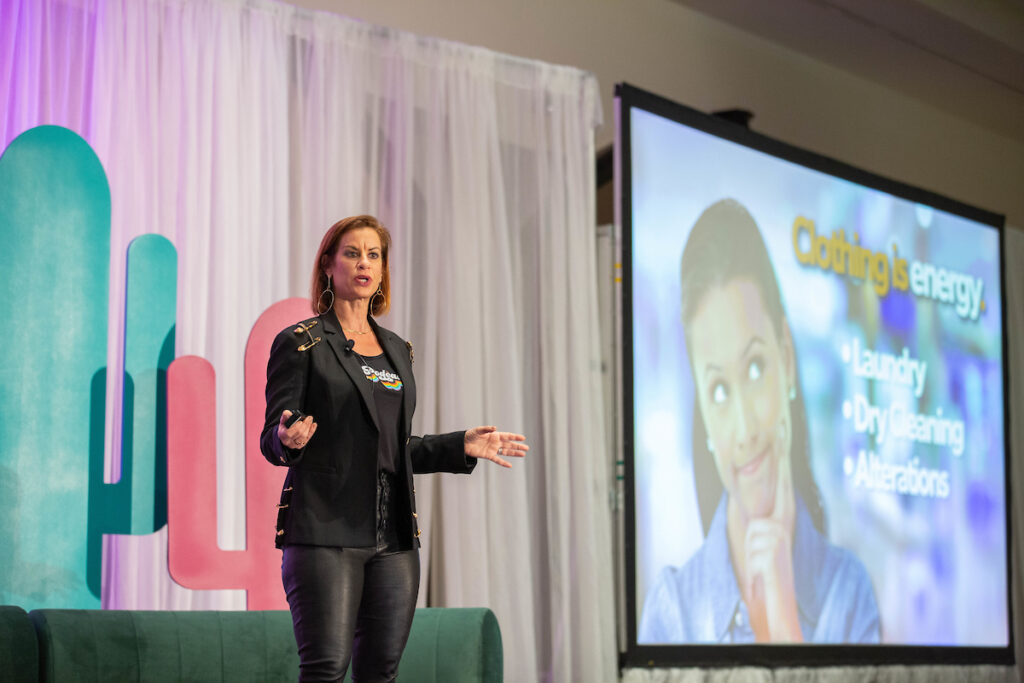 8. There is so much potential for your podcast on TikTok
Empty Nest Coach and podcaster Christine held a crowded session about creating content for the social media platform TikTok. She ruled out myths that the app is just for children and teens and showed startling statistics for Tik Tok's 2021 run. 
In 2021, TikTok surpassed YouTube for most watched videos within the first five years of its existence. Wow! The potential to create and spread your podcast's message on TikTok has skyrocketed, and the social media train isn't slowing down any time soon.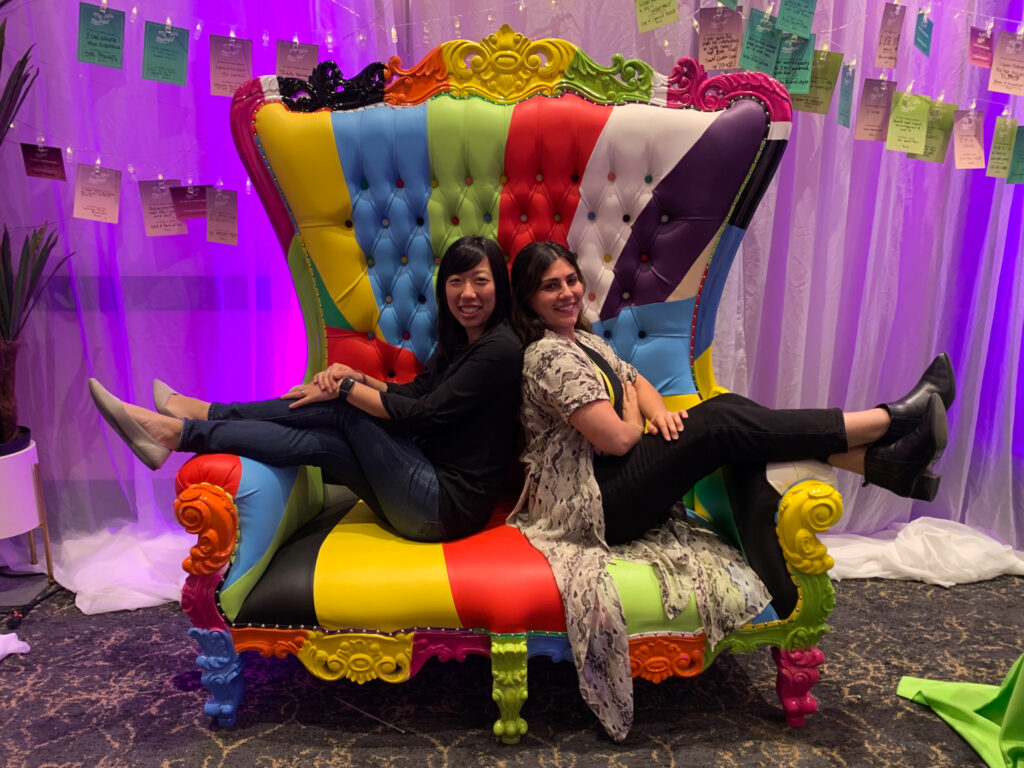 9. Virtual networking is the majority of networking
Whether or not you meet in person or through a screen, it's becoming more and more likely that closer conversations will be happening via Zoom. With the world becoming more and more virtual these days after the 2020 quarantine, "putting yourself out there" now means putting yourself out into online social spaces. At She Podcasts, numerous emails, social media handles, and numbers were exchanged to keep in touch for further conversations. Among those platforms were Clubhouse referenced by Bonnie Frank, coach and consultant and LinkedIn recommended by Karen Yankovich, a LinkedIn marketing strategist. They're great networking tools to expand your network, highlight important content from your podcast series, and gain subscribers to your podcast show. 
10. Self-care can convert to financial freedom
Samra Michael and Alana Baumann are a best friend duo of podcast aficionados who created a show called, She Well Read. At the conference, they presented Taking It All In. A fabulous talk on starting a podcast, staying true to who you are, setting SMART goals and tools to navigate a conference all while still allowing space for self-care. 
Here are their top tips:
Investing in your mental health is wealth
Never forget your self-care no matter what
Check in with yourself
Take everything in bite sized, manageable pieces
Create your own table if you can't get a seat at others (create your own opportunities)
In the theme with the conference, Together, We Rebuild, there were opportunities for self-care, growth and development with a community of encouragement led by our fierce hosts of She Podcasts. Jessica and Elsie shared gems of wisdom along the way. One of the most powerful being that downloads do not define your show. Self-care opportunities presented with morning yoga, wellness talks with speakers like Ming Shelby, a coloring cool down, BIPOC happy hour, a pool party, and just an overall genuine kindness that made you feel welcome and excited to learn about all things podcasts.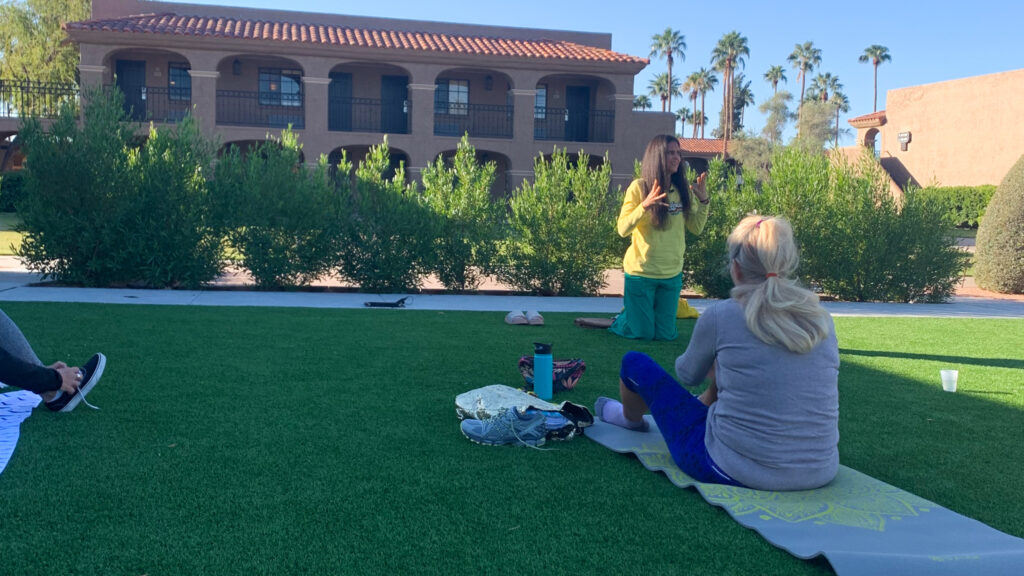 The Resonate team sends a big thank you to Jessica, Elsie, the speakers, and everyone who worked to make She Podcasts LIVE: Together, We Rebuild happen. This was a magical time that left all with new connections, useful tools, and motivation to continue forging the woman's path in the podcasting world. 
Additional writing by Isabella Maxey (Community Marketing Coordinator)