Congratulations! You've done it. You've decided to take the plunge into the wonderful world of podcasting! You no doubt have a wide range of thoughts and emotions running through your head about what you've just signed yourself up for and what exactly you should expect. You're probably excited about this new venture, this new art form, this new medium you're diving into headlong. But paired with that you're probably also nervous about the whole entire experience, right?
Even after you develop your podcast's idea, you storyboard the episodes, you line up the interviews, you get your equipment, you record the content and you have it compiled into a nice, neat, pristine audio file, you still have some work to do.
Truth be told, this can be as much of a headache to some podcasters as any other part of the process. And while we've already discussed the first part of the process, the podcast hosting platform part of it, there's still something that needs to be said about the final phase of the distribution… getting it out onto the directories.
What podcast directories should I be on?
Distributing your podcast to the right podcast directories is a critical step to a successful podcast. Maximize the potential of your podcast by sharing it on every channel that you're able to, but also focus on who your audience is and where they spend the most amount of time.
Apple is debatably the number one podcast app in the world. Follow the steps in this guide to submit your RSS feed to Apple Podcasts.
Spotify has become a major player in the podcast space over the past few years. They have acquired several major brands including Anchor (a podcast creator app) and Megaphone (a podcast hosting app). Follow the steps in this guide to submit your RSS feed to Spotify. This will also unlock podcast analytics unique to Spotify as well.
Google Podcasts is not the biggest app but it does provide two key benefits: SEO and accessibility on Androids. Google displays podcasts from Google Podcasts at the top of some search results, giving you the chance of getting organic traffic for your show. Google Podcasts is also one of the best ways to listen to podcasts on an Android, so it's best practice to ensure your show is listed. Follow the steps in this guide to submit your RSS feed to Google Podcasts.
Follow the steps in this guide to submit your RSS feed to Audible.
Follow the steps in this guide to submit your RSS feed to TuneIn.
💡Pro Tip: If you submit your podcast to these top 5 podcast directories (above) you will make your show available to the majority of listeners. However, there are many more directories you can try to distribute your show to as well. Keep reading below for the full list of directories.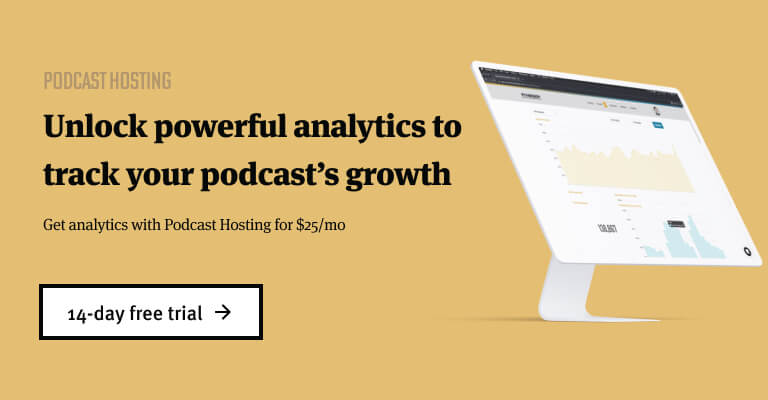 While it's not technically a directory or a podcatcher, more and more podcasters are releasing their shows as videos on YouTube, and more listeners are tuning into these shows every week. Learn about 7 ways to make a video podcast here.
7. Amazon Music
Create an account and submit the podcast to Amazon Music here.
8. Pandora
Submit your RSS feed to Pandora here by logging in or creating an account.
9. iHeart Radio
Click here to create an iHeartRaido account. Once you created an account, go to the Podcasters page on iHeartRadio.com and click the "Submit Your Podcast" button to start the submission process.
10. Podchaser
To submit your podcast to Podchaser, you'll first need to create a profile. Then follow the steps to fill out your profile and submit your RSS link.
11. Deezer
Submit your RSS Feed to Deezer here.
12. Soundcloud
Unless you are using Soundcloud's hosting platform (paid), you will need to manually post each episode to Soundcloud. This is different than other directories because Soundcloud is not technically a podcast directory. You can sign up for a free account here and upload 3 hours per month.
13. Listen Notes
Add your RSS feed here.
14. Podcast Addict
Add your RSS feed here.
15. Pandora
For Pandora visit the account creation page to get started. Then add your RSS feed on Pandora's podcast submission page.
16. RadioPublic
Link your podcast here by entering in your RSS feed and verifying ownership
17. Facebook
If you have a Facebook page for your podcast and opt-in to podcasts on Facebook you can share your podcast. Here is a link to step-by-step instructions on how to add your Podcast to Facebook.
18. PlayerFM
Sign up to add your RSS feed to Player FM.
19. Podcast Gang
Sign up to add your podcast.
Podcatchers: Where you don't need to submit your show
Podcatchers scrape podcasts from the RSS feeds on podcast directories (like Apple Podcasts). Since these platforms pull from the main directories they do not require manual submission. Below is a list of Podcatchers.
If you submit your show to Apple Podcasts, you will be automatically added to the following listening apps.
How to submit your show to a podcast directory
It's important to understand that all of the directories work independently so you will have to submit your podcast to each of them individually and they each have a different approval process.
While setting up the directories is a relatively simple process, it's important to understand that it can take a few days to complete the approval process. You will need to have a few pieces of information available before you can get set up.
What you need
How long does it take to be added to a podcast directory?
There is no set time for the approval process, and each directory has their own unique process and turnaround time. We've put together a short list of how long it typically takes below.
Apple Podcasts – Up to 7 days
Spotify – Under 24 hours
Google Podcasts – Under 48 hours
Audible- Under 24 hours
TuneIn – Under 48 hours
Since these times can fluctuate, we recommend launching your show over a 1-2 week period to be sure it's available everywhere. Once the approval process is completed you will receive a confirmation email to the email submitted in the setup process. While many hosting platforms offer a one-click directory submission, you may still have to submit it manually, the old-fashioned way.
How to submit your RSS feed to a podcast directory
Once you follow the instructions above and go through the one-time manual submission process for each platform, your episodes will register on each directory after they refresh. It's as simple as that!
What is a podcast directory?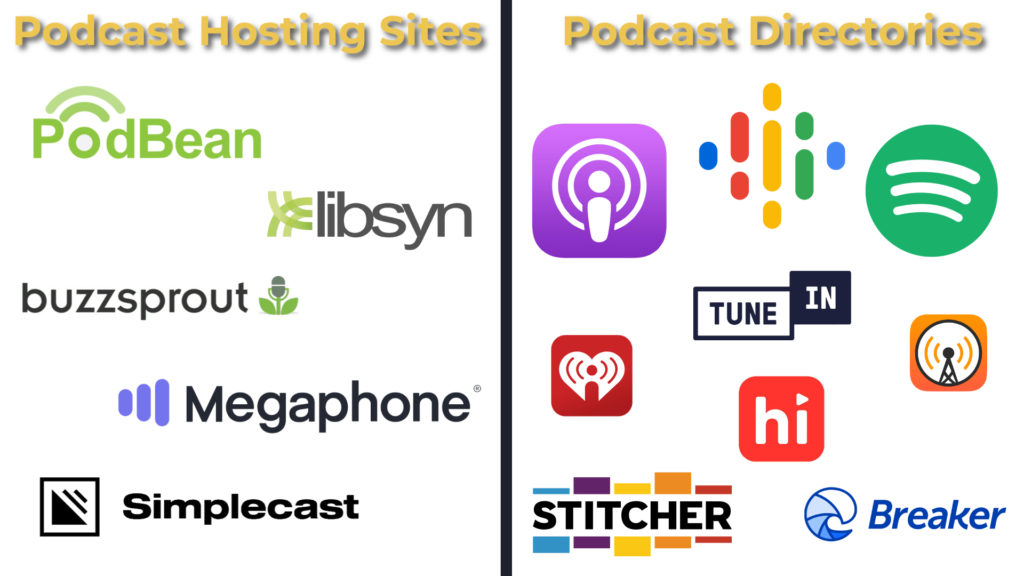 A podcast directory, also known as a podcast listening app, is where people can discover, listen, and subscribe to your show. There are a growing number of directories, but most people listen to podcasts on Apple Podcasts, Spotify, Google Podcasts, Audible, TuneIn, and YouTube.
Podcast hosting is the platform where you generate an RSS feed to share with directories and view analytics to see how your show performs. Podcast directories are the actual apps people use to listen, subscribe, follow, rate and review your show.
As we've covered before, the hosting platform is where your podcast lives. It's the headquarters you will send all of your episodes to once they are completed. But the truth is, that's just one part. Most people will not listen to your podcast directly on the hosting site. While some hosting platforms like PodBean make it easy to listen to podcasts directly through the Podbean app, they are still not exactly the same thing.
How do podcast directories work?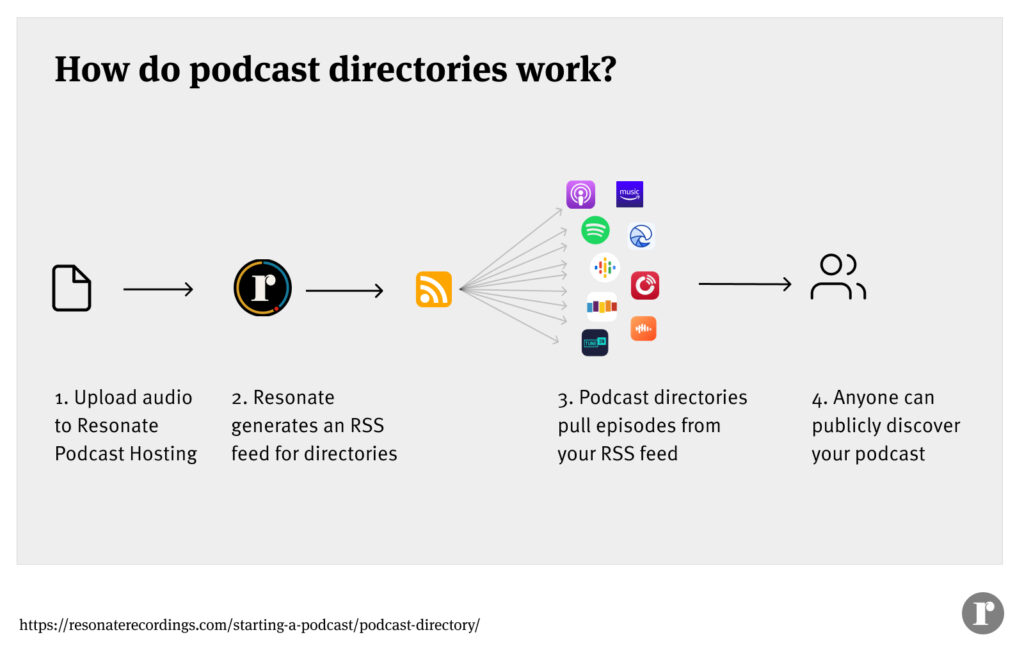 When you set up your account on whatever hosting platform you choose, you will create an RSS feed which is a signal that communicates to the different directories and sends them all the information about your podcast, and let's them know when there is new content they need to pull. Multiple times per day the directories update or "refresh" to obtain the new information about your podcast to see what new or updated information is available.
As a quick note, there is no set time these refreshes happen (at least that is made public) but they routinely update to make sure the content is current. If you upload a new episode, it will immediately be available on your hosting platform, but it will not register in the directories until they do their next refresh.
As a new podcaster, you will need to understand that you can schedule your podcasts or submit them to your hosting platform and use an embed code to make the episode listenable on your website or landing page, but it will not be live in the directories until they refresh!
Conclusion
So there you have it: a basic guide to podcast directories and how to get your podcast online. While the process is simple, it can be tedious and overwhelming to newer podcasters. Because of that, we offer a Podcast Directory Setup service to handle the entire process for you. Get our team's help with your setup or learn about our full range of services by scheduling a call or chatting with us below.