The Resonate Recordings team has an unwavering goal to provide an easier way to podcast. From our experience we know that common hangups for new and existing podcasters can include knowing how to take the vision of a podcast and turn it into compelling content, knowing how to record a professional sounding podcast, finding a trusted production partner who can help with crafting quality episodes and having a knowledgeable partner to go to with frequently asked questions.

The experience we've gained in working with over 600 podcasters, several of which reaching #1 in Apple and other directories, gives us the understanding of what's needed to make a podcast that is successful. To solve these problems, we've designed custom software to simplify the podcast production process.

As our team continues to strive to lead the industry by providing competent solutions for podcasters we are excited to announce the release of Resonate version 2, with new key features intended on making the creative and collaboration process with our clients even easier.
History of Resonate
After growing tired of inefficient and unreliable solutions available, we released version 1 of Resonate in the summer of 2018. Since then, our clients have submitted thousands of episodes and terabytes of audio and video through v1 of the Resonate app. In August of this year, we started working with our UX (user experience) Designer in Italy, tasking him with helping us work with our clients, look for opportunities to improve the original design and come back to us with a complete redesign for version 2 of Resonate. Today we are proud to announce version 2.0 — an even bigger step toward making podcasting easier!
Key Features
Dark Mode
Optimized for Mobile Devices
UI Redesign
Chat With Our Professional Audio Engineers
Resonate Recorder: Web-Based Recording Software
One-Click Posting
Multi-User Functionality
A Home for Your Podcast
Security & Privacy
Dark Mode
Last year, Apple added Dark Mode to macOS kicking off a series of redesigns across the Internet and today we're excited to announce this feature in our own redesign. Resonate now has Dark Mode! It's enabled by default when you log in to app.resonaterecordings.com, but you can easily switch back to our light theme with the toggle button in the footer. We also added several other improvements to the Resonate user experience — including a first-class experience on mobile devices.

Optimized for Mobile Devices
Log into Resonate to check the status of your podcast episode or leave a comment for our team to review. Podcasting with Resonate means you can keep the production of your show moving, even when you're on the go.

UI Redesign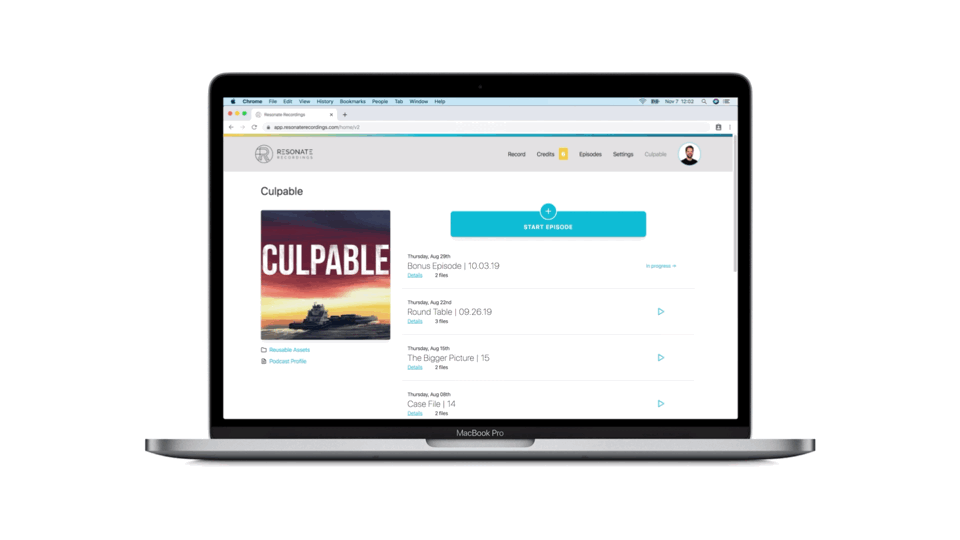 Resonate 2.0 provides users with a brand new user interface. These design updates not only look more enticing but also make Resonate easier to navigate and understand. In addition to the new dark mode feature, our team redesigned Resonate's layout, navigation bar, and individual pages to be more intuitive and streamlined.
Chat With Our Professional Audio Engineers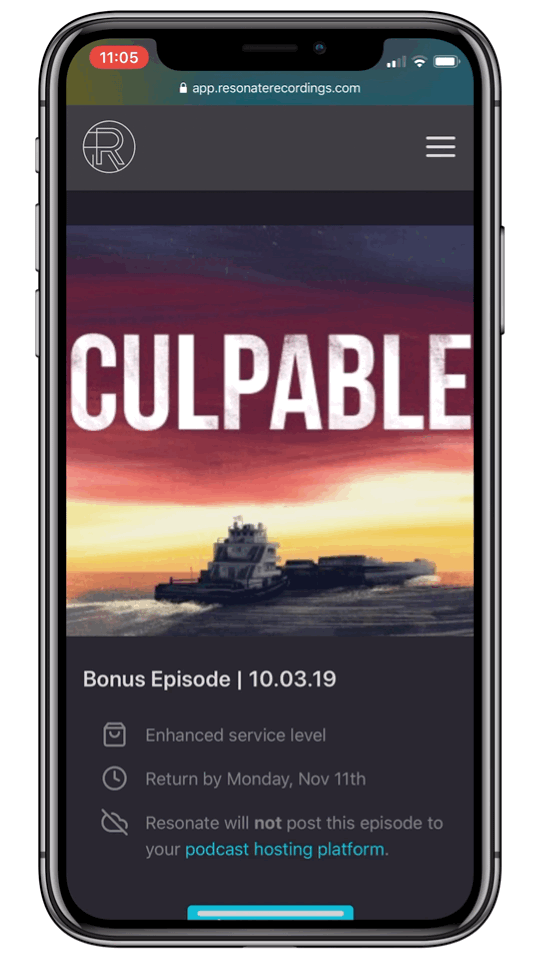 When you submit an episode of your podcast through Resonate, you get direct access to our team of professionally trained audio engineers. Users with questions about their content can simply drop a comment on Resonate and our engineers will respond to you as soon as they can.
The Resonate Recorder | Web-Based Recording Software

Another highlighted feature in the redesign includes the inclusion of the Resonate Recorder. With this new web-based recorder you can easily use a USB microphone and computer with internet access to start recording your podcast's components from within Resonate and then seamlessly link that recording to your next episode submission. Learn more about the Resonate Recorder in this tutorial video.
One-Click Posting
For podcasters working with a production partner, posting the finished episodes to the hosting platform has historically been clunky. We recently rolled out integrations with three of the major podcast hosting platforms (Libsyn, PodBean, and Buzzsprout). You can now post your episode to your hosting platform with one-click from within Resonate. Watch this overview video to learn more about why we created these integrations and what this means for you.

Multi-User Functionality
We recognize that podcasting isn't always a solo project. Many podcasters today opt to work with a team of contributors to help move their content through the production process to develop content that is engaging. Resonate 2.0 enables you to add multiple users to your account to ensure that everyone who needs to contribute to submitting, reviewing and retrieving your content is able to, smoothly and simply. This makes the collaboration and contribution process for you a breeze.

A Home for Your Podcast
Resonate is a home for your podcast. You can record your audio on the Resonate Recorder, upload audio/video/PDF/other files through the episode submission page, and store your podcast artwork, intro and outro bumpers, and any other episode that is used for the whole show in your Reusable Assets Folder. Then you can post your podcast directly to your hosting platform in one click from Resonate. You can also use the same interface to purchase additional credits, upgrade your level of service and invest in great add-ons like show notes and video content, to take your podcast to the next level. Simply put, Resonate is an easier way to podcast.

Security & Privacy
Resonate is an easy-to-use production workflow management solution enabling podcasters, editors, engineers, and designers to rapidly produce podcast episodes. At Resonate, we take security and client data seriously and we have a multi-tier approach to security in our cloud systems and custom software. At every level of our software stack, we provide security controls and restrictions for limiting access to client data. Additionally, our software is improving every day with daily deployments of new features. We collaborate with our clients to configure solutions that meet their security needs.

All data in Resonate is encrypted at rest using AES-256 encryption
All data transfer is encrypted end-to-end over TLS
We do not store any credit card or billing information
We comply with Right to Erasure as outlined in GDPR
All our client credentials are doubly encrypted at the app and platform level
Resonate Walkthrough (Video)
For Resonate clients, please watch this brief training video to get familiar with the changes. This redesign video is also available on your home screen after you log in if you need to refer back to it.
In this video we cover:
How to Login to Resonate
Using forgot password to reset your Resonate password
Submitting episodes to Resonate
Chatting with Resonate engineers about your episodes
Reviewing your completed episode
Purchasing episode credits
Managing recordings
And updating Billing and Credit Card settings
We Value Your Feedback
Please send us your feedback on the redesign. We are constantly working on the user experience, and our clients have some of the best ideas for how we can improve. Reach out to our team with questions, comments, or concerns at hello@resonaterecordings.com.
Related Resources