Anchor is a hosting platform that is easy to use and offers a lot at no cost. It is a self-serve viable option for the beginner to step into the world of podcasting with no idea how to begin.
With a lot of tools from unlimited hosting, one-click distribution, monetization, recording with friends and more. Anchor serves to make podcasting as simple and cost-effective as possible. It operates on a minimalistic approach, but minimal can also be restricted to those who need advanced features.
Overview of Features
Anchor is gunning for the mobile market in podcasting. With their mobile app, they have made a simple user interface that makes it easy to record, split tracks, add music from their library, add sound effect transitions, and more. While they have desktop capabilities, mobile is where they have done heavy development in the podcasting space.
Looking for an overview of why you need podcast hosting? Read an overview of podcast hosting, and our take on the top platforms in our blog on the top 5 podcast hosting platforms for more info.
Navigation
Anchor takes a minimalistic approach on both desktop and mobile which makes their website and app very easy to use. It is so easy that it was not necessary to search how to operate their website or look on their resources page to get a podcast up and running. All it took was a quick set up process and you are off to recording.
Easily Record on Desktop and Mobile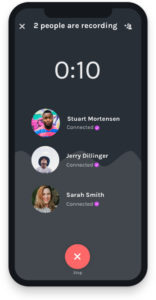 You can record on a computer with an internal or external mic, or you can use a mobile device by talking into a phone or tablet with the Anchor app. All recordings upload to the library tab which can be added to the episode builder.
Invite others to record with the mobile app.
Messages
In the messages tab, you can equip your listeners with a URL for them to leave you a voice message.
These messages can be dropped into the episode builder for listeners to hear in a future episode.
The Episode Builder
All audio gets dropped in a timeline from the website or app.
Anchor processes all the audio to play one after another for a compiled completed episode.
Audio such as music, sound effect transitions, dialogue, and ads can be dropped in the timeline.

Music and Transitions
Anchor has a library of music and transition sound effects. Music can be placed underneath dialog to build pieces like an intro and an outro. Transition sound effects can be placed between sections. The music and sound effect library is not expansive, but they are offered at no cost. Uploading your own built audio is also an option to use in the episode builder.
Artwork
Captivating artwork creates the first impression of your podcast. This means being original with your artwork critical. Anchor has an expansive artwork library that is powered by Unsplash. Using Anchors artwork tools have pros and cons.
PROS
The library has a large number of high-quality images that are ready to use for cover art at no cost perfectly formatted.
Anchor features a text editor for cover art.
Uploading your own artwork is an option.
Cons
All images are open to the public which may risk unoriginal artwork.
The text editor is limited to only the podcast title.
Audiograms
An audiogram is a short video with a small featured portion of an episode that is used to share on social media platforms. They typically have a visual waveform bouncing along with the audio, highlighted transcription as the dialogue is spoken, and a background behind the other two elements.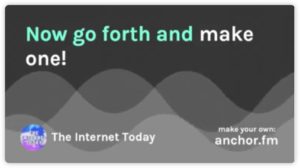 Anchor can create a transcribed audiogram with Anchor Videos. It is a transcript that highlights a chosen section of dialogue as it is being said. Providing this feature at no cost is awesome for podcasters, but a few changes could take it to the next level. The background is limited to a simple color palette, which is usually reflective of the color scheme of the podcast. Being able to change the background to the podcast cover art or having the ability to upload a photo would be a good feature. It would also be nice to have more waveform options as the dialogue rolls with different reaction speeds and shapes.
Other Features
A simple audio editor that can split audio to remove unwanted sections
Record from anywhere with the Anchor app
Editing and creation tools
Analytics
Podcasters need to know how, when, and where people are tuning in. They need this information to know what an advertisement on their podcast is worth, how many listeners they acquire per episode and growth trends over time. Anchor measures episode performance with
Plays
Downloads
Streams
Ad impressions
Anchor also breaks-down the when, where, and how it was heard. It can show percentages of the type of devices the audience listened on (iPhone, Android, etc), it can show the geographical location of your listener base, and which directory listeners are using (Apple Podcasts, Spotify, etc).
Monetization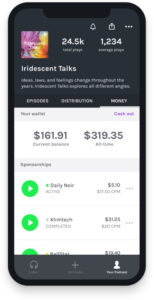 If making money is a goal for your podcast, then it is important to do your research on what your hosting platform has to offer. Anchor works to match podcasters with sponsorships in a streamlined way.
Anchor will send the user an email when sponsorship is available. The sponsor generally provides the talking points, so all you have to do is record the advertisement in the Money tab, choose where to drop it in the episode, and get paid for it. The revenue generated by listeners is described as CPM (cost per mile). Each mile is defined as 1 mile per 1000 listens. The sponsor generally decides how much each mile is worth. Anchor takes a 30% stake of all ad revenue generated when using Anchor Sponsorships. Lastly, they also use Stripe for secure payment deposits which will take a .25 cent fee each time you cash out your wallet.
Listener Support
Anchor also makes it easy for a subscriber of your podcast to support you financially with their Listener Support feature. With this feature, you can ask listeners to support the podcast and set up an automatic monthly donation. It is important to note that Anchor's listener support feature is currently available in the U.S only.
Anchor for Professional Podcasters
What can anchor offer for those who need the full package of features like website integration, social media integration, video hosting, and more?
Premium Content
When a podcaster grows, they may want to offer bonus benefits like hidden episodes, ad-free episodes, and early content access. Anchor does not have a solution to equip a podcaster with a premium section for listeners to get additional content they may value. Juggling free hosting on Anchor while trying to make a subscription service will be a hassle when other hosting platforms have these features ready to go.
Website Integration
For the professional that is doing heavy work,  Anchor's current minimalist approach is limiting to what the professional may value. For example, to embed your podcast in WordPress, you need a plugin like CodeEmbed. Competitors like Libsyn have their own unique plugin for WordPress and Bluberry is integrated with PowerPress which means they have a support team to assist in troubleshooting integration issues. Troubleshooting WordPress issues in Anchor may require relying on support threads and self troubleshooting outside of what Anchor can offer in support. In their help section, they have stated that embed updates are in the near future, but they have no timeline as to when those updates will be.
Video Capabilities
The visual medium is still undoubtedly a big market that many podcasters are adopting to take their content farther. Anchor currently does not have any video hosting capabilities. After looking all over their website, video hosting on Anchor does not seem to be in the pipeline. This could be due to Anchor hedging their bets in the mobile space. With cameras on every mobile device, video podcasting could be so simple. If Anchor utilized the tools of their simple audio splicer in a video format that could all be done from Anchor's mobile app, then that could revolutionize the video space in podcasting. This could make the visual medium easily accessible in a way that has never been done before.
Social
Posting to social media platforms from Anchor is easy to share an episode. Click on the social media icon and it will redirect you to a log in such as Twitter.  You can then write the post and share it on social media. Sharing to social media is nothing new, but some competitors have additional features. Features like basic analytics that show the number of followers on Twitter right in the hosting platform.
Pros And Cons of Anchor Podcast Hosting
Pros
Anchor's approach is minimalistic which makes it very easy to use.
The episode builder is easy to use and mostly automated which is good for a beginner or casual podcaster.
The service is completely free. They do not have an option to enter any kind of payment information.
Audiograms up to a minute long with auto-transcription with Anchor Videos.
Different libraries of content from artwork, music, and sound effects.
An easy to use web recorder with the ability to call guests.
Listeners can leave a voice message with a URL.
Cons
No video hosting capabilities.
Designed to be automated giving little control over a number of features that may turn away professionals.
Anchor has more mobile features than desktop features. It would be better for desktop and mobile versions to seamlessly integrate into areas like recording with guests.
Currently not website integration-friendly.
A guest must have Anchor's mobile app to record with you. You cannot send a URL for a guest to join on desktop or mobile like other web-based recorders may offer.
No solution for premium content.
In Summary
Anchor has made podcasting easy and accessible for everyone with an Internet connection and a microphone on a device as simple as a phone. Designed for the mobile market, it is easy for anyone to record, build, and publish an episode and make money as their audience grows. While the ease of use and mobile capabilities works well for many podcasters, it comes at a cost for the professionals who need more advanced tools for things like video, WordPress, and URL based remote recording.
Anchor is unique in its hosting approach, setting a new bar in what mobile podcasting is capable of. If you are a beginner, want mobile convenience, or are on a budget, then Anchor is a good solution to get your podcast going.
However, if you need horsepower behind your hosting platform, then Anchor may not be the best choice for hosting your podcast.
Anchor Podcast Hosting Alternative
While Anchor podcast hosting offers some great tools for free, it lacks flexibility for brands trying to craft a more highly customized podcast.
With Resonate Hosting, you can host unlimited shows on the same platform you trust for turnkey podcast production services. No more downloading mp3s, copying and pasting podcast titles and descriptions. Simply set your publish date and click "approve" and Resonate Hosting will do the rest.
While Anchor offers some great features for quickly creating a podcast, it limits your control over the production of your audio itself. Try Resonate Hosting free for 14 days.