For many people, their understanding of a podcast may be akin to nothing more than as a digital soapbox for people looking for a place to rattle off their views on something they think others might be able to relate to. It's true that many people have historically pigeonholed podcasts as simply personal passion projects or maybe entrepreneurial marketing outlets, but the reality is that the tides are changing. While this may have rung (somewhat) true in years past, the world is looking at podcasting in a whole new light. This is no more true anywhere else than it is in the business world.
With podcasting's surge in popularity over the last handful of years, businesses, brands and corporations are looking to podcastings' incredible influence as a way of getting their message out in front of millions of people. Why? Well the numbers don't lie. With roughly 125 million listeners in America alone, it's becoming clear that the world is flocking to podcasting by the boatloads as a way of plugging in to their favorite audible educational or entertainment content. It's only natural then that businesses would start taking notice of the ripe opportunity. So why is podcasting a great fit for businesses and brands? Well we will cover a handful of specific reasons shortly, but let's start with the big picture.
Think about it. Every brand has a story. They've had a beginning. An impetus for starting and a mission of what they have set out to accomplish. What's more, they want their investors, employees and consumers to know that story, be invested in it and become passionate about it just like them. They are looking for ways to get people on board with what they're all about. But the challenge in business and marketing has always been finding both an efficient and effective way to get that message out in front of potential customers. In the past, print and broadcast media were the go-to's. The challenge now is that print is dying, radio is evolving and television is becoming on-demand. So companies are looking to fill the void.
For many today, podcasting seems to ring true as that potential solution in our ever-streaming, always-binging and incessantly-plugged-in society. That's why brands like Citi, Associated Press, Sumo Logic, Gensler Design, MongoDB, OpenView, Drift and Boston Consulting Group have trusted their podcasts to our team.
In addition to massive brands jumping into the industry, we have also noticed a revolution in the university sector. More and more universities are leveraging podcasting as a resource for their institution both as an internal resource, and external brand building. Some of the client's we've been able to work with include the University of Notre Dame, Cornell University, the University of Pennsylvania, and Brown University.
These universities are utilizing podcasting in a variety of different ways. Whether it be the distribution of institutional research, internal communication between departments, building an academic network or as a means to greater market the vision and identity of a university, podcasting has shown to be a highly effective medium. 
Brands and organizations of all shapes and sizes know the difference a podcast can make. But generalizations aren't enough. To make the case, here are specific reasons why your brand needs to look to podcasting as the solution for the future.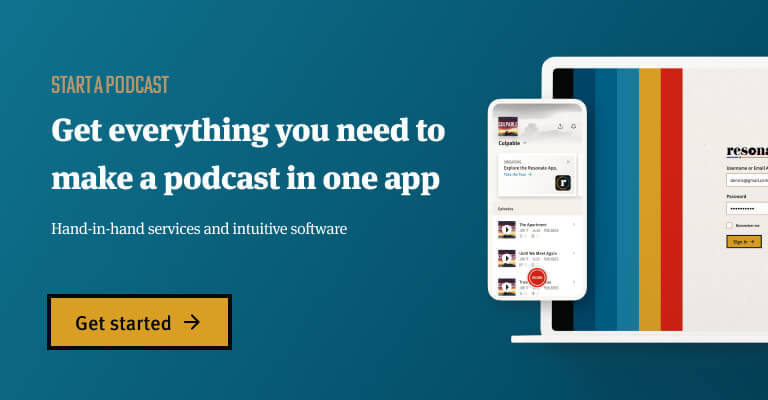 1. Podcasting has never been more popular
As alluded to already, podcasting has never been more popular than it is right now. With thousands of podcasts being submitted to Apple every day, the truth continues to prove itself that podcasting is a formidable force that is not going anywhere any time soon. Perhaps you need some convincing. Like statistics? Like cold, hard facts? How about these for starters:
44% of Americans have heard a podcast

26% of Americans listen to podcasts monthly

32% of Americans ages 25-54 listen to podcasts monthly
With over 327,000,000 people in America, these percentages translate into jaw-dropping numbers that pack some serious punch. If you are a brand looking for an effective way to get in front of millions of people, podcasting has to be at least one weapon in your arsenal.
2. Podcasting is an incredibly effective marketing platform
Like we just mentioned, the market is huge in podcasting. But beyond the issue of market opportunity, you have to consider how effective the tool is. Unlike other platforms of marketing and communication, podcasts are on the upswing. There is no end in sight for this medium. What's more (and likely the reason for the skyrocketing popularity), they are easily consumable on the go which makes it convenient. While video may be king in many ways, the reality is it's hard to engage in video while in the car. It's hard to tune into mobile video at the gym. It's hard to watch video while going for a run. Sure, we all make considerable time in our daily life for video, but there are times when it's just not feasible. That's why audio is taking the reigns as a formidable leader in many cases. The truth is audio has several advantages over video and it's just as easily streamed at the tap of a thumb.  What's more, podcasts are generally ad-free so it makes it an engaging and less distracting way to get in front of your audience without having to compete with other brands who are also vying for their attention.
3. Podcasting provides incredibly accurate analytics
Another great benefit of podcasting are the analytics that are available to the podcast owner. With anything related to business you want to allow the numbers to speak for themselves. With that in mind podcast hosting and directory platforms are tracking the digits associated with the listens and downloads of your podcast episodes in ways that help you stay on top of what's happening. While each platform will have a unique twist on the numbers and the features they offer, generally you will be able to track some key components of your podcast on a regular basis, including:
Number of listens for each episode

Average length of listening for each episode

Top performing episodes

Number of subscribers

Up-to-date ratings and reviews

The platform and devices your listeners use

What country or region they listen from
There are other key pieces of data that are also able to be tracked which prove helpful. If you so desire, there are also services you can sign up for that will track and measure your listens in a much more robust way to help you know your overall standings in both your industry and your chosen genre. Almost everything you would want to know about the performance of your content can be spit back to you through the current analytics.
4. Podcasting allows people to tune in to what they like
Another advantage of podcasting is that it allows people to choose what they want. Now the truth is with everything trending towards being on-demand these days, podcasts are not breaking any ground here. People are dropping cable for on-demand because they want to choose what they want. The difference though is when you plug in to Hulu, YouTube or other popular media platforms, you're almost always battling through some form of ads. While this is great for the retailer, it's a frustration to the consumer. With podcasting, you have the same opportunity to reach your audience (at a much greater length) while not being distracted by pitches from other vendors. More than that, if they're on your podcast feed it's generally because they want to be. You already have their attention. You know that when people listen to your podcast it's because they like what you have to say and they are finding something of value from it. They aren't there begrudgingly and counting down the next 20 minutes until they can move onto something else. If they're there, it's by choice.
5. Podcasting can be tailored to the audience with great flexibility
Aside from the truth that your listeners will be generally open to your message since they're choosing to plug in, the truth is that you also have the ability to tailor your podcast to the demographic you're appealing to. Not only that, you have the chance to speak to many different types of consumers, many demographics and many different causes all on the same platform because the medium is episodic. You have the flexibility to do a single episode or short-run series on a topic you feel beneficial and then not be bound by that strategy for the duration of a marketing campaign. And because you run the show, you can cover essentially any topic you want to because podcasting is essentially unrestricted. Podcasting allows you to tailor your message as often and as much as you would like as you see what is effective and what is appealing to your audience. This is incredibly powerful flexibility for you as a brand ambassador.
6. Podcasting can make your brand more approachable
While having the ability to make each episode a carefully crafted pitch that speaks to a specific sector or need in your market, it is equally as beneficial to position yourself as a brand that knows the times, understands the needs and is approachable. Historically a challenge for businesses (especially big business) is having people know you, understand you, hear your message and gain an appreciation for your service or product in a short time. In many cases these obstacles are magnified because a brand can seem inaccessible (again, especially big businesses). Apart from that, many times you have a one-shot opportunity to get in front of the consumer and have your impact. You hope they have a pleasant experience and enjoy your product or service and will be converted. Podcasting allows you to not only be approachable through getting right out in front of them, but it allows you to do it daily, weekly, bi-weekly or monthly…however often you choose. This means that as often as you produce content, you have the ability to be received by the consumer. But podcasts are also more sustainable for the long-haul as they allow you to build your story and your message over a much longer period of time rather than just a 30 or 60 second advertisement. Think of it. You have the chance to be in front of your audience for 15, 30, even 60 minutes and have their undivided attention to help them see why you're different!
7. Podcasting allows people to see behind the scenes
Similarly to the idea of approachability, podcasting breaks down the barriers of assumptions and let's you tell your story how you want. It gives you the opportunity to give consumers and patrons the ability to see behind the curtain, get a peek inside the kitchen or have a fireside chat with the people in your company that matter and have the most influence. When you send your sales team out, they aren't usually joined by the SVP of Sales. When you run the ad you likely aren't featuring the leading Partner. No other platform gives consumers the chance to hear from the Founder, President, CEO, SVP, CTO, CIO or CMO in a non-aggressive way, let alone in back-to-back weeks (or in the same episode). Podcasting allows you to craft your story your way, have it be told by your heavy-hitters and have the listener be engaged with multiple touches in such a short time-frame by people who carry a lot of gravitas.
8. Podcasting is surprisingly cost effective
For the budget-minded folk, let's discuss the topic of cost. All (or at least most) companies have some form of a marketing budget. And this goes towards a lot of things. Event marketing, print, digital, networking, advertisements, social media engagement, etc. Companies spend hundreds, thousands, tens-of-thousands and sometimes much more on initiatives to get their people and their message out in front of the world. A lot of times the mentality is I hope this works. Podcasts can be a very inexpensive way to get your message out to millions of consumers on a consistent basis. Now there are many strategies for podcasting and you can certainly spend a pretty penny on a podcast with all the bells and whistles. There can be tremendous value there (as well as appeal to the listener), but this isn't a requirement. With recording equipment as inexpensive as a few hundred dollars, new launch and promotion strategies around the same, ongoing post-production service costs at whatever the budget allows and average monthly hosting fees around $20, the investment is very nominal by most standards. This means you can get a ton of bang for the buck with this platform.
9. Podcasting can be overwhelmingly profitable
Ok. This is the zenith of the storyline here, right? This is where the rubber meets the road. This is where the people who really care about ROI start to tune in. So a few points to note. To be candid, the outcome, influence and experience for every podcast will not be the same. It will range depending on a number of factors. But having just discussed the idea of how minimal the investment is in combination with the reality that there is generally no long-term commitment when it comes to podcasting makes the pill much easier to swallow. But we are not grasping blindly in the dark here. There is some general information and some motivating statistics that have been gathered that will be of some very big help here. Here's what has been tracked regarding the projected impact and marketing of podcasts:
62% of listeners should consider your product or service

63% of listeners should buy something your host promotes

71% of listeners should visit your website

88% of your subscribers should listen to every episode you make
While there are other additional motivating stats floating around the interwebs, these are some seriously exciting numbers. When you pair these averages with the fact that there's little cost up front and the reality that with each new episode you have the ability to get in front of millions of listeners (and a listenership that's always growing), it all seems to align to be an effective, or at least a low-cost, strategy of getting your message out. What's not to love? It's a win-win..win.
Conclusion
There's a lot more that can be said for sure. The point here is not to be exhaustive but to provide enough details to make you consider, TRULY consider a podcast for your brand. The truth is large, reputable companies are plugging in to press record every day because they know it's valuable. Will you also? I'll leave you with a few closing thoughts. While branded podcasts are often done in conjunction with media conglomerates like NPR, Gimlet or others, they almost always want a piece of the pie. If this is something you're open to, have at it. But there are great partners out there who will be able to get you on the right path without owning equity in the podcast. Also, there is a lot to consider when thinking about kicking off a branded podcast, so do some research. Here's a great article that offers some good food for thought as you start. Here's another one that offers another unique perspective. But know that we're here to help. If you want to talk to our team to pick our brains on this idea, we'd love to hear from you. Feel free to check out our site, drop us an email or set up a call with a team member.
Related Resources: