Building a podcast website is often on the bottom of the list for podcasters. After all, podcasting is an audio-first format, so what's the point of creating a website?
But good podcasts function like their own brands or businesses. And every brand and business in 2020 needs a website with a custom domain name.
In this post we'll walk through everything you need to know about creating a custom podcast website.
Why Build a Podcast Website?
There are several reasons to build a podcast website. But before we dive into this list, I'll be honest and say that you don't have to make a podcast website. If you are a bootstrapped team who can't afford to build a customized website yourself, and you can't afford to hire an agency or provider, then maybe it's best to simply use the free landing page offered by your podcast hosting provider.
Nearly every podcast host offers a free podcast microsite with a few subscribe links, the ability to download the audio files, and a contact email.
But if you are a podcaster looking to make your show as excellent as possible, we think there are more than enough reasons to invest in building a custom podcast website that sets your show apart.
Why build a podcast website?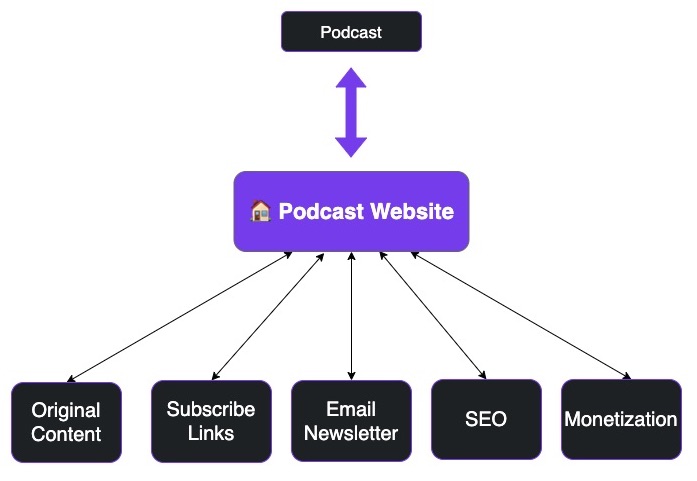 Streamline Marketing Channels
Collect and Analyze More Data
Share Original Content (eg show notes)
Show Subscribe Links
Build an Email Newsletter
Strengthen SEO
Monetize Your Podcast
Streamline Marketing Channels
A good podcast website is like the home for your brand, housing all the other marketing channels for your podcast under one roof. It becomes the one-stop-shop for everything related to your show from links to your social media profiles, to a contact form, public contact email, an email newsletter for updates on new episodes, other blogs and any behind-the-scenes content, maybe a longer version of the show's origin story, any social proof to back up your podcast's success, and more.
The classic example of a website's purpose is to "find the link in the show notes for this episode." Many podcasts will share in-depth show notes for each episode of their show, and those traditionally exist on a custom website. From there, listeners are directed to either subscribe to the show in a podcast app or subscribe to an email newsletter to get notified about future episodes.
Each of these individual channels (website, social media, newsletter, subscriber directories) give you the opportunity to notify your audience and share a message. But the website is the central piece that links everything else together for your podcast.
Collect Feedback and Analyze More Data
Websites also add value to your brand by helping you collect feedback and analyze more data from your listeners. You can add a public contact email, a public contact form, or include a place for comments within each episode of your podcast if you want to hear listener feedback on your podcast.
You can also collect more data through Google Analytics, Google Search Console, and your email newsletter platform (eg Mailchimp) if you decide to build a newsletter as well.
Share Original Content
Original content is one of the most important aspects of a successful podcast website. Original content includes show notes, blog posts, videos, behind-the-scenes stories and pictures showing the process of creating your podcast, crediting your producers, editors, hosts, and other team members, and anything else that might be of interest to the superfans of your podcast.
Writing in-depth show notes and sharing behind the scenes content are two really powerful ways to drive pre-existing listeners of your show onto your podcast website.
Show Subscribe Links
Growing a strong subscriber base for your podcast on Apple, Spotify, Google, and the other podcast directories is one of the main goals for developing a successful podcast. At the end of the day, the podcast RSS feed is the most important aspect of your podcast, so you want to get as many people to subscribe directly to your feed as possible.
Your website should prominently display the official logos from each platform. At a minimum, you ought to include subscribe links to the 3 big directories: Apple Podcasts, Google Podcasts, and Spotify. Apple and Google are the default podcast apps for iPhones and Androids respectively, and Spotify is compatible across all devices.
Download the official podcast badges and buttons on this blog from our friends at Podcast Insights to ensure you have the most up to date subscribe buttons for your podcast.
Build an Email Newsletter
Building a subscriber list that you own through your website is one of the best ways to directly market your podcast. When you share a post on social media the algorithm does not guarantee that it will appear in your followers feeds, but when you share an email you are far more likely to get your show in front of the eyes of your subscribers, as long as your email doesn't get filtered as spam.
A newsletter is a great place to connect with your listeners, share the latest episode and show notes from your podcast, and ask your listeners to directly respond and share feedback about the show.
Strengthen SEO
Podcast websites are a huge opportunity to develop an SEO (search engine optimization) strategy for your podcast. Learning SEO can seem like a daunting task at first, but the main goal is to optimize all of the content on your website to be targeted towards the search intents and keywords that your target audience would be interested in.
A simple SEO strategy for a podcast getting started is to share in-depth show notes for each episode of your podcast, writing a title that is directly related to the main keyword for the topic you are discussing. Learn more about the fundamentals in this SEO beginner's guide from Ahrefs.
Monetize Your Podcast
Websites give you the ability to endlessly customize their structure, content, and design in a way that provides so many opportunities to creatively generate revenue from your podcast. You can create paywalled content with a private podcast feed, sell an eBook, add a direct donation link through PayPal, connect to your Patreon account, promote a sponsor, share affiliate links to books, equipment, or subscription services you use, and more.
Monetization typically follows after you grow an audience, so there are obvious limitations to these opportunities depending on the size of your audience. But these are mostly passive income models, so they don't require any ongoing work after you create the content and do the initial setup for your podcast.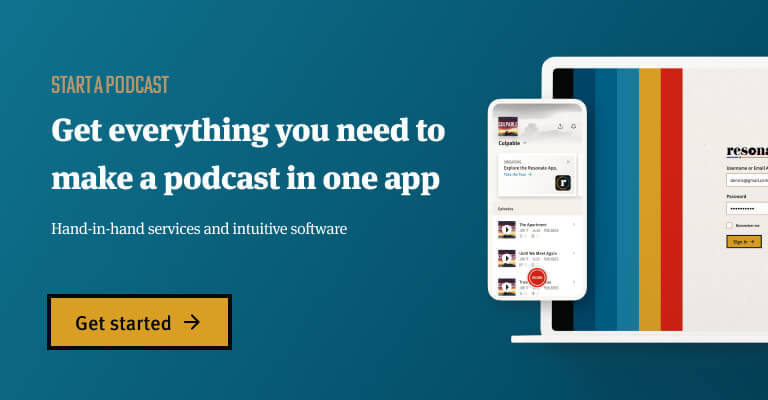 Best Podcast Websites (Examples)
Let's take a look at some of the best podcast websites and try to pull some insights from how they are marketing their podcasts and connecting with their listeners.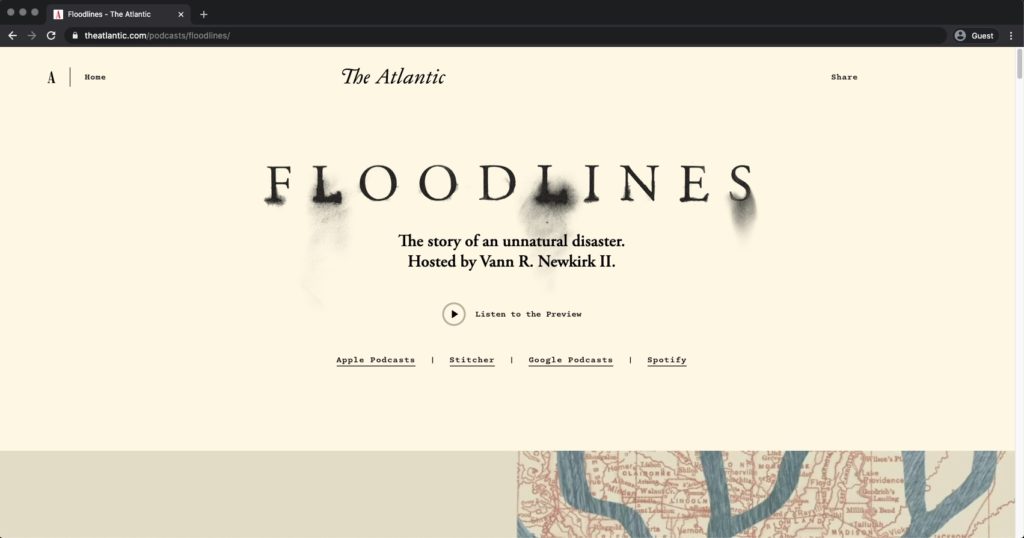 So many things are done right on this podcast website. I love it.
They feature a gripping trailer clip front and center on the landing page, which acts as an introduction to the series as a whole.
The graphic design of the podcast is fully immersive. It draws you into the story in a way that feels cinematic. Just scrolling through their landing page feels like you are about to experience this thrilling adventure.
As you scroll through the site, each section is actually representing an individual episode of the podcast. Each individual episode has its own unique podcast artwork. Taking care to package each episode creatively is almost like treating each episode as its own podcast. They are branding each episode in a way that will inspire listeners to subscribe and to journey further into their website.
They also include a really creative section that credits their hosts, producers, and podcast team just as if you are watching the credits roll on a movie.
Lastly, they encourage listeners to dive further into the series with bonus content like this "Map of Key Locations" in Louisiana from the podcast.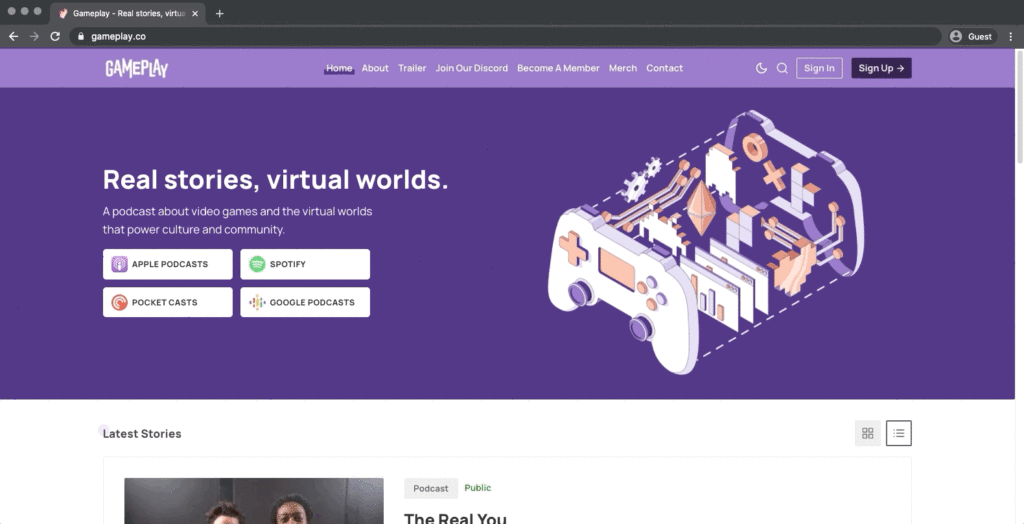 The Gameplay podcast is another amazing example of a website that creates an immersive visual experience for their podcast.
They use a beautiful color palette, high-quality unique illustrations and different cover art for each episode of their podcast.
The coolest feature on this podcast website is the light/dark mode toggle. This is an increasingly popular trend in web development that's worth taking note of.
They also are monetizing their podcast through a 2-teir membership program. You can sign up for $5/mo or $50/yr to get access to extra content, comment on their posts, access private livestreams, listen to the show ad-free, and several other benefits. This is a glowing example of a podcast that is monetizing their podcast, creating high-quality audio content and matching it with high quality visual marketing and great copywriting.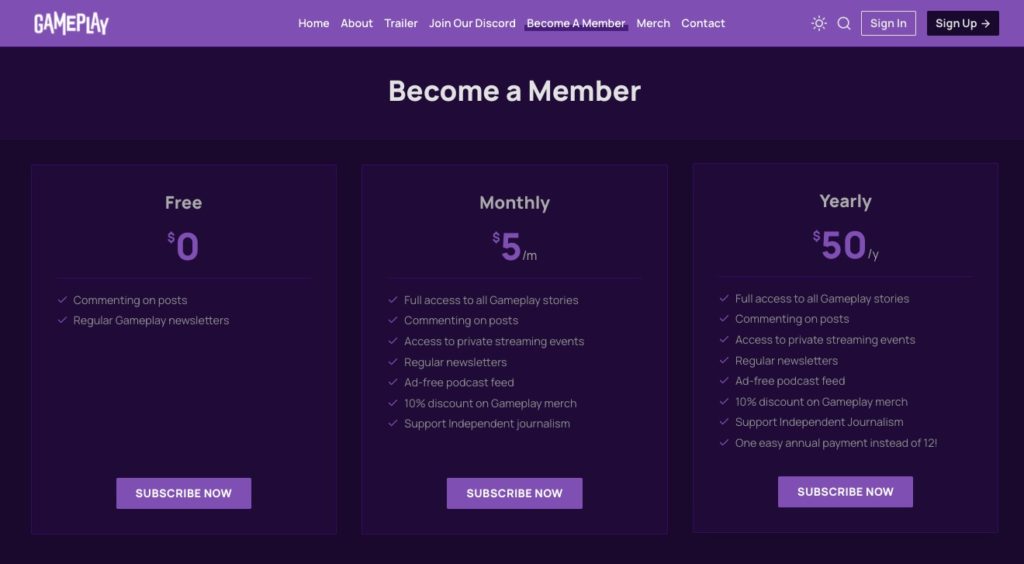 Gameplay's website brings together their marketing efforts and creates a clear "home" for all the other nodes of their brand.
Twenty Thousand Hertz
There are several interesting things to note about the Twenty Thousand Hertz website. First, it's just a beautiful design.
✅ Vibrant colors
✅ Beautiful illustrations
✅ A clear premise
✅ Minimalistic design
✅ Episode-specific artwork. Really good artwork.
On top of the fact that this website is just detail-oriented and crafted with great care, it also has some incredible copywriting.
Each episode title, description, and header on the website is crafted in a way that makes you want to learn more about the show.
Rather than push users to subscribe on their home page, they seem to be pushing their audience to read the show notes and listen on the website. The second section of the homepage is a prominent display of their podcast's most recent episode.
They use a brilliant marketing strategy that I love to see in copywriting and design, where the level of complexity and detail in their content increases as you go further into the website. Their homepage starts out with 1 simple sentence explaining the premise of the show. But by the end of their episode listening page, you can click to dive into a full-length transcript of the episode.
The concept: Start with the least information necessary to draw in your audience, Add new context, complexity, and depth on each additional layer of your website's navigation.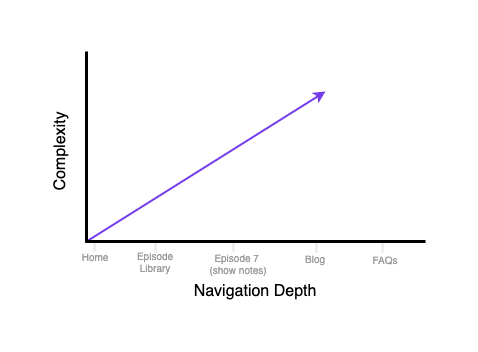 Since this podcast is a show about iconic sounds, it's inspiring to see how much effort has been put into the visual components. They help you see the sounds they will play for you in their show and provide genuine value for their superfans with transcripts of each episode and well thought out artwork for each episode.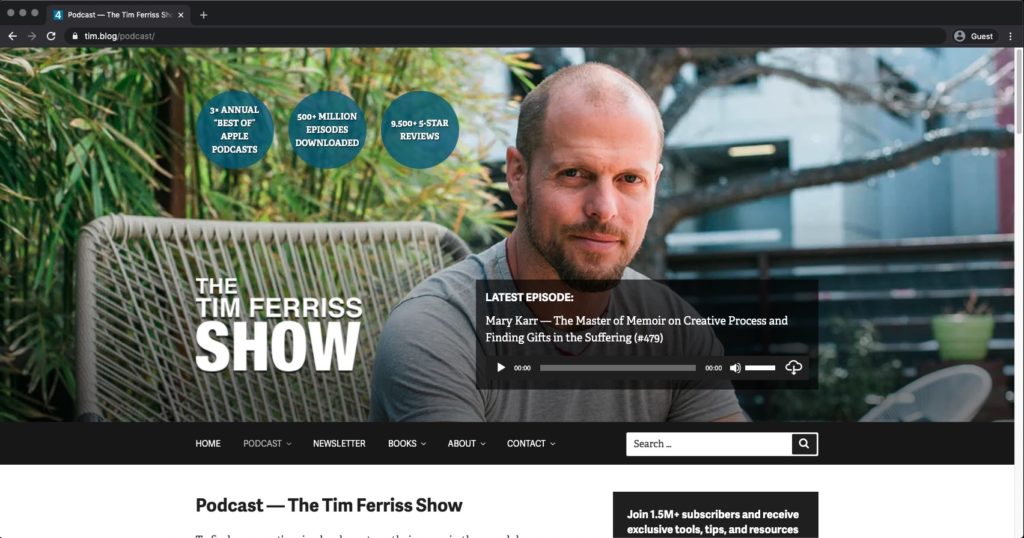 Tim Ferris is one of the early adopters of podcasting, among many other things. His website is technically a personal brand site and blog before it's a podcast website, but it's worth noting that his podcast is one of his largest marketing channels.
The main reason I want to highlight his blog is the sheer depth and quality of his content. As you have already seen by now, podcast websites are pretty simple. You include some subscribe links, add an embed player and some show notes and you're done. But Tim shows that with extra care and effort, you can create an abundance of knowledge and free resources for your listeners. This quality of content drives engagement and attention on his show, which in turn leads to better sponsors and continued growth for his brand.
Key takeaway: Think of ways you could add more value to your audience by simply writing some longer show notes, adding more related links to the topic discussed in your episode, reaching out to new sponsors before they hear about you, and use the feedback from your audience to generate listener-based content.
Here are some stats to show how much sheer content Tim has:
He has podcasts episodes organized in 46 different categories
He has an individual post with show notes, an embed player, links to discounts and offers from sponsors for his listeners
He shares a full-length transcript for each episode
He shared an average of 55 links per episode on the last 10 episodes (#464-#474)
He has 474+ episodes
While you might not be able to spin up 474 episodes of your podcast in the next year, I do think that the depth of quality he puts into each episode of the show is worth taking note of. For each episode if you listen, he will likely mention the show notes on his website multiple times. And his listeners can genuinely trust that visiting his website will provide real value because every time they visit it they are going to find copious show notes, high-quality episode-specific cover art, and a ton of outbound links and other related materials.
This in turn provides Tim with some strong leverage for monetizing his show through sponsorships and affiliate marketing on his episode pages.
Whether you like Tim and his content or not, you can learn something from the quality of his work and the sheer depth of content he puts out on each episode of The Tim Ferris Show.
Learn More
If you want to get inspired with more websites, I highly recommend checking out Awwwards inspiration collections here.
Key Takeaways from These Example Websites
Hopefully these examples have given you some new inspiration for how you can create a great podcast website. Let's recap some of the takeaways we've learned from these websites.
Carefully crafting a visual experience on your website brings your podcast to life
The navigation complexity formula: Start simple and add complexity to your content as your viewer navigates through your website.
Show notes done well provide abundant value to your audience
Giving away your secrets is one of the best ways to grow a loyal audience on your website
Websites provide new opportunities to unlock monetization (premium content, merch, sponsors, affiliate marketing)
By now I hope you're convinced of the importance of building a podcast website to (1) be a home for your podcast, (2) add value to your audience, and (3) grow your show. But once you build a podcast (which we cover at the end of this post) how do you actually measure its success?
What are the metrics that will actually prove that podcast websites have a positive ROI?
How To measure the success of a podcast website
Every podcast has their own set of particular goals for their podcast. There are dozens of ways to determine the ROI of your podcast website. But success might look small at first. Focus on Google Analytics "Time On Page" to study how engaged your audience is reading your show notes and blogs. Study how many people listen to an episode through the Subscribe links on your website with Chartable Smartlinks. Track how many subscribers you add to your email list and what percentage are opening and clicking through links in your campaigns through an email provider like Mailchimp.
My main encouragement for studying the performance of your website is to focus on the quality of your content and how engaged your users are, no matter how many users you get. Growing a loyal audience takes time and consistency, so don't be discouraged if the growth is slow at first.
To get started tracking your website, here's a short list of tracking tools that I recommend using:
What You Need to Build a Podcast Website
By understanding a few simple concepts about web development you will be equipped to make an informed decision for how to build your site.
Here's a short list of the items you need to build a custom podcast website.
Custom domain name (eg. resonaterecordings.com)
Web hosting service (hint: this is different than a podcast hosting platform)
Custom Domain Name
Buying a custom domain is the first step to creating a custom website. A website domain gives you the ability to set up your site at a unique address that attaches to a unique IP address behind the scenes (eg resonaterecordings.com).
We recommend buying a custom domain name from Google Domains or GoDaddy, two of the most popular services out there.
Web Hosting Service
Web hosting services store the files and content for your website on servers so that your audience can reliably view your content, even if you are experiencing massive amounts of traffic. There are several different kinds of web hosting like shared hosting and dedicated hosting, and each type has its own use cases, pros and cons.
Hosting providers also typically offer support to managing your website, automate backups of your site, monitor for security vulnerabilities, and other features. There are dozens of amazing website hosting services available. We offer web hosting services (learn more below), but we also recommend Kinsta and Flywheel hosting as alternatives. You can also find some additional recommendations for WordPress web hosting from our friends at Podcast Insights here.
How to Build a Podcast Website
There are several ways to build a custom podcast website. I'll provide a quick walkthrough of the most popular ways to build a podcast website, moving from easier to more complex methods.
Web Builders (Squarespace, Wix)
Webflow
WordPress (Spoiler: This is our favorite method)
Website builders are platforms that provide the tools for editing your site's visual design without any coding skills. However, they lock you into a tighter tech-stack with less flexibility for growth outside of their toolset.
CMS platforms like Webflow and WordPress are slightly different because a CMS (content management system) is "software that runs on a web server that lets you create, store, search, and manage content, which is typically stored in an SQL database" (definition from Elegant Themes). The best part of CMS platforms are the added flexibility and customization, and the fact that they don't tie you down to a specific website hosting platform.
Let's dive into the pros and cons of using web builders, Webflow, and WordPress (spoiler: this is our favorite).
1. Web Builders (Squarespace, Wix)
Modern web builder tools can help you create a custom website with no coding skills or web development experience. The best web builders are Squarespace, Wix, Weebly, Carrd, and Podcastpage.
Website builders have their own set of tools for building a website, and host your platform on their platform. When you use a website builder like Squarespace you are signing up to pay for the development tools as well as the website hosting.
The upside of these tools is their simplicity, how easy they are to set up, and the fact that these companies have amazing 24/7 customer care. They are also very affordable, starting with personal plans from as low as $6/mo (Wix). These plans make it cheap, easy, and seamless to start a podcast website.
But they also have some serious downsides. Squarespace and Wix limit the amount of customization that you can make on your website. They have a low barrier to entry but make it more difficult to fully customize and build out your website over the long term.
2. Webflow
Webflow is a truly all-in-one platform for website development. They are a content management system (CMS), a website hosting platform, and a powerful visual builder tool all in one. They boast about simplifying your website development by removing the need for plugins and managing hosting on separate platforms.
They also allow you to build sites from beautiful, responsive themes for free until launch day. Once you start the hosting and launch your site you have to pay.
The downside to working in Webflow is that there is a bit of a learning curve to use their platform.
3. WordPress
WordPress powers 38% of the web and is one of the most well established platforms for building websites. Some of the top podcast websites are built on WordPress, including Crime Junkie, Freakonomics, Tim Ferris, and Office Ladies (Earwolf).
WordPress is also a content management system (CMS) that essentially provides the tools to easily manage your podcast posts and web pages.
The way WordPress works you have to set up three things:
Domain name
Website hosting
Themes or design tools
Once you have a domain name, website hosting set up with that domain name, and the theme for your website you can begin building.
The beauty of working with WordPress is that it is endlessly customizable and has a massive amount of tools, articles, and tutorials for the most specific issues just because of the massive reach of this open-source software.
The downside of working with WordPress is that you have to set up your web hosting, choose a theme, and install separate plugins to customize the content. Other platforms like Webflow and Ghost claim to streamline this process and shave off some of the cost.
WordPress is currently our favorite platform for building podcast websites because it offers a massive amount of customization, it leaves room for starting small and adding layers of complexity over time, and it is simple enough for beginners to learn and powerful enough for experts to love.
Resonate Custom Website Development Services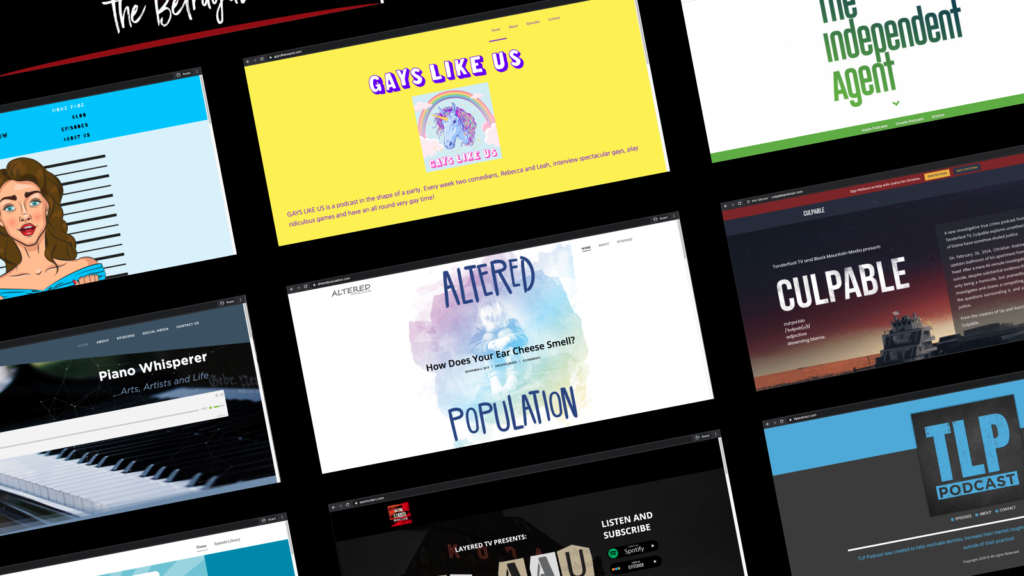 Creating a custom podcast website is an important step in properly marketing your show. But we recognize that many creators don't have the time to learn web development, and others simply want to outsource the work so they can stay laser focused on their content.
Resonate offers web development services to create a podcast website that you can use to market and promote your show. We handle the web hosting setup, the development, and then give you the keys to make any changes to the site that you see fit.
We build each of our custom podcast websites on WordPress, using a lightweight theme and a powerful visual builder that makes it easy to customize your show.
Resonate Websites Include
✅ Built on WordPress
✅ Lightweight theme
✅ SEO-Friendly Build
✅ Website Hosting
✅ Daily Automated Backups
✅ Downtime Monitoring
✅ Monthly plugin updates
✅ Excellent customer service
If you are interested in our web development services please schedule a call with our team or get started today.
Key Takeaways
We've covered a lot of ground in this post so let's recap a few of the main points.
Podcast websites are not an official requirement to starting a podcast, but they can enhance your podcast brand as a whole by streamlining your marketing channels into one location, collecting more data to analyze, adding value to your audience, grow an email newsletter, strengthen SEO, and open doors to monetize your show.
Podcast websites come in all shapes and sizes. But even creating a single customized landing page with your podcast can help you stand out from the crowd, deliver greater value, and make your message resonate with your listeners.
As we say in several professional examples, podcast websites can create a sort of visual experience that complements the aesthetic of your audio show
Measuring the success of your podcast website is largely determined by your specific ROI goals, but we recommend drilling down on the metrics that focus on the quality of your content rather than the quantity of users. Creating greater value for your audience is the best strategy for long-term success as a podcaster.
Lastly, while there are a number of ways to build a website, we recommend building on WordPress because of the reliability, ease of use, affordability, and how customizable the platform is for the long haul.