Most of us have heard about the benefits of podcasting and its increasingly rapid growth rate in these past few years.

It seems safe to say that podcasting is here to stay as a channel to communicate with an audience. Findings of a recent study conducted by research firm "Magid," boldly note that consumers perceive podcast hosts to be highly relatable, trustworthy, and authentic. In media, having the trust of your audience is critical.
We are not the only ones who are realizing the power of podcasting, in fact, YouTube is now actively keeping pace with its biggest competitors (Spotify, Apple Podcasts, Amazon) by embracing its position as the most-used podcast platform in the US, stripping it away from the audio industry giant Spotify.

By realizing how many people use YouTube as a platform for podcasts (~24.2% of all podcast listeners), YouTube rolled out a new podcast homepage (only for US users at the moment), catering to its podcast community.

It is currently unknown what is the full plan for this new homepage, however, YouTube spokesperson, Paul Pennington told TechCrunch "The podcast destination page on YouTube helps users explore new and popular podcast episodes, shows and creators, as well as recommend podcast content."

With all this being said, we want to help your podcast to be accessible through all platforms by providing you with a how-to guide of what you need to get started podcasting on YouTube.
The basics needed (equipment and software)
Before we start detailing how to record and upload a video podcast on Youtube, we want to make sure that we have the necessary tools and podcast equipment.
If you already have your podcast setup feel free to skip this step.
So, what do you need to start a podcast? Well, there are a few products that are essential to podcasting when it comes to equipment and software support. The items are:
Computer
Microphone
Microphone cable
Headphones
Audio interface (maybe you don't need it)
Recording and editing software
Decent recording space (not an item, but essential)
We won't cover all of the items in specifics, since we have previously written a few articles that speak on the 'Best podcast equipment of 2022' for every budget and the 'Best video equipment for podcasting'. In the mentioned articles we try our best to help guide you in the right direction based on your budget, the style of your show, and the audio and video quality you are looking for.
Planning and recording (strategies & best tools)
Now that we have our podcast setup ready, it is time to figure out what type of video podcast will fit your desired goals. We have worked with and know about 7 types of video podcasts to choose from or to mix and match with.
Static image (easiest)
Visualizer (moderate)
Slides, b-roll, and PowerPoint
Animations and illustrations
Solo storytelling
Interview
Remote interview
There is no industry-preferred style for video podcasting, but our professional recommendation as podcast experts is that you create a visualizer for your video (at the minimum) or record your interviews to bring your audience behind the scenes of your show.
If you would like to know more in-depth information about each specific type of video podcast, we invite you to visit our 'Ultimate guide to video podcasts' where we mention some examples and you'll learn the steps it needs to record each of the 7 types of video production.
Once you completed your game plan it is time to start your recordings.
It is important to note that if you want to separate yourself from the pack of hundreds of podcast videos in your niche, quality and engagement will be the main focus of your video podcast.
If you don't plan on recording your interviews or hosts, you won't need any extra equipment. Although your video podcast won't need any extra products, you will need some type of illustrations or b-rolls to portray as artwork in your audio-based podcast, which you will later convert into a video. This will help you create an engaging experience for the viewers.
If illustrations, b-rolls, or other techniques like custom bumpers seem too time-consuming, we have a team dedicated for video production help that will enhance your recordings.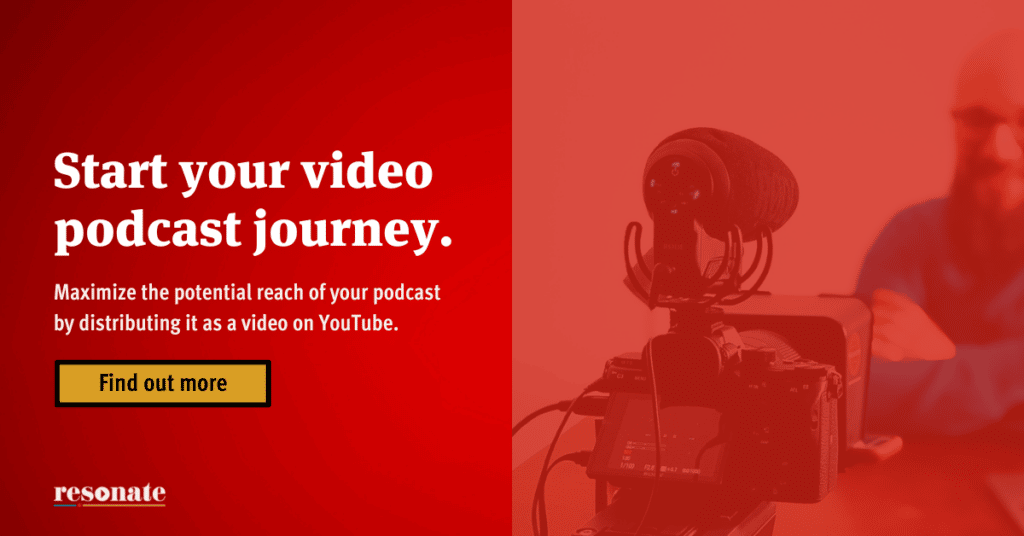 However, if the type of video podcast you chose requires a physical recording of any sort, you will need some extra equipment. Don't worry, it's not a lot of extra equipment that you will need, we are just talking about a camera and some lighting.

For those who will appear on camera during their recordings, it is important to maintain a well-lit and aesthetically pleasing recording environment. Pairing a dimmable light with a light stand will usually do the trick to create a lit (no pun intended) recording. This is needed because a quality recording will help you enable easy engagement.
These are the basic strategies and tools to use in order to create a successful video podcast on YouTube. Now that you have the equipment needed and the game plan for your planning and recordings, let's create a YouTube channel.
Creating and uploading
We are now closer to creating your (hopefully) money-making machine YouTube channel.
Creating a YouTube channel
Creating a home for your YouTube content is a very simple step-by-step process that the own platform will guide you through, but we will help you by giving you the steps necessary to do so. You can also use this link to have an official step-by-step guide on how to create your own YouTube channel.
Sign in to or create a YouTube account using your Google account.
Under your account settings, select the option "Create a channel".
Fill out the necessary fields of information.
Done!
Once you have your account created, you are ready to upload your recordings or audio-converted videos. If you are unsure of how to convert audio to video, here is a guide that will help you upload your audio file as a video file on YouTube.
Uploading videos to your YouTube channel
Uploading videos is a different process than creating your channel. Once you have your 'house' (YouTube channel), you're going to want to correctly upload your videos to help your channel visitors find their way through browsing your uploads.
Under your account settings, select 'YouTube Studio'
Arrive at your channel dashboard and click the 'Create' button on the upper right-hand corner and select 'Upload videos'
Upload your video file
Fill out your video details information (title, description, etc)
Add any video elements (subtitles, end screens, etc)
YouTube will check and verify your video
Select to save, publish or schedule your video upload
Done!
You now have a complete YouTube channel with uploaded videos for your audience.
Optimizing for YouTube SEO
Fun fact: YouTube is owned by Google and functions the same way google does! This means that YouTube is also a mass search engine, so SEO is tremendously important for the success of your videos.
Here are some tips that we recommend for ranking a video podcast on YouTube:
Title – Write a gripping title, use at least 1 keyword. VidIQ is a great tool to use.
Description – Video descriptions need an exciting summary of the content, links to resources, and any information that will help your users understand the video's context.
Tags – Add relevant tags (similar to hashtags) to your video to help YouTube understand what your video is about (eg. Tesla, Elon Musk, Space X).
Thumbnail – Boost the click-through rate of your videos with a custom thumbnail with an exciting title that pulls your audience in.
Engagement – YouTube's #1 metric for success is engagement. Make your video interesting and high-quality to keep your audience's attention.
Video Chapters, Info Cards, and End Screens – Add timestamps in your video description to automatically add chapter summaries to your video. Add Info Cards to link to other related videos and End Screens to the end of videos. This all helps users find more of your content and over time can lead to YouTube generating a lot more views on your channel.
To give even more value to your video podcast on YouTube, we recommend promoting it utilizing the power of 'clips'. You have surely heard of them before and we are sure you have seen them through social media.
Video clips are one of the most beneficial things that come out of the creation of video podcasts. This is because it is a golden opportunity to create repurposed content for social media. By chopping out 1-3 clips of your video, uploading them throughout social media and linking them back to the full episode on YouTube, you will increase your YouTube traffic for your channel.
Once you consistently keep creating content for your channel, you will see the outstanding results of a successful video podcast on YouTube.
Conclusion
Finally, before you start uploading and sharing your videos, we want to make sure that you understand that there is a difference between a 'YouTube Podcast' and a 'Podcast on YouTube'.

When we talk about a 'Podcast on YouTube', we are talking about a podcast that has an RSS feed and is listed in various directories like Spotify, Apple Podcasts or Google Podcasts. This same content is then shared on YouTube. In order to have a podcast on YouTube, you must have a hosting provider and then take this additional step as your audience-building strategy.
On the other hand, a 'YouTube Podcast' is simply just a brand sharing video content on its YouTube channel only.
With the information we've given you on the equipment basics needed, the strategies and tools we recommend and the instructions on how to start a video podcast on Youtube, we are sure you are ready to turn on that mic and start recording.
Once your YouTube video podcast is out and you are growing your audience, the next step is to start considering how to monetize your podcast.
If you need a hand and are looking for an outsource team for your video podcast production, don't hesitate to take a look at how we can help or schedule a call below.