In March of 2022, Podcast Movement hosted its Evolutions conference in Los Angeles.
If you've been in the podcasting world for a while, you may have heard the name "Podcast Movement" or "Podcast Movement Evolutions" thrown around often. Despite being hosted by the same organization, these podcast conferences both have a lot to offer in different ways.
What is Podcast Movement?
The Podcast Movement flagship conference is one of the largest gatherings of podcasters in the world. Thousands of attendees flock to the event from different countries to meet other podcasters in search of growth, networking, and overall great experiences. There are workshops, break-out sessions, and panels to help hone your craft, whatever your podcast discipline may be. You can learn how to better market your podcast, how to gain sponsorships and monetize your content, how to use audio software to edit your podcast, and so much more.
Not to mention the parties. PM allows sponsors to throw parties at top-notch venues that provide attendees with a great place to network, kick back, and have fun with fellow podcasters. During Podcast Movement 2021 in Nashville, Tennessee, one of the highlights of the event was definitely iHeart Radio's biggest party of the year, featuring Quest Love.
Sounds fun, doesn't it? Now that you have a better idea of what Podcast Movement is, you may be inclined to buy your ticket to the 2022 conference as soon as possible, which we totally recommend. But we wouldn't be a credible resource if we didn't tell you all about their latest soirée, Podcast Movement Evolutions.
Check out the visual reel recap by Podcast Movement Evolutions here.
What is Podcast Movement Evolutions?
Evolutions is the PM team's newest event concept. The concept of Evolutions is that podcasters meet to discuss the changing landscape of the podcast industry.
"Whether you're an industry professional, a full-time podcaster, or a hobbyist creator, it's important to know what is happening in the space around you. That's where Evolutions comes in," according to the Podcast Movement website.
The Evolutions conference includes all the perks of the flagship conference, with educational sessions and speakers. The difference, however, is that all sessions will be based on new trends, technology, or other trending topics. This event is more for your seasoned vets of podcasting, as well as companies looking to break into the podcasting industry. You don't need to be a podcaster to be in the industry, ya know!
A few members of the Resonate team had the great pleasure of getting to attend the Podcast Movement Evolutions 2022 conference, with one of our very own speaking at one of the sessions. Despite being avid attendees of Podcast Movement, this was Resonate's first time at the Evolutions iteration.
As first-time goers of Podcast Movement Evolutions ourselves, we're here to tell you what it was really like and share some of the ground-breaking knowledge we learned about the space.
Podcast Movement Evolutions 2022 Review
From great sessions to industry trends, there was a wealth of info shared by speakers during the conference, including actor and comedian Will Ferrell. (Did you even know he had a podcast?)

We won't go through every session and event, but here's our recap and review of Podcast Movement Evolutions.
Day 1
With podcasters from all over flying in, Evolutions started the first day strong. After checking in and registering, exhibitors prepared for the conference as they set up their booths in the expo hall. The kickoff party hosted by Acast was just the beginning of a series of networking parties that would lead to partnerships, sponsorships, and fun throughout the conference.

There was no shortage of sessions hosted by iconic individuals and companies in podcasting. During day one, SVP of Edison Research Tom Webster and Wondery CEO Jen Sargent revealed the Infinite Dial of 2022: the latest data from the longest-running survey of digital media consumer behavior in the U.S. The consumer insights and data provided by the Infinite Dial are used by podcasters and companies to drive focus, create innovations in content as well as influence business decisions. You can watch the entire session here.
Day 2
During day two of the event, Podnews editor James Cridland revealed findings of 2021 in the Podnews Report card. Earlier this year, Podnews.net conducted a survey of podcast publishers, and listeners, to find out what they thought about some of the biggest podcast apps and platforms.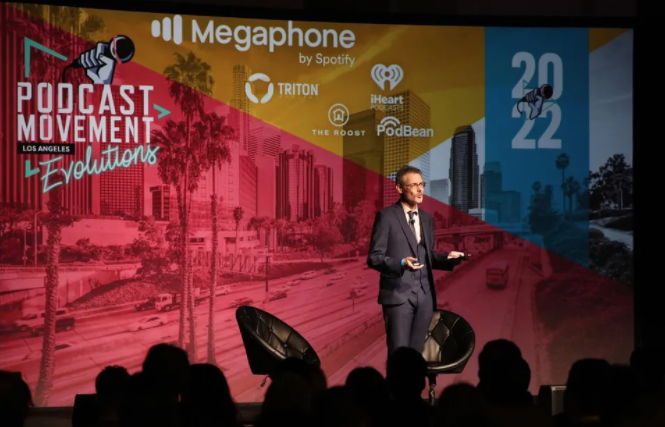 Followed by Cridland was the opening keynote with Will Ferrell and CEO of iHeartMedia Conal Byrne. They discussed Ferrell's role in The Ron Burgundy podcast, as well as his deeper venture into podcasting by creating the Big Money Players network, meant for podcasts in the comedy genre. The big takeaway Ferrell encouraged was to find ways to innovate audio to enhance your listener's experience beyond storytelling. For example, Ferrell shared one of his strategies for The Ron Burgundy podcast was to create events without having to narrate what's happening, via the sound of a buzzing bee. The concept was to portray the notion that a bee was buzzing around the studio as Anchorman Ron struggled to shoo it away while conducting an interview. It cleverly provided a whole other leg of the episode's comedic plot, all without having to say, "There's a bee in here!"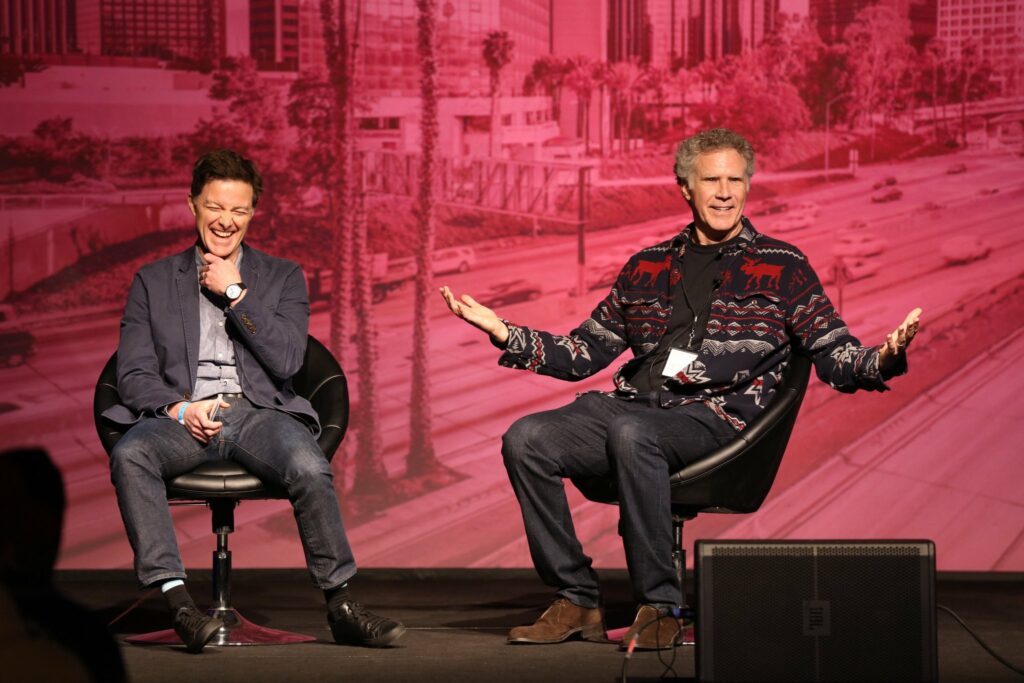 Despite the educational sessions in full swing, the expo hall was flooded with podcasters and company representatives. The expo hall is one of the greatest parts of conferences in general, but what set Evolutions apart was knowing that the majority of attendees aren't newbies in the space, but professionals looking to see where podcasting will take them or their company next.
We had a lot of great conversations with everybody that stopped by the Resonate booth, swapped business cards, and traded strategies. We are looking forward to all of the partnerships and projects we plan to work on, and can't wait for you to see what's in store.
Between raffles, free merchandise, and free coffee, the foot traffic stayed constant on Day 2 of Evolutions. As if the excitement of seeing Will Ferrell in the morning wasn't enough, the celebrity awe wouldn't wear off. iHeart Radio's biggest party of the year took place atop of the Grammy Museum rooftop at L.A. Live, with Paris Hilton as the party's main DJ. First Will Ferrell has a podcast, and now, Paris Hilton's a DJ? You never know what you're going to learn at Evolutions.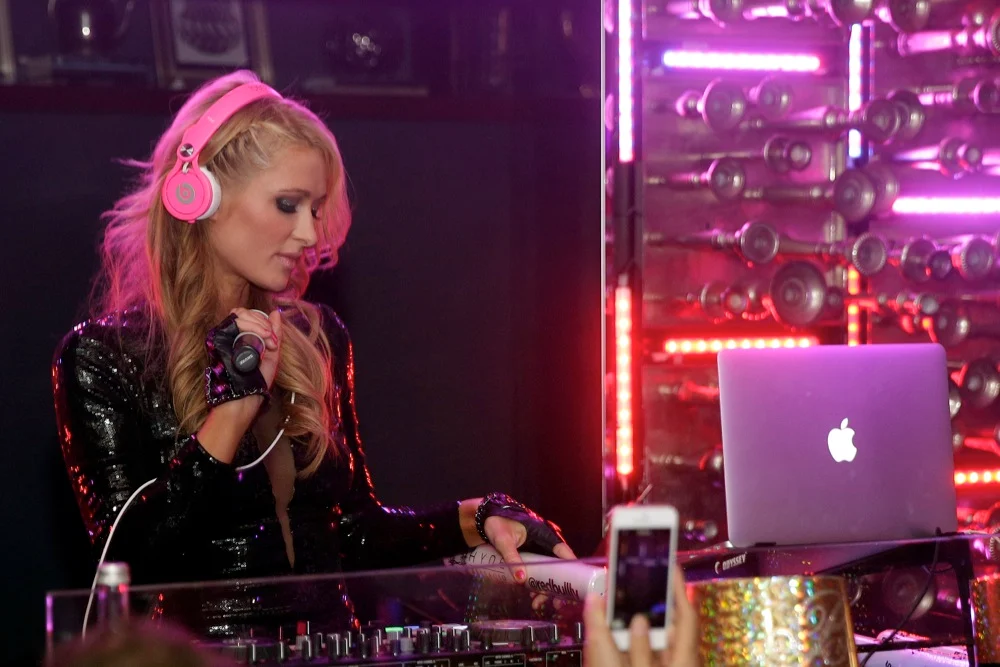 Day 3
The third day of Evolutions covered a wealth of topics from using social media to grow your podcast to empowering the voices behind multi-lingual podcasts. In one of the sessions titled, "Podcast Growth: The Dark Truths of a Podcast Marketer," Sean Howard of the Fable and Folly network of fiction podcasts discussed a number of hard truths podcasters need to face when growing their podcast. He mentioned that the concept of "Programmatic buys," which is when podcasters buy an ad spot on a similar podcast to promote their show, don't provide the results you hope for due to the lack of appeal of third-party production.
Instead, he proposed an interesting alternative; partnerships and swaps that make sense. Simply offering the concluding pieces of information via another podcast is enough to get listeners to migrate and check out other shows, as opposed to the foreign production ad buy.
The day concluded with Libsyn's Podcasting Hall of Fame awards ceremony and inductees, including Marc Maron of WTF with Marc Maron, Nicaila Matthews Okome of Side Hustle Pro, and Gynn Washington of Snap Judgement. You can watch the full ceremony and view the inductees on the Podcast Hall of Fame website.
Day 4
On the final day of Podcast Movement Evolutions, Resonate ended the conference right, with Resonate's Community Marketing Coordinator Isabella Maxey presenting "How to Market to Generation Z: The Future of Podcasting." Giving insight into the young generation, Isabella discussed the trends and interests of the digital natives as well as their significance in podcasting. Attendees left with a greater understanding of the Gen Z market as well as a detailed list of proven strategies on how to market podcasts to Gen Z.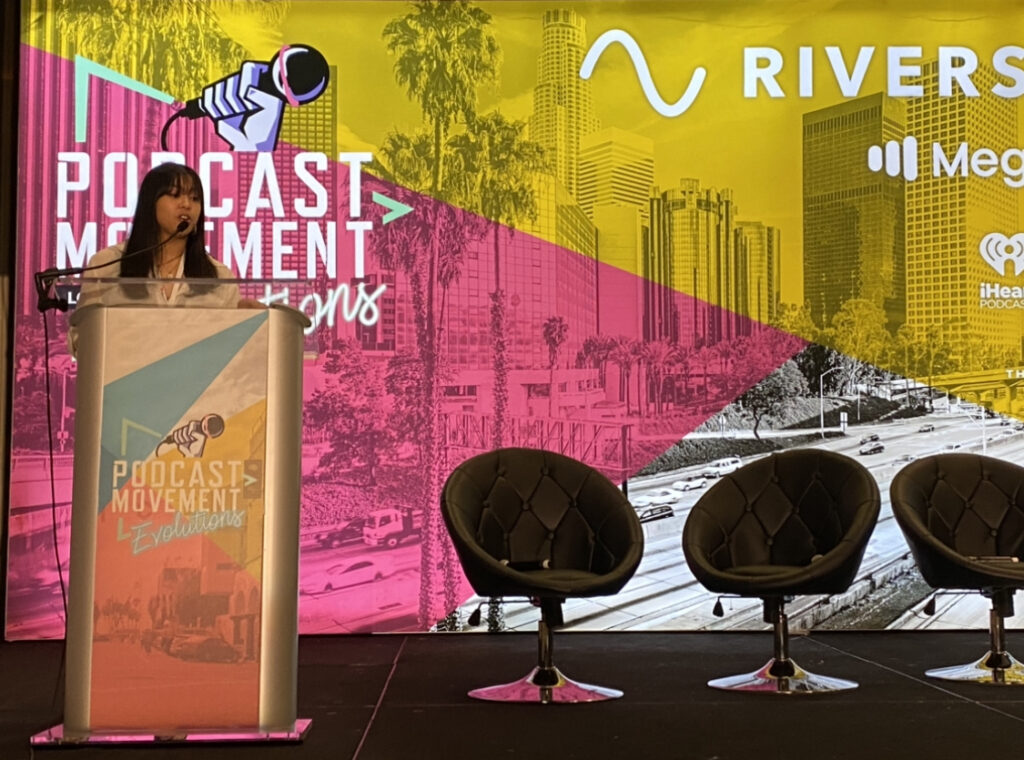 Overall…
With a greater emphasis on networking and following industry trends, this event is far less beginner-friendly than Podcast Movement. With that being said, gauge your own needs to decide which event best suits you. If you're still a newbie in the world of podcasting, Podcast Movement flagship is the best place to start. If your goal is to form partnerships, learn more about industry trends and connect/network with media companies in the industry, Evolutions is definitely the way to go. Either way, you're bound to get a great experience from either event.
Maybe you're debating on going to Podcast Movement this year, or wondering what the difference is between Evolutions and the flagship. If you're questioning whether or not any podcast conference is worth going to, spoiler alert— it is. There are so many valuable things to be learned about podcasting, both in sessions as well as from normal conversations with professionals in the industry. A conference presents the opportunity to share what you've learned as well as gain insight into others' podcasting journeys, as well as keep up to date with the latest trends and software. Not to mention it's a great way to network, meet new people, and engage directly with the podcast community.

You can read more about this conference as well as others in our write-up about the top 5 podcast events to attend this year. If you do, be sure to stop by our booth to say hi. We'll see you at the next big conference!