Podcasting is the world's newest marketing strategy.
According to Edison Research and IAB, "​​nearly two-thirds (65%) of fans are more willing to consider purchasing products and services they learn about during a podcast. Sixty percent also state that, given equal price and quality, they prefer to buy products from companies that advertise on their favorite podcasts."
As if this statistic wasn't convincing enough, listeners are harnessing their purchasing power and they are here to stay. Meanwhile, podcasters and marketers are partnering up to tell a story, build a brand and create profitable partnerships. Let's jump in! 
The purpose of using podcast advertising
Podcast advertising is a lucrative marketing tool to sponsor ads on various shows for brand awareness and monetization. The Infinite Dial 2021 reports an increase in devoted listeners, "Approximately eighty million Americans – 28% of the U.S. 12+ population – are now weekly podcast listeners, a 17% increase over 2020. The overall monthly podcast listening audience is now more diverse than ever." This media outlet brings a diversified listenership with high engagement and super accessible content that expands amongst thousands of categories. Audience reach has shown substantial growth and huge opportunity for businesses to access their customers with bite sized ads.
Companies like ZipRecruiter, BetterHelp, Indeed, Geico, Squarespace, Spotify and many more are utilizing podcast advertising to promote their brand and expand their customer reach.
What is a podcast advertisement?
Like all advertisements, podcast advertisements are used to promote a brand, idea, and message. Podcasts utilize their platform by providing a dedicated amount of time throughout an episode to promote sponsors to their listeners. There are many different types of ads to utilize this sponsorship.
Pre-Roll, Mid-Roll, Post-Roll Ads
Ad placement is where your sponsored ad is promoted within an episode. Pre-roll ads run at the beginning typically for 15-30 seconds. Mid-roll ads show the most engagement in the middle for 60-90 seconds. Post-roll adverts are shared at the end of a show for 15-30 seconds.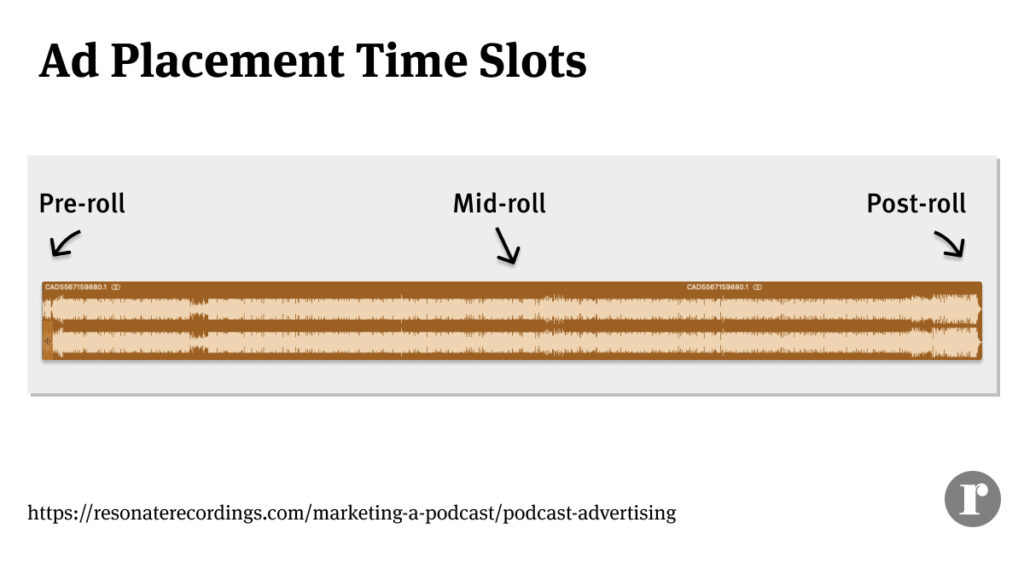 Host-read vs. Pre-produced
Live-read ads are typically host-read ads. These are more casual, organic and maintain the natural tone of the show. The product or brand can be threaded into the show whenever relevant content is mentioned.
Pre-produced ads have potential to be even more engaging by creating a concise, scripted story that is intriguing. It is recommended to use the host's voice to be more approachable.
Dynamic vs Baked-In
Baked-in ads live permanently on an episode. These can be live-read or pre-produced. Dynamic ads are pre-produced adverts. Dynamic ad insertions (DAI) run for a specific amount of time to promote various product releases, events, affiliate programs, etc. These are scripted, pre-produced ads managed by the podcast's hosting platform. Where is your podcast home? If it's with Resonate, learn how to utilize this feature on Resonate's hosting platform: here
According to IAB, Dynamic ads, "increased share of revenue from 48% to 67% year over year. Announcer-read / pre-produced ads, which also put more control in buyer's hands, increased share from 27% to 35%. Host-read continues to represent over half of revenue by ad type." Host read ads are the preferred type of advertising because devoted listeners trust their host. Marketers stay attuned to this relationship by featuring products or events the host would recommend.
Here is an example of a well-executed host-read ad demonstrated by one of our amazing clients, Gin Stephens of Intermittent Fasting Stories:
Why you should use podcasts for marketing
Sponsored ads utilize a niche market by focusing on a target audience who will actually listen to what is being promoted. Listeners engage with a show that they trust and enjoy.
Progressive, an insurance company partnered with Karen Kilgariff and Georgia Hardstark of the wildly successful true crime podcast, My Favorite Murder. Karen and Georgia read a scripted pre-roll ad for their 310th episode that promotes Progressive. This podcast series has a consistent base of devoted listeners also known as Murderinos. This a smart marketing move by Progressive who sought an opportunity in a podcast series where their listeners are attentive to what the hosts recommend.
Linktree, a tool that allows you to share multiple links on social media, sponsored She Podcasts with Elsie Escobar and Jessica Kupferman. In their latest episode, the host-read, mid-roll ad is super approachable where Jessica follows an outline with key talking points but still keeps the ad conversational and personalized with her own flair. On top of that, they even have a call to action where the listener can use a promo code to test out Linktree. This is a direct response ad that is super accessible and true to podcast form.
General Electric and Panoply's branded podcast series, LifeAfter/The Message is a science fiction podcast that partners with other companies. Season 2 Episode 1 starts off with a scripted pre-roll ad for a technology company, Voice Tree. Then, with the power of storytelling, Voice Tree is subtly incorporated into the storyline. A tactful, skillful approach that incorporates baked-in ads into storytelling style podcasts.
A twist on podcast advertising is Acast, "Sponsored Stories take traditional sponsorship reads further, giving advertisers longer spots with high production values, more opportunity for storytelling, and a greater share of voice within ad breaks." Dynamic ads with a story like approach that don't have to be baked into a specific podcast episode. More can be read from Acast: For the Stories.
All in all, there are many different ways to partner with podcasts to promote a brand.
How do podcast advertisements work?
What's the cost for some podcast advert real estate? Pricing is based on CPM (cost per mille) and CPA (cost per acquisition).
CPM (cost per mille) is the value set for marketers to purchase ad space on a show. In the podcasting world, the "mille" in CPM equates to 1000 plays/listens. The average rate from Advertisecast is $18 CPM for a 30-second ad and $25 CPM for a 60 second ad. For example, if an episode has 3,000 listens, the cost for a 60 second ad would be $75. (3,000 x 60 / 1000) What about shows that don't have 1,000 listens per episode? This is where CPA (cost per acquisition) comes in handy.
CPA (cost per acquisition or cost per action) is based on an affiliate program. This is where marketers will pay hosts a referral fee every time a listener uses a promo code or subscribes to what is being promoted. Even if a show doesn't match the CPM standard, sponsors still have a huge opportunity to partner with podcasts who may have a smaller audience reach but more devoted listeners.
Please note that the above CPM is based on an average market standard. Basically, there is room for negotiating ad space fees with each podcast. All in all it is crucial to have an opportunistic approach to advertisements. Partnering with podcasts to market your brand holds potential for huge ROI.
If you are new to podcasts, testing out your ads on multiple podcasts with dynamic ad insertion is a good way to measure how engaging your content is. The trend in advertising is growing at a rapid rate where ad spots for more popular shows like Joe Rogan are becoming insanely expensive for advertisers. Instead of working with larger shows, there is opportunity to work with smaller shows for ad spacing at an affordable rate.
How to create your podcast ad
We discussed the purpose, the 'what', and 'why' of podcast advertisements. Now, the question is, how do I create a successful ad?
There are two approaches to an ad's format. They can either be scripted or outlined. Scripted ads require the host or narrator to read a pre-written ad verbatim, but outlined ads allow the host or narrator to be casual, more personal, and add their own creativity to the ad.
A scripted ad is best for pre-roll and post-roll ads since these are typically 15-30 seconds. It is suggested for a mid-roll ad that runs for 60-90 seconds to follow an outline for a more conversational approach. This will keep a consistent flow to an episode by organically introducing a product or brand within an episode.
Whether an ad is scripted or outlined, the product being sold should really be something the host of the show truly cares about. Send the host a sample of the product. Then, the host can collaborate with the sponsor to share their personal experience and maintain a stylistic approach.
Ideally, host-read ads are preferred. They spark the most engagement because listener's trust the host they are tuning into. If you don't use the host's voice, try to use a voice with warm, friendly and inviting tones. Podcasts are a safe space that are meant to be fun, laid back and creative.
Ads contain 3 main components:
Intro
Key talking points
A call to action.
An intro can be posed with a question, interesting statistic or hook. Key talking points tell a story or a brief description of a product. The call to action is the most crucial. It can be any sort of proposed initiative for a listener to find more about your brand or purchase a product being advertised.
Intro/Hook: Relatable story the audience can relate to that connects to the product. Rather introduces a problem and provides a solution with Blue Apron's product.
Script: descriptor words that sell the product – convenient, saves on time, nutritious meals
Call to Action: Visit website for 1st three meals free
Intro: Host introduces creator of their show
Key Talking Points: tells the audience why she loves the product and what the company's mission is all about.
Call to Action: referral link and promo code
Hailey Starr, a marketing pro and artist, shares a free template for the perfect podcast script with Growth Marketing Pro.
How to get your ad on a podcast
Okay, so you've created an ad or a few ads for a whole campaign, now the question is how do I get this on a podcast? We will want to consider a few important pieces.
During the brainstorming phase, you will want to do a little research. Who are your competitors? What podcasts are they promoting their brand on? How are they placing their ad? What is working well? What isn't? A competitive analysis is a useful tool for marketers to learn how to set themselves apart.
Now, It's time to lock in your target audience. Who are you selling to? What are their interests? What podcasts are they listening to?
💡 Pro Tip: Try to align your brand with like minded companies that share the same psychographics as your target audience, but don't be afraid to expound to new markets as well.
Podchaser holds an extensive library of podcasts where you can research and catalog various shows.
Magellan.AI is another really great resource that is known as the "google of podcast advertising." It shares great resources, statistics and a great database for publishers and advertisers.
After a little research, you are ready to pitch your ad to a show. ConvertKit shared a great outline to create a solid pitch deck for sponsorship here, but there is also opportunity to network on various platforms.
Where to buy podcast ads
RedCircle
RedCircle is a one-stop shop for podcasters and advertisers. Brands and agencies can easily build, promote and track their ad campaigns across all platforms. Features include: variety of ad formats, budget and spending management, and direct customization of messaging.
Podcorn
Podcorn is one of the easiest tools to get started with since they allow any and all podcasters to sign up. They also have amazing filtering features to find the right show based on podcast categories, audience demographics, listening stats, and more. We recommend using Podcorn if you want a simple self-signup process you can manage yourself.
Gumball
We recommend using Podcorn if you're interested exclusively in host-read ads for your show. Gumball's model is a bit different than Podcorn, and they require shows on their platform to hit a significant minimum threshold of listener stats before they can sign up. For this reason, if you're an established brand, Gumball is an excellent way to get access to host-read ads on premium shows.
Advertisecast
Advertisecast is a vast podcasting network for advertisers that works as a one stop shop that will consult on building a campaign and placing ads on various podcasts along with insightful metrics. If you want to work with a team to manage your podcast ads, we recommend using Advertisecast or Midroll.
Midroll
Midroll is another large networking company that will connect your brand with podcasts. This is another useful tool to spread a campaign across multiple podcasts.
Alright, your ad is on the podcast. What next?
There are useful tools to measure an ad's success. Most ads are measured by the number of downloads. Although, creating a direct to consumer ad with a call to action is one of the more useful ways to track advert results. Vanity URLs are great for brand awareness and a quick measure of a brand's website traffic. Podcast-specific promo codes are an easy way to measure monetary success. Surveys are a direct response that could provide good intel. Advertisers are also placing pixels on their sites to track traffic. Podsights and Chartable help brands and advertisers measure the success of their podcast advert. Lastly, tracking your website's engagement with Google Analytics when an ad is released is another useful tool to measure audience reach.
Recap: Why/who/How of Podcast Advertisements
Podcast advertising is a booming industry with great success and continued growth. Host read ads are still the most successful podcast advertisements to date. Focusing on this super niche market with various podcast categories will help marketers broaden the scope of their consumers. The next step, start an ad campaign and utilize dynamic ad insertion to promote your brand.