Clubhouse is a new "drop-in audio chat" social media app. The concept of Clubhouse is simple but exciting. Join the iOS app (from a text invite), enter a room about a topic that interests you, and have a conversation with people from all around the world.
This app can be used in so many creative ways. You can network, livestream corporate meetings, create radio-style talk shows, and hear Elon Musk break the internet.
Clubhouse App Features
Clubhouse has several important features you need to understand to navigate the app. I'm going to walk through these core features and drop some screenshots to show you what the app layout looks like.
Rooms
Rooms are spaces moderated by hosts where listeners can raise their hand to ask a question. The host moderates the conversation and can invite listeners to the stage where they can unmute. Rooms can be organized around a topic or community determined by the host.
There are Open, Social, and Closed rooms. Open rooms are available to all users. Social rooms are available to all the people you follow. Closed rooms are available by invite only.
There can be up to 5,000 users in a room. But this was recently pushed to the max when Elon Musk joined Clubhouse. The room was maxed out and secondary rooms were created that streamed the main audio from the room with Elon.
Clubs
Clubs are communities based around a host, brand, topic, or industry. Clubs are the most exciting part of Clubhouse to me. Creatives are already building weekly clubs that act like talk-radio.
Clubs are grouped into 14 main categories spanning just about every single topic you can imagine: Hustle, Identity, Life, Sports, Places, Arts, Faith, Wellness, Hanging Out, and five more.
Your Profile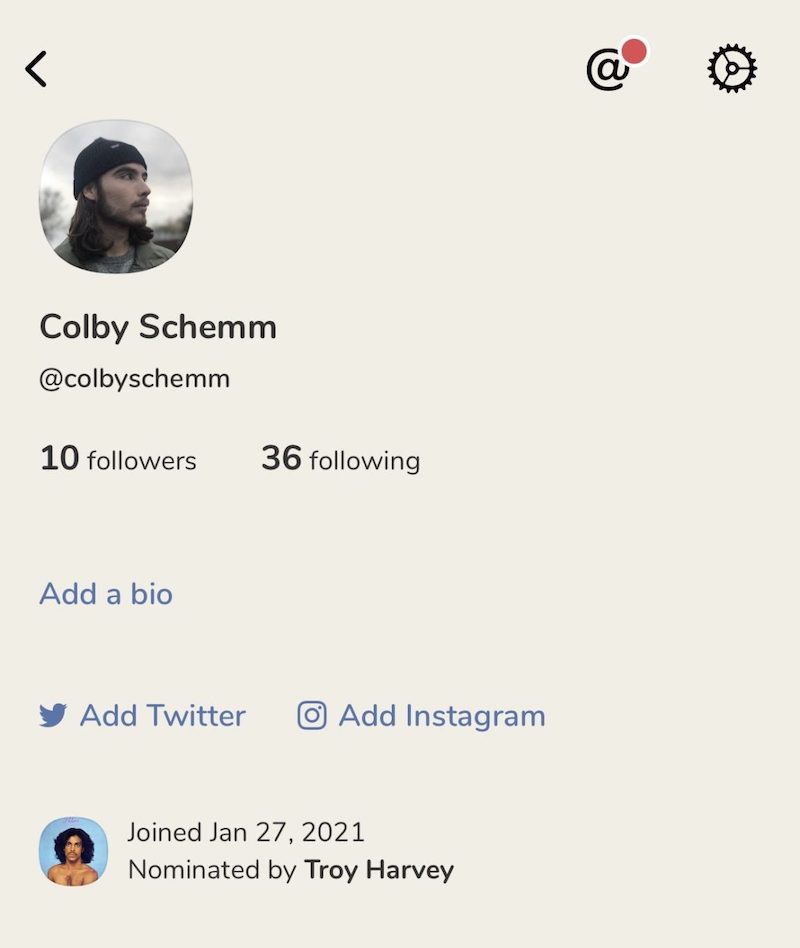 Your profile on Clubhouse is minimalistic but useful. Your followers can see who nominated you, Twitter and Instagram links, and any clubs you are following.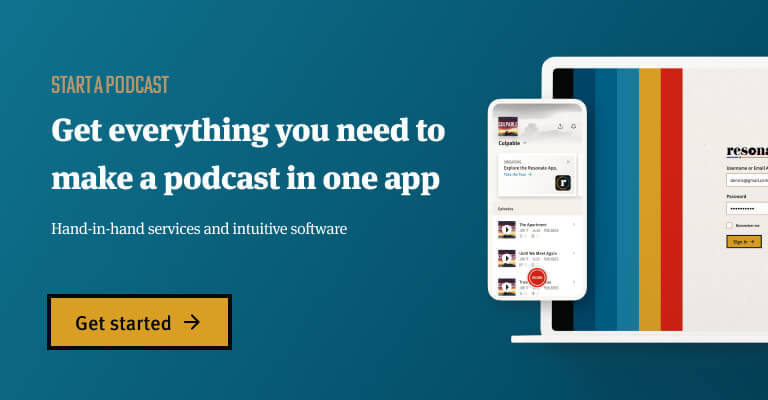 Upcoming Events
See events created by groups and clubs you follow, add them to your calendar, or share them with others. You can also create events for your audience for the future.
Notifications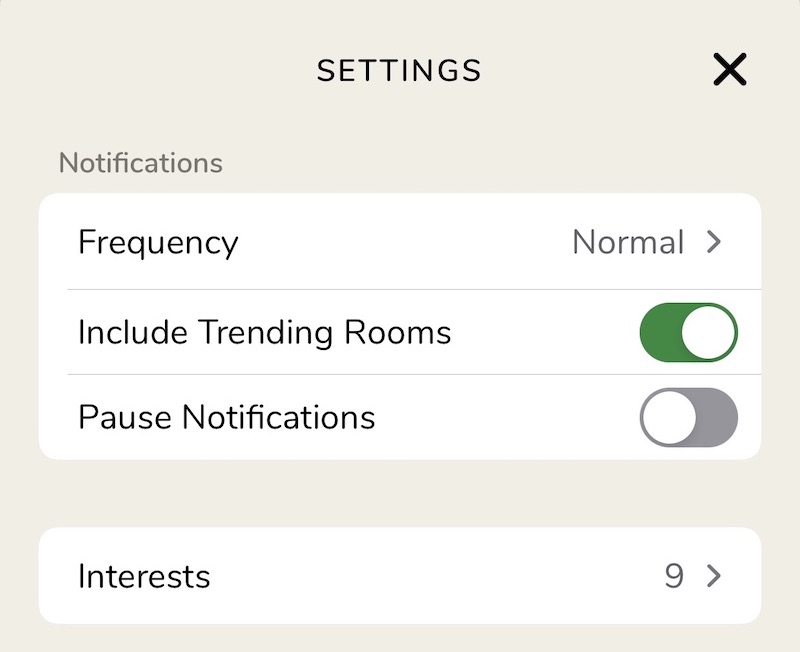 Clubhouse notifications keep you in the loop and connect you to new people.
You get notified when friends from your iPhone contacts join the app.
You get notified when events are scheduled similar to a topic you picked to your selected interests.
You get notified when events that you planned to visit begin.
Notifications are intended to keep you from missing out on interesting new rooms, clubs, and scheduled events based around your interests. You can change the frequency of notifications, choose to be notified about Trending rooms, or pause notifications entirely under your Settings.
Benefits of Clubhouse
Clubhouse is Social.
Clubhouse removes major barriers to entry and lets people talk directly to people who might otherwise be a lot less accessible. It offers clubs and rooms where conversations are organized by topics, thought-leaders, and compelling questions. So it's pretty obvious that there are some benefits to Clubhouse that rival podcasts.
Clubhouse is built like a social media app, and podcasting is not. Podcasts are a one-way medium, but Clubhouse is designed for conversations.
Clubhouse is Live.
Clubhouse is exciting because you never know what person is going to enter the conversation next. You could be in a very humble room just talking about your niche and the CEO of your favorite company could pop into the conversation.
Clubhouse offers the ability to essentially host a podcast by going live and speaking directly with your audience in real-time. You can have direct conversations with your audience. The beauty of this platform is the unpredictability of who might enter the conversation at any moment.
Clubhouse is Real-Time.
Clubhouse is a great place to keep up with current events. It's easy for users to go live and talk to others immediately.
Our CTO Troy Harvey shared a great example with me:
"Last week was a great example of where this medium is better than podcasting. The GME/Reddit stuff was practically old news by Friday, but it took a day or two for podcasters to get their episodes up. So Clubhouse had already hashed out everything about wallstreetbets before podcast episodes even hit the feed. Look at The Daily. Waiting until Monday to cover WSB is just embarrassing. The speed of Clubhouse is going to make "news" type podcasting feel dated."
Clubhouse has some great things to offer: community building, engagement and real conversations with interesting people. It's also a powerful tool to network and keep up with news.
Clubhouse clearly has a lot of benefits. It's an audio-only social platform that is getting noteworthy attention and shows tons of promising potential. But it also falls short in a few ways. Let's talk about the downsides of Clubhouse next.
Downsides of Clubhouse
Clubhouse isn't Edited.
Clubhouse content is conversational, trending, and fast-paced. But some of the best podcasts are narrative-style, highly produced shows that take you on a journey. Complete with sound-design, music, narration, and professional mixing and mastering. There's just no fast replacement for the type of quality content that you can hear on Ear Hustle, Song Exploder, and Dissect.
Tom Webster raised this point in his recent article on Clubhouse. He said, 
"But to me, Clubhouse can't kill podcasting as long as podcasts continue to produce compelling, quality content that Clubhouse can't replicate in a live, participatory setting. But time spent on Clubhouse could kill a show—maybe your show. It could kill it if you aren't providing a better experience."
I think Tom is spot on. Quality content is the number one recipe for a successful podcast. So Clubhouse might just be calling for interview podcasters and creators to keep stepping up the quality of their show as a whole.
Clubhouse isn't On Demand.
While Clubhouse is constantly generating exciting content, it's also constantly leaving you behind. You can't pause the conversation after your walk or rewind to hear that inspiring idea a second time.
I was so disappointed to see event after event scheduled for a time in the future that I had a meeting or was going to be asleep. As the platform scales, I'm sure it will get to a place where endless conversations are happening on each particular niche and topic I'm interested in at any given time during the day. But if you love the content and have to stop listening for a minute, you cannot stop, rewind, or save the content.
Clubhouse isn't Evergreen Content.
Clubhouse content is ephemeral. It's designed to foster real-time conversations. It's not designed to be recorded. It's also against the community guidelines to record audio without the consent of the speaker, making it legally challenging (although still somewhat blurry) whether you can record any of your own content.
How to Use Clubhouse to Grow Your Podcast
How should podcasters approach Clubhouse in their podcast marketing strategy?
Clubhouse offers you the chance to talk directly to new people, to build a new audience, and to find common ground with people. It's also a great place to be discovered by new people. If you are willing to invest the work in this platform, it could prove to be a powerful space to share your voice and boost brand awareness in 2022.
Here are a few simple ideas for how to leverage Clubhouse:
Start a Club based around the same topic of your podcast.
Start Rooms based around your topic of interest to gauge people's interest.
Research topics of interest and study your target audience.
Host live interviews with podcast guests (before you record) to hone your skills.
How to join Clubhouse?
Clubhouse has announced in July of 2021 that it is moving out of closed beta, with the app now open to everyone who wants to join a Club and tune into audio chats.
Conclusion
Audio-first platforms continue to grow, proving the power of spoken word content today.
Clubhouse is blowing up. Spotify is buying audio platforms left and right. Twitter Spaces is in beta-testing.
The success of Clubhouse is one more reason we are excited to be working in the world of podcasting and spoken-word audio. This app is a great way to connect with others, learn, and build a following for your brand.
Clubhouse is social.
Clubhouse is live.
Clubhouse is interactive.
Clubhouse is a new opportunity to promote your podcast and learn.
What do you think about Clubhouse? Email us your thoughts about how Clubhouse and podcasting! We want to hear your perspective.