Most people avoid crime when they can.
It might seem morbid to build an entire weekend-long conference around something as sinister as crime. But when it comes to the No. 1 True Crime event in the world, detectives, survivors, and podcasters come out to meet and share ideas at the educational summit that is CrimeCon.
Hosted at the Paris hotel in Las Vegas, CrimeCon 2022 attracted hundreds of attendees, and among them, true crime podcasters. After taking on the weekend-long event in the heart of Sin City itself, the Resonate team has prepared a guide for podcasters to help them navigate and make the most of CrimeCon.
What is CrimeCon
When you hear "Con," you usually expect fanaticism. You may think of the international conference ComiCon, where participants can show up to the event dressed in over-the-top fashion. CrimeCon differs from the typical sensationalized presence of fans with the focus being on the power and appreciation of storytelling in the crime industry.
CrimeCon is an immersive, weekend-long event dedicated to all things true crime. It's an eclectic mix of people, topics, discussions and education. Over the course of three days, there are panels for every and any interest relating to crime. Experts speak on relevant topics such as forensics, criminology, victimology, and more.
Attendees of the conference range from top-notch experts in forensics and crime scene investigation to notable news reporters and personalities. Somewhere in-between that range is a wide array of true crime content creators, including a plethora of true crime podcasters.
Why podcasters should go
If you're a true crime podcaster, attending CrimeCon should already be on your calendar. The opportunities the conference can provide for your podcast are invaluable. There's an emphasis on crime education, and whether you're a beginner or seasoned veteran podcaster, there's a lot to be learned and revealed in the world of true crime. YouTube tutorials and detective novels are great一but there's nothing like learning through an unforgettable first-hand experience.
Not to mention the guest list一think field experts, advocates, veteran journalists, podcasters, and big players from within the criminal justice system. How often are they all under one roof for three days? These could be your future guests on your podcasts, partners to collaborate on projects, mentors, and more. The opportunities to learn from each other are endless.
CrimeCon is also a place to meet and join in the fight and advocacy for victims, giving citizen detectives a chance to help in solving cold cases. Attendees can participate in crowd-solving and learn how to dig into a case properly without hindering the investigation of authorities.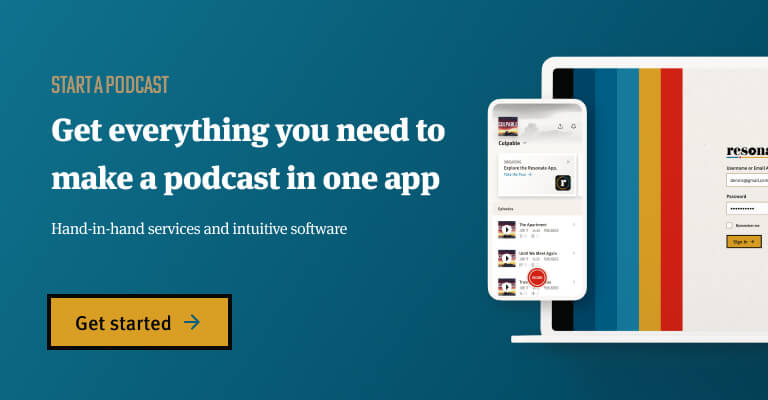 How to make the most of CrimeCon
With only three days to meet people, learn new skills, and promote your podcast一preparation is key. Here are a few tips we consider to be essential in order to make the most out of your CrimeCon experience.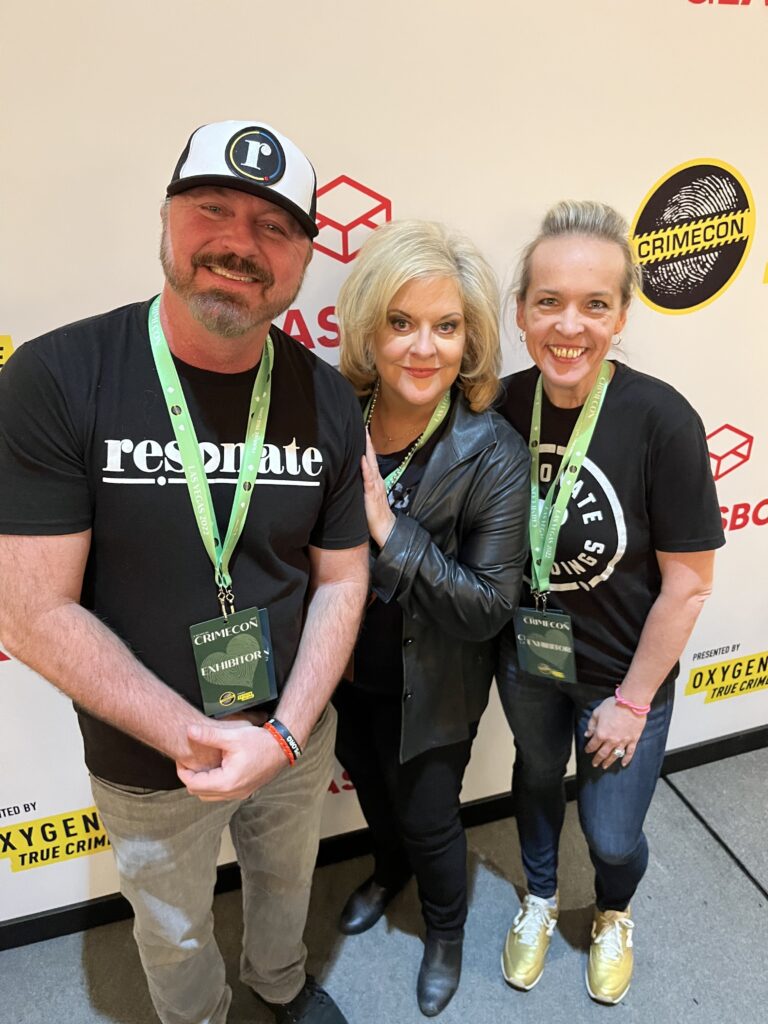 Attend Panels
Take advantage of the fact that there are professionally-trained experts from all over the world under one roof. There are various panels for every and any interest. Experts speak about forensics, criminology, victimology, DNA, and more. You may meet investigators who have cracked decades-old cold cases, and even advocates who train CrimeCon goers on how they can investigate crimes. The central idea of CrimeCon is to be a beacon of education, so be sure to pack your notepads and journals.
Like every conference out there, CrimeCon has its fair share of experts leading sessions during the event. They are educated in the subject matter of crime and keep up-to-date on new developments in forensic science and how those innovations affect criminal investigations. Survivors of crime and families of victims share their stories, seeking opportunities for justice and giving hope to others who have experienced similar tragedies.
Expect diverse conversation
Attendees of CrimeCon are from all walks of life. You can also expect anything from people with decades of investigative, forensic, or legal experience to two friends that share a passion for true crime stories and want to do their part to get the word out. Prepare to be in a room full of great minds, from top-notch experts to content creators like true crime podcasters and notable TV crime reporters and personalities. Don't feel out of place if you are not an expert, CrimeCon is also a place to meet and join in the fight and advocacy for victims.
With that being said一introverts, expect conversation. CrimeCon is a great place to have in-depth conversations with industry professionals, share tips of the trade, and lessons learned from your own trials and tribulations. Don't limit yourself to just one type of professional in one type of field; embrace the presence of diversity. It is an opportunity to learn directly from those who came from modest beginnings and are now experiencing a high level of success.
Network, network, network
Building off of our last point, There's one common denominator when it comes to making the most of all conferences: Networking is key. In between sessions, you should be networking with experts, investigators, detectives, and fellow true crime podcasters.
The goal is to leave with a multitude of new contacts that can then be used to help grow your show and career as a podcaster. These contacts could become new guests on your show, investigative partners, or even sponsors. Never turn down the opportunity to meet someone who can give greater insight into your podcast from an outsider's perspective.
Make sure that you take a lot一and we mean A LOT一of business cards, stickers, or other trinkets that have your contact information. It should feature your podcast's logo and a website they can go to to learn more, or better yet, an easy-to-scan QR Code. It makes it easy for the fans, podcasters, content creators, and experts you meet to find your work.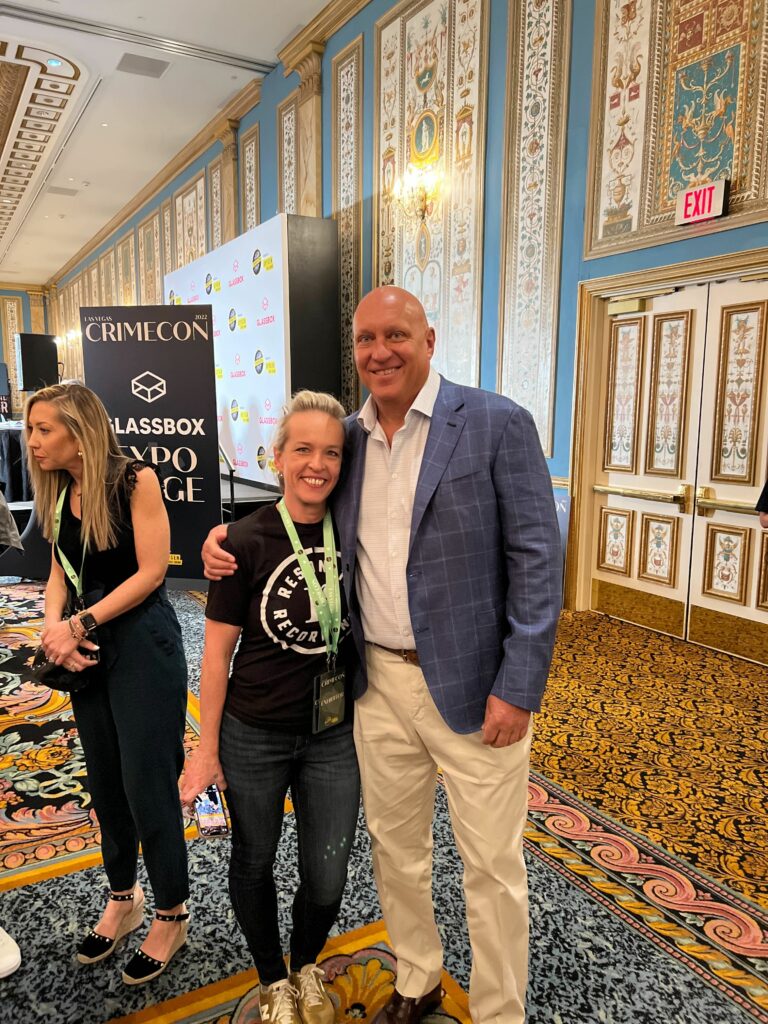 What do I wear
Something you don't often think of until the day before when you're packing your suitcase: what's the dress code? Like most podcasting conferences, it's perfectly acceptable and common to dress casually. Professional attire is acceptable, but you may feel out of place amid the colorful T-shirts promoting podcasts, TV shows, and other groups trying to build a presence. Another benefit to dressing casually is that it's built for comfort during an event where you'll be on your feet often, rushing to get to the next session.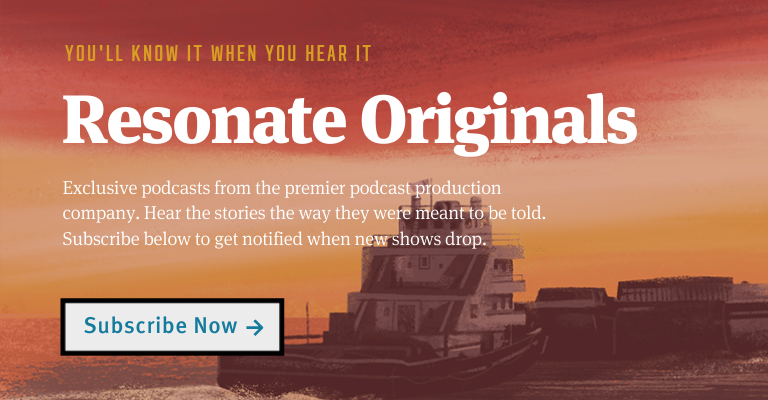 Overall
Though crime is normally a serious topic, CrimeCon provides a great opportunity to branch out and engage with the true crime community. As we said earlier, it's an eclectic mix of people, topics, discussions and education related to all things true crime. The camaraderie of people who are curious about the human psyche is always great, but the event also takes the fascination about crime to a whole other level.
Whether you're an expert, a content creator, or a citizen detective, we all want the same thing: to share what we know and learn what we can from others in the field. Each year those individuals come out in droves to reunite, congregate, engage and mentor each other at CrimeCon.
This Day in Crime
Can't get enough of the CrimeCon experience? Listen to this episode of the Resonate Original daily podcast, This Day in Crime, for a detailed depiction of how the hosts experienced CrimeCon first-hand.
Part 1
Part 2