In today's world, podcasting has become a popular and effective medium for sharing content, building an audience, and growing a brand.
With so many podcasting platforms available, it can be challenging for beginners to choose the right platform to create and produce their content. In this blog post, we'll take a deep dive into Podcastle, a popular podcast editing software designed for beginners. Read on to see if it's right for you.
What is Podcastle?
Podcastle is a popular podcast editing platform that enables content creators to easily record and produce their podcasts for sharing with audiences around the world. It is a versatile and user-friendly platform that offers a range of features designed to help users plan, create, and promote their podcasts effectively.
Try Podcastle now: https://podcastle.ai/?ref=ndvmmty
Who can use Podcastle?
The first thing you're greeted with when making an account is what you'll be using Podcastle for. This is a great way to show the multiple use cases for people that aren't even just podcasters, or if you are a podcaster, the other ways you can implement the software in your life.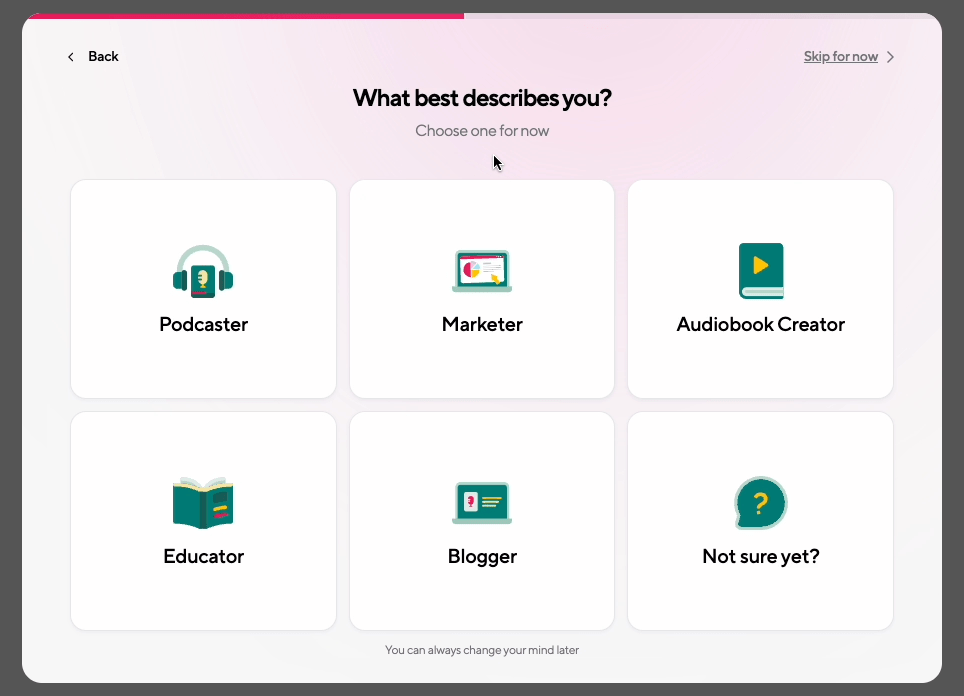 What can Podcastle do?
After choosing "podcaster," we're immediately taken to the more specific use cases for the software. This is especially important because it shows the wide range of capabilities this platform has, including audio editing, conducting remote interviews, converting text to speech, audio recording, and audio transcribing. Whereas previously podcasters would have to use multiple services and subscriptions for one episode, nearly all of those tools are now available in one swiss-army-knife style software.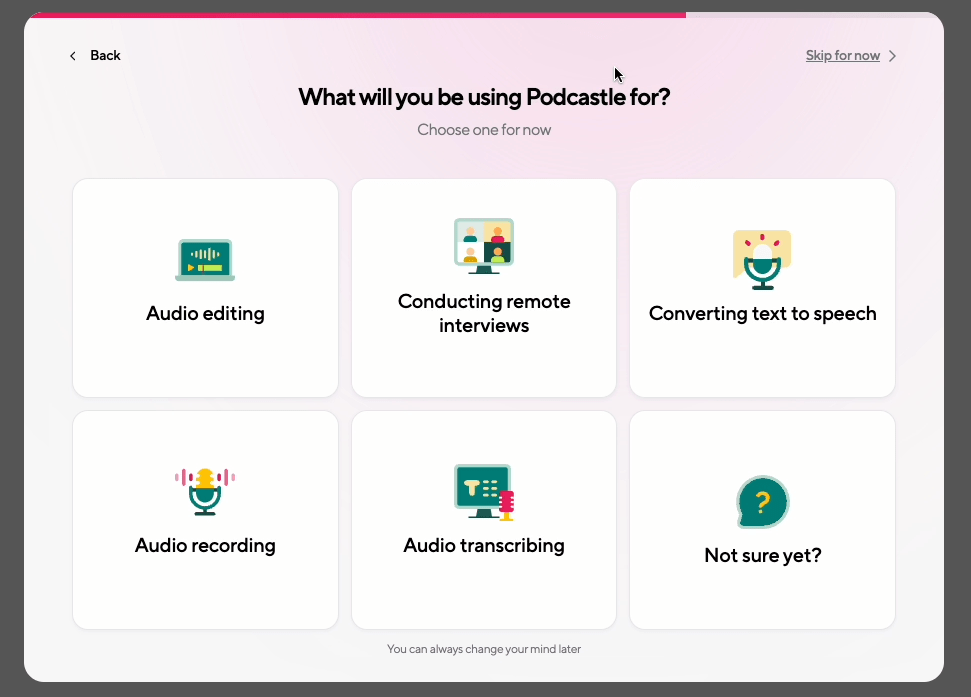 One of the key strengths of Podcastle is its user-friendly interface, which makes it easy for beginners to get started with podcasting. The platform offers a range of tools that help users create their podcast episodes quickly and easily, without requiring any technical expertise. The classic ones you may recognize: splitting audio, trimming audio, and fading in and out of different tracks all while customizing in a drag-and-drop editor. However, Podcastle also offers a range of unique and powerful features that allow users to customize their podcasts to suit their needs. For example, users can choose from a range of text-to-speech voices to create a unique look and feel for their podcast, and can also add music, sound effects, and other elements to their episodes to enhance their appeal.
Try Podcastle now: https://podcastle.ai/?ref=ndvmmty
How to use Podcastle
In this video, Resonate Recordings' brand manager Isabella reviews the software as she takes you on a walkthrough of the features at the same time she is experiencing it. The review covers the various features and tools offered by Podcastle and evaluates how user-friendly and effective they are in helping beginners create and edit their podcasts.
The video provides a comprehensive review of Podcastle and highlights its strengths and weaknesses as a podcast editing platform for beginners. The review also covers some of the more advanced features offered by Podcastle, including its built-in transcription service, which automatically transcribes podcast episodes into written text, making them more accessible to hearing-impaired audiences and improving search engine optimization.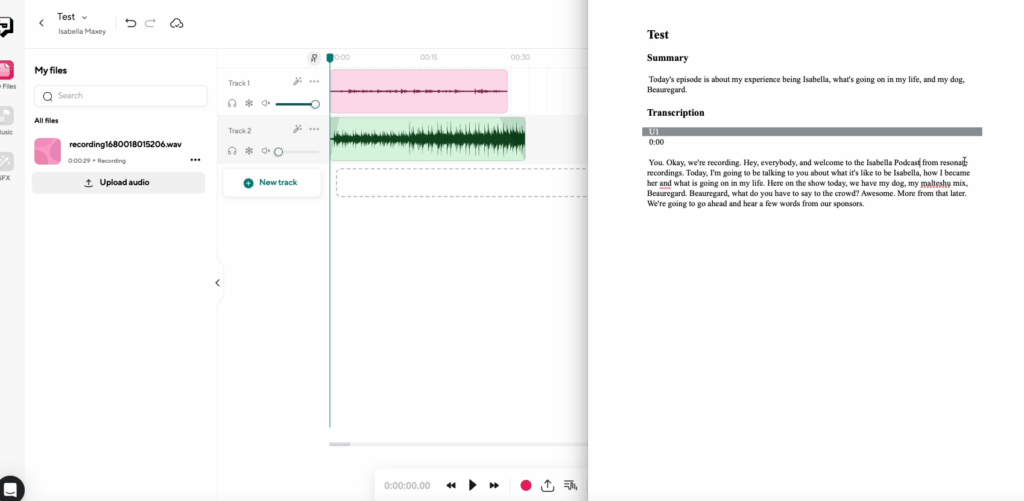 It is incredibly easy to create a new podcast episode using Podcastle's drag-and-drop editor. Users can simply drag and drop audio files, intros, and outros into the editor and arrange them as needed to create a complete podcast episode. Another great feature highlighted in the video is Podcastle's auto-leveling feature, which automatically balances audio levels to ensure a consistent listening experience for the audience.
Another great feature of Podcastle is that they provide a means of suggesting features to make the app better and overall improve the user experience. There are very few companies that take this extra step in improving their product, which speaks volumes (pun unintended) for Podcastle's values. The sidebar also includes super helpful blog posts, community forums, and more. You even have the option to rate your experience, individual products, and the helpfulness of blog posts
Note: Podcastle is primarily a podcast editing software, not a hosting platform. Unlike other podcasting platforms that offer hosting and distribution services, Podcastle is solely focused on providing users with the tools they need to edit their podcasts and prepare them for distribution on other platforms. For more distribution information on how to get your podcasts on Apple Podcasts, Spotify, Google, and more, check out our blog post on podcast directories.
From our experience, we can confidently say that Podcastle is a powerful podcast editing software that offers a range of intuitive features designed to help beginners create professional-quality podcasts. The software is affordably priced and offers a range of plans to suit different podcasting needs and budgets.
Overall, Podcastle is a versatile and beginner-friendly platform that offers a range of powerful features and tools designed to help users create and edit their podcasts effectively. Whether you're a seasoned podcaster or just getting started, Podcastle is definitely worth considering as a platform for creating and sharing your podcast content.
Try Podcastle now: https://podcastle.ai/?ref=ndvmmty
But what if I need more?
Let's say you don't have the time to edit and publish all twelve of your podcast episodes in the time you'd like them published. Or maybe you've figured out how to edit it, but want a more industry-standard, professional feel, and don't have the time nor resources to add an additional side hustle as an audio engineer. Look no further than Resonate's podcast production services, made for the aspiring podcaster who wants more than just a hobby.