The explosion of podcasts has made it easier and cheaper than ever for anyone to create their own show.
As a quality-focused podcast production company, we've heard a fair amount of poor quality audio recordings. They tend to be distracting, frustrating, and overall create a poor listening experience for your community. Excellent audio quality should be your high priority when podcasting. This however, does not mean you have to break the bank or even work all that hard to get it. The Vocaster Two Studio by Focusrite is a bundle of gear that makes a competitive offer giving all the hardware and software tools needed to create your own podcast. How do we know? We tried it.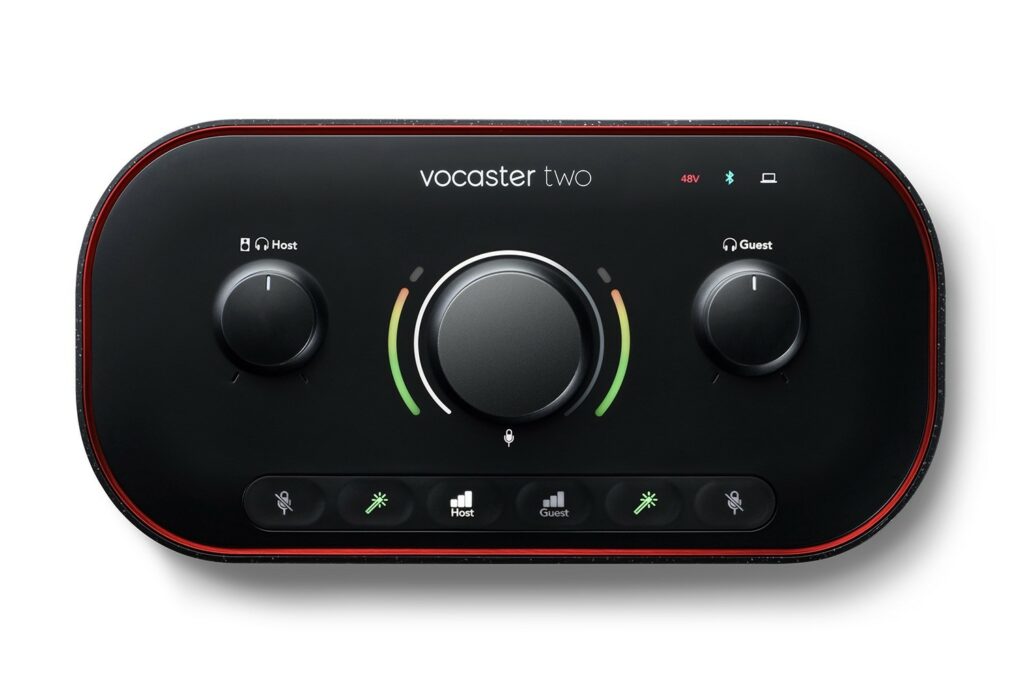 Let's talk specs
The Vocaster Two may look like a compact device, but it has a lot under the hood to offer. Here are some features of the bundle at a glance.
Gain – With 70db, the preamps have plenty of juice to drive your microphones.
Auto Gain – You can set your levels instantly with the push of a button.
Enhance – Presets are available to give your voice some additional flavor.
Bluetooth – Connect and record anything your want to play on your phone.
Loopback – Bring sounds in from your computer in your recording.
Channels – Two channels to bring in another microphone and record a guest in the studio.
Software – A full suite of software to add to your tool kit.
The Vocaster Two Studio
The Vocaster Two has packed into the hardware everything needed to get an excellent recording. It was surprising when opening the box how compact the device is. It is a perfect piece for a desktop or small table and will fit nicely in a small studio.
All the buttons and knobs have a great feeling turn and click. Setting up the device on my MacBook was very easy by just connecting the USB cable and setting it as the input and output. On the front face of the device, you can adjust gain, headphone volume, mute channels, engage mic enhancement, and more. Let's dive into some of the features of the device.
Bluetooth
Remote podcasting is becoming more and more popular every day. Podcasters are noticing the opportunities that remote podcasting gives to their projects. However, this can sometimes lead to challenges when trying to get guests to your studio. Sometimes, you may even come across a good opportunity to record great guests but they have a very limited amount of time and can only take a quick call. Well…
The Vocaster Two Studio has built-in options to handle Bluetooth connections with either a phone or tablet. You can also use a 3.5mm TRRS cable that directly connects your phone to record. We have previously recorded phone calls by cable, but we've hardly done any phone calls recordings by bluetooth. Focusrite is proving to be a top tier product innovator and we had to try it ourselves. So, we quickly put it to the test and this is the result:
It presented no issues with call recording using its Bluetooth feature. We were easily able to pair the Vocaster Two to the phone and set the phone aside. It then takes over your phone's input and output allowing you to use the mic and headphones to communicate with your guest and record. It's as if they were there in your own studio.
You can also play and record any sound you want from your phone. You could load intro and outro assets, sound effects, and pretty much anything you want to record. While recording assets is possible from Bluetooth, this is more of an ideal option with the Loopback feature.
Loopback
Many podcasters like to get in the zone when they hit the red button. The ability to loopback allows you to play a section of your show which assists in upping your recording game. Meaning you can play something like your intro and once it concludes you begin your dialog. Yes, an intro/outro can be added in post-production, but some podcasters like being able to get in the mindset of performing. Looping back segments of the show can be a great tool to up your performance to the next level.
Enhancement
The Vocaster Two has dialog enhancement presets to process your voice. You can click the enhancement button on the device itself or load up the Focusrite Hub software for greater control.
Camera Output
On the back panel of the device, you can connect an audio output right into a camera. This means you won't have to do any more post-production audio syncing.
Microphone testing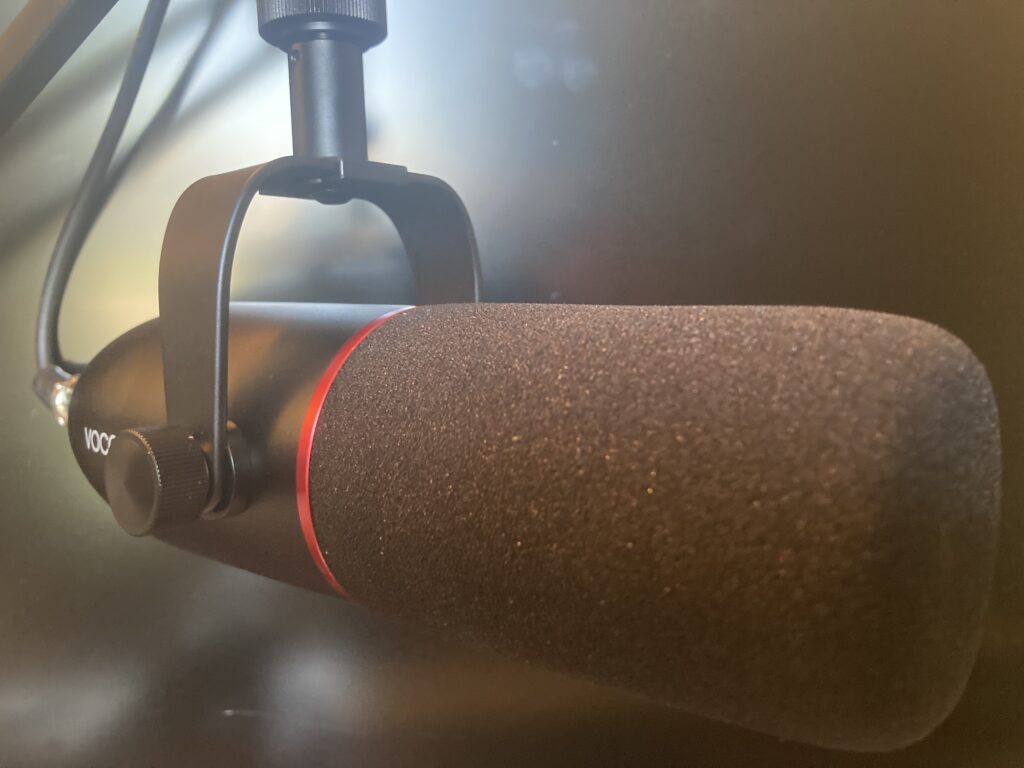 The Vocaster Two Studio bundles a premium dynamic microphone ready to broadcast. I was quite surprised by the build quality of the mic. It is made of a full-bodied metal and has a removable foam pop filter. It includes an XLR cable to connect the microphone to the Vocaster Two. Here is a test recording with the microphone:
I would compare this mic to a Shure SM7b. It has a very similar build style and a comparable sound quality. The recording above is right off the mic and into the preamp. No post-processing was applied and the enhancement feature was turned off. This dynamic microphone will get the job done, and do it well.
If you do a Google search on the best podcasting microphones you will find large lists that don't give you much direction on what to get. Focusrite took that trouble away. This mic will get you excellent results. However, this bundle does not include a mic stand. We highly recommend using one, so one will need to be purchased separately.
Testing the headphones
The Vocaster Two Studio bundle also comes with headphones. These unfortunately aren't the best option out there. They were not the most comfortable against the ears, which after a long editing session can cause fatigue. The headphones sound quality left us with some to be desired. As we started working on the Vocaster Two test, our production team worked with their Beyerdynamic DT1990s. We must admit, even though our team's DT1990s headphones are on higher level of quality, the difference in fidelity was high. Once the included headphones were tested we notice the sound was much more narrow. Even against the AirPods, they are not competing in sound quality.
It is great that they included these headphones with the bundle, but certainly could use another pass at the drawing board.
Included software
Focusrite's inclusion of software is where they have really separated themselves from the competition. The Vocaster Two does not have an SD card slot. It requires a computer to operate. Since it requires a computer, they have partnered with many providers to equip you with the best brand to help you in what you need to podcast.
Sustainability
Focusrite Group's environmental sustainability plan is making a push toward sustainability in their products. With carefully chosen components, biodegradable and recyclable packaging, and more than half the plastics from recycled sources, Vocaster is better for the world.
The downsides
Here are some potential downsides depending on what you need:

The Vocaster Two only has two mic inputs. If you want to have a round table with three or four speakers all on a mic then this device won't cut it. Another potential drawback is this device is tied to a computer. Other podcasting equipment has an SD card slot built into it so you can take it on the go and not need to bring a computer to record. Finally, this device does come with a lot of great software but learning software takes time and commitment. Make sure you are ready to take on that time commitment to get to know your software inside and out.
Pricing
The price for the Vocaster Two Studio is $499.99. The Vocaster Two interface is available by itself, without the mic and headphones, for $299.99. There is also a single mic input version, Vocaster One, available for $199.99 for the unit by itself and $299.99 for Vocaster One Studio, which includes a mic and headphones.
Final Pros and Cons of the Vocaster Two bundle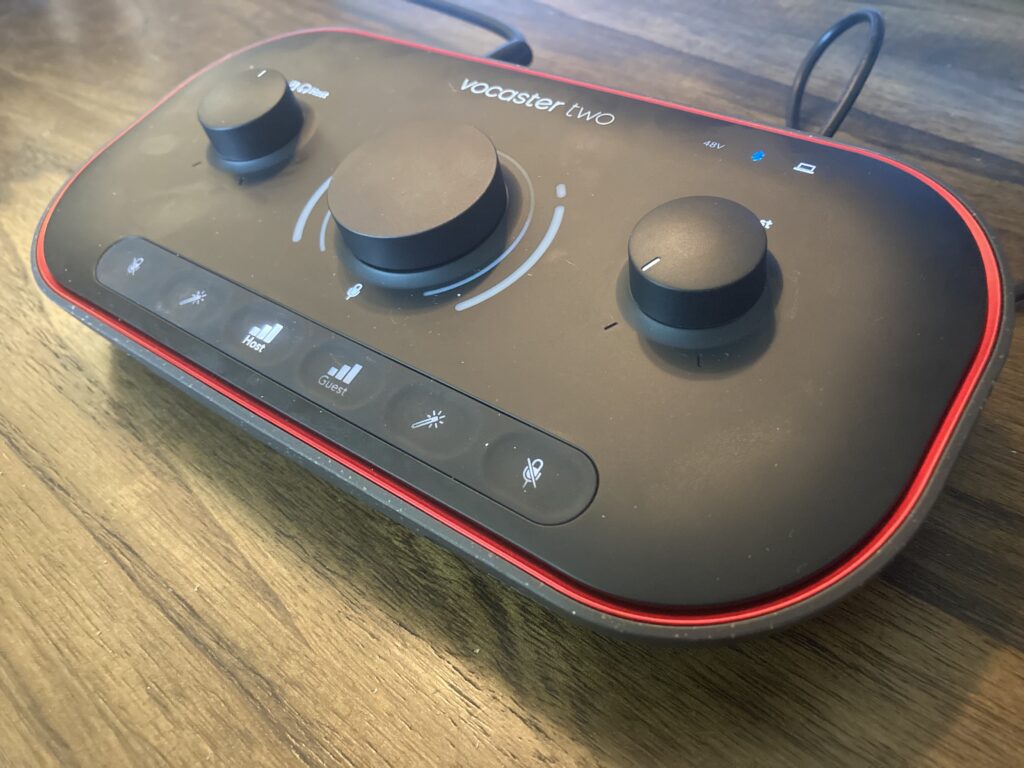 As everything does, we counted some pros and cons. Here is what we found:
Pros
Small form factor
Excellent microphone
Valuable software
Bluetooth compatability
Cons
No SD card slot
Only two inputs
Software can be a lot to learn
Headphones are not the best
Overall…
Focusrite has taken a great leap into podcasting technology. The Vocaster Two Studio bundle that comes with the premium dynamic microphone may be an excellent choice for someone that will have more one-on-one sit-downs or two people in the studio and another on the phone.
There is a lot of software included. This is a great addition but will take some time to learn. I would not shy away from this if you feel nervous about learning some software. Podcasting takes a warm-up period and a fair share of mistakes to get good at. Take time to review what you will value out of podcasting. How many people do you want to record in-studio? Do you want to record phone calls? Is portability a concern? Take that info and see if Focusrite's Vocaster Two is the fit you need to start a podcast or take your show to the next level!