Music plays a big part of our lives, whether we realize it or not. We find it in cars, movies, stores, restaurants, elevators. It helps to shape our experiences! You can add value to your podcast by using music to bring a higher quality feel to your show and help boost your listenership.
There are many options in choosing free music for podcasts so you can worry more about creating quality content than the price tag attached to adding quality sound.
Why Should I Include Music in My Podcast?
Music sets the tone and impacts how we feel in any given moment. For instance, take away the background music from your favorite movie and you'll quickly realize just how much that changes the overall effect of the film. We often don't realize the impact music has until it's no longer there.
We associate positive interactions with upbeat, cheerful melodies and perhaps more gloomy encounters with slower, more somber tunes. Simply by selecting music for your podcast, you are helping create a vibe that your listeners can relate to and come to expect.
Including music in your podcast automatically creates more credibility and adds a professional value to your show. It allows you to form a connection with your audience and provide familiarity to them. Music naturally draws people in and helps keep their attention. It fills any "dead space" with a tune that sets the tone for how you want your listeners to feel when they engage with your show.
The addition of music is simple but can easily move your show from good to great and help make your podcast more meaningful.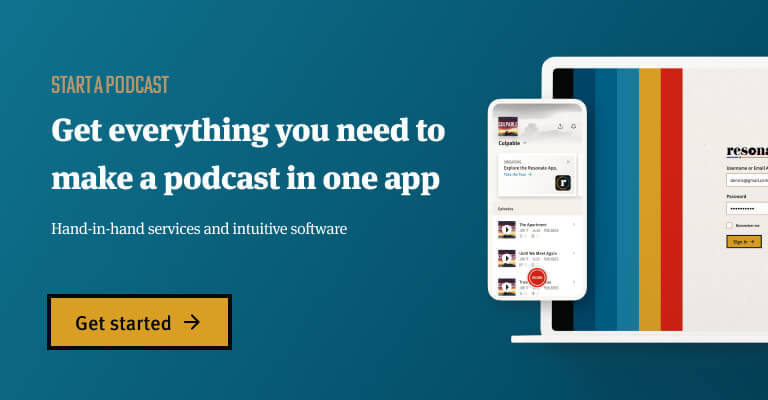 How to Use Music in Your Podcast
There are often multiple occurrences of music in the duration of a podcast episode and it all serves a purpose.
Intro/Outro Music
The introduction is your "first impression" to the listener. This is your chance to grab their attention — and music helps elicit an emotional response to your verbal content. Use music in the very beginning as a means of welcoming your audience! Intro music often becomes iconic to your podcast and can be used to remind your audience of the show anytime they hear the song, or something similar.
Outro music provides comparable benefit. It is used at the end of your show as a smooth conclusion. Rather than abruptly ending the show, music can help fade the listener out. Additionally, it ensures they leave your podcast feeling a certain way, based on the mood of your chosen music.
Sound Beds
As you're listening to a podcast, it's common to hear bits of background music. These "sound beds" throughout the show are most often used to help transition between interview questions or advertisements or multiple topics. It creates a more natural flow while switching from one thing to the next and serves as a guide for your listener.
Now it is important to note that adding tunes into the life of your podcast is meant to strengthen your content, not distract from it. Be sure to select music that won't overpower or mislead your audience.
Music Copyright 101
We all know that it's better to be safe than sorry… and this definitely goes for incorporating music into your podcast! The biggest issue is properly handling copyrighted songs. Although it is technically not impossible to use such music, we highly suggest erring on the side of caution.
Since music is owned by other people, it is an infringement on copyright laws to use bits of their songs without permission. Even using small, ten- or twenty-second clips of a copyrighted song require approval.
Even if your audience is small… even if you're not getting paid… even if you only use a small portion of the song… even if you technically bought the song… you can still get in a heap of trouble for misusing a copyrighted song. Your podcast could be removed, you could be fined, or in some cases, you may even be sued.
Now, you can likely still use a copyrighted song — if you get permission, typically in the form of a license or permit, and are willing to pay a fee. You'll need to contact the writer and the producer of the song, seeking consent by detailing how you intend to use it. Each song will vary on what (if any) price they will charge you for including their music in your podcast.
If you're unsure about the specific rules on music that you hope to use on your podcast, you may want to reach out to a legal professional for guidance. Our team would be happy to assist you!
What Music Am I Allowed to Use on My Podcast?
There are 2 main types of music that are safe to use for your podcast (but we'll include a 3rd category as well):
Royalty Free
Creative Commons
Royalty free music is the best option for safely incorporating music into your podcast.
Royalty Free Music
Royalty free music gives you, the licensee, rights to use the music (whether it was free or paid) for works without paying any royalties for your use. Interestingly, not all royalty free music is copyright free. According to Soundstripe, royalty free music most often means that the company or source you used to buy the music from (eg soundstripe) is paying creators royalties behind-the-scenes so that you can use those works without paying any royalties yourself.
Creative Commons
Creative Commons means that the creator of the musical work sets the terms for how their music can be used, generally requiring you to attribute them as the creator. Since the terms are determined by the creator it's vital to read the fine print and make sure you are allowed to use the work commercially and publicly, what kind of crediting you need to make, and any other terms you are agreeing to.
Public Domain
Public domain works are no longer protected under their original copyrights because they have passed a certain age (normally 70 years). However, sound recordings of public domain songs are considered derivative works and are protected under copyright by whoever recorded them. This means you can freely use the song material (lyrics and composition) to record and produce your own version of the song for use in your podcast, but all sound recordings of public domain works are protected at the state level until 2067 because of the U.S Copyright Act of 1976. You can learn more about this confusing topic here in this summary from the Public Domains Information Project.
Since we've established that royalty free music is the safest and easiest way to incorporate music in your podcast, let's dive into some of the best platforms for finding royalty-free podcast music. Each platform has its own different license terms and agreements, so make sure to take a few minutes to read the fine print.
These are sources that automatically provide you with the license for a song, so you don't have to worry about any legal ramifications.
Best Free Platforms for Podcast Music
In exchange for not paying anything, you may have to give credits to the writer/producer if the work is licensed under Creative Commons. But at least it's free!
1. Pixabay
Pixabay music gives access to free downloads of royalty free music, available for both commercial and non-commercial use.
2. YouTube Audio Library
YouTube Audio Library has a large selection of instrumental music readily available to download for free. (royalty free and creative commons)
3. Incompetech
Incompetech allows you to browse and download a variety of music at no charge. (creative commons)
4. Free Music Archive
Free Music Archive enables complimentary access to a large library of artists and songs with trackable information on popularity among other users. (creative commons)
5. Soundcloud
Soundcloud is a massive platform that gives creators the ability to upload creative commons works that can be directly downloaded from their platform. Use their search tool and click the filter called "to use commercially" in order to only see results that are ready to download and use for free (with attribution under creative commons).
6. Dig by ccMixter
Dig by ccMixter is a crowd sourcing platform for creative commons music. They offer 2 main licenses for creative commons music: one for commercial/monetized use and one for private use.
Best Paid Platforms for Royalty Free Podcast Music
These paid platforms all offer royalty-free music that you can use freely for your podast both commercially and non-commercially. But the terms and conditions vary for each platform, so make sure to read the fine print before singing up for any of their services.
1. Resonate Music Services
Selecting the right music for your podcast can be as daunting as it is exciting — but it doesn't have to be! Our team wants to take the stress out of this process by helping you choose the perfect music to accompany your show. We have creative professionals ready to come alongside you to either select music from our libraries or create custom tunes that will complement and add to the overall quality of your podcast. You can learn more here.
2. Soundstripe
Soundstripe provides affordable monthly subscriptions and single-song licenses that give you access to thousands of song choices.
3. AudioJungle
AudioJungle gives you access to a quality song selection at either a monthly or one track rate.
4. Epidemic Sound
Epidemic Sound is one of the top platforms for royalty free podcast music. They offer royalty free music for podcasters for $15/month.
5. Storyblocks
Storyblocks music offers unlimited downloads of royalty free music for $20/month.
6. Jamendo
Jamendo offers both single-license purchases and subscription services for sourcing royalty free music. You can choose from a library of 240,000+ royalty free songs.
7. Premium Beat
Premium Beat offers royalty-free licenses on a subscription model, starting with 5-tracks for $12.99/month.
Conclusion
When it comes to podcasting, every little audial detail counts in order to give a more complete experience. Music can make a big impact on the overall effectiveness of your podcast. By choosing music that encompasses the feeling of your show, you are more likely to create an engagement with your listener that turns them into a loyal fan.
If you have any questions regarding free music for podcasts, or other resources available to you, feel free to schedule a call with our team!
Editorial Note: This post gives an overview of the complex topic of music copyright laws. This is not professional legal advice and does not claim to be. Always carefully read the terms and license details for any music platforms you sign up for to understand your rights and limitations. We recommend seeking professional legal counsel for further advice on this subject.